Boaz and Gideon flew in from Israel for one of our first Chicago Toy & Game Fairs (one never forgets those early believers). A few years ago, I traveled to Israel as their guest and have many fond memories of that week, especially their Shabbat dinner with three generations! They have visited my home a few times, though the culinary offerings were not the same level one enjoys when in their company. Anyone who knows the Costers, knows that a Coster star is equal or better than a Michelin star. We honored the Costers for Lifetime Achievement at the TAGIEs in 2012.  Sadly, we lost their patriarch Theo Coster last year. He was a classmate of Anne Frank and equally as talented as an artist as he was at toy and game inventing. In my home office hangs one of his pieces that he personally carried to me years ago. It is a reminder every day of the importance of friendship and making each day count.
How did your family first enter the toy industry?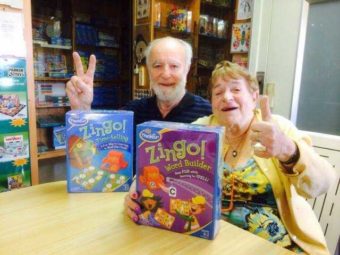 Ora and Theo Coster initiated a unique business in Israel in the mid '60s of inventing, designing andproducing special gifts and premiums for large companies and banks. They created many novel products mostly "give- away". One of those was a constructional ice cream Popsicle stick. It was licensed to Borden in the USA and for over 10 years until 1981 over 12 billion Elsie Stix were sold. Theora started focusing on playthings sold separately and saw success in that field as well, creating numerous games. Some are evergreens from 1967 (One Too Many/ Tree of Clowns), Quips (Ravensburger, 1972) and many more. Another very successful game, "Guess Who?", was licensed to Milton Bradley International (now Hasbro) in 1979 and enjoys global family recognition for over 40 years.
Who has been involved and who is involved now?
Theora (Theo + Ora) normally worked in a unique system where Ora initiated an idea of a playful concept, talked it over with Theo, who then tried to construct it into a working prototype. The process was sometimes years-long until a satisfactory game, toy or craft concept was matured and ready to be pitched to a toy company. In 1981, Boaz Coster, their eldest son, joined the team, and Gideon, his brother, in 1993. Boaz's wife Aliza Coster, (CPA) has managed the finances since 1995. Alongside our own inventions and designs a major part of our current activity is cooperating with Israel's many talents: designers, inventors, creators and artists, coming from every direction, who all wish to set a pawn on the global playing board. We are there to ignite their imagination towards a product, direct and find the matching marketing partner.
Do you think the next generation will get involved?
As we dearly love our work and are sure it is the ultimate occupation, we certainly hope that one of the third generation will join the toy world. All of Theora's five grandchildren are in their 20s, all study and work in their fields of interest, but all are inventive, creative and hold the spark. They played and tested numerous toys, crafts and games since babyhood and shared the fun of play, as well as were introduced to Toy Fair and its unique atmosphere.
How has business changed over the years?
In the '70s when Theora created many of their classic games there were fewer inventors and more companies, so their task was somewhat easier. Then there were many mergers and takeovers and fewer potential licensing partners. Fortunately, they were able to keep with the times and invent novel concepts designed differently like Play on Words (Travel Yahtzee) and the ever so popular Zingo. Later computer games and many handheld electronic devices were introduced, as well as the digital era, smartphones, virtual and more. We always take the whole leisure-fun-play field into consideration but feel social, family, and friends' interaction will be the base of playing games. The COVID-19 times fortify that and in recent years there is a clear return to family playing around a table or on the floor at home. It seems games will stay forever, as long as humans seek social interaction.
What advice do you have for others thinking of joining the family business?
It is a very varied field of fun opportunities, which may seem to have easy access and entrance, but that is possibly misleading. There are many right steps you must take on the long way to have your toy or game on the shelf, and that is only the beginning. It needs to continue the path, through the cash register or shipped by courier, to finally be unwrapped and used correctly, creating the promised "wowing" fun that will allow it to survive along with the rest of the toy world.