How many people can say that their great-great-grandfather started the business at which they are currently at the helm? Only one I know of: Dieter Strehl of Piatnik, a company founded in the 1800s in Budapest. I've had the pleasure of knowing Dieter for some years now and didn't know what a great story he had to tell. I love that this series gives a forum to these great stories! Enjoy!  -Mary Couzin
Mary Couzin:  How did your family first enter the toy industry?
Dieter Strehl: Our family entered the toy industry at the initiative of my great-great-grandfather Ferdinand Piatnik, born 1819 in Budapest. He was the son of Ignaz Piatnik, a clothes maker (as distinct from a tailor!) who also worked as a chamberlain for Count Nadasdy.
Ferdinand learned the trade in Budapest working for a card maker named Johann Gravatz from 1835 onwards. In 1839 he passed his journeyman examination, and went to Vienna, where he joined Anton Moser, a Viennese card maker, who had established his business back in 1824.
In 1843 Anton died, and Ferdinand, at 23 years old, took over the workshop, named it F. Piatnik and married the widow Josepha, born in 1794 and 25 years his senior. This was not an uncommon occurrence at the time, although it sounds very strange today.
Who has been involved and who is involved now?
Later his three sons entered the family business, but they only worked with their father for two years
before he died. His second wife, Johanna, mother of his sons, assumed responsibility of the company. She was the only female family member working in the business, which was quite uncommon back then and can be considered very progressive for that time. Over the years, 12 family members have headed and overseen the company's growth.
Do you think the next generation will get involved?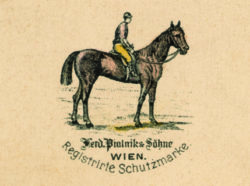 Throughout the years of our family business' existence, many children were born, mainly girls. My grandmother's maiden name was Piatnik. While there are many of us around, nowadays most family members have other jobs or own other businesses. But there is a handful of youngsters nearing the end of their academic education or cutting their teeth in their first jobs and gaining valuable experience. I hope that one or more of them will join the company in the near future.
How has business changed over the years?
The heyday of making playing cards was between ca. 1850 and 1990. The technical challenges of printing and mass production were solved in these times and numerous different regional designs for playing cards all over the world evolved. Contrary to what many Americans might assume, regional playing cards in the world differ from what is known in the U.S. Not everyone plays poker or bridge! And there are plenty more suit signs in use than the famous clubs, diamonds, hearts, and spades, which were invented and popularized by the French playing card makers.
In the beginning the task was to provide good quality cards at a good price for the market. Meanwhile the biggest part of our business is publishing, manufacturing, and also distributing board games to 70 countries worldwide. In a game publishing business, play-testing, good product decisions as well as design and marketing considerations are far more challenging than the mere physical production. And thus the main character and focus of the business has evolved from manufacturing different cards to publishing new ideas!
What advice do you have for others thinking of joining the family business?
The three most important things to ensure long term success are:
Good communication internally, within the family as well as externally with your customers. Try to build long-term relationships based on honesty and fair play. No fights.
Work hard.
And remember the harder you try the luckier you will get. All successes need a sprinkle of good fortune along the way. You have to allow it to happen, recognize and realize it when it arrives, and then continue to grow it.