In 1996, mother Julie Aigner-Clark shot the first Baby Einstein video in her basement in Georgia. She did this for one simple reason—she wanted to share her love of the arts with her baby. Clark then began producing and selling the videos. By the end of the decade, a line of videos/DVDs, books, and CDs were available at retail. In addition, an online store was launched, which was still a relatively new concept at that time. In 2001, Disney acquired The Baby Einstein Company. Since then the brand has grown by leaps and bounds through licensing. It is now considered one of the must-haves for new parents. However, the brand is evolving to address the needs of a new generation of parents. Once known primarily for its DVDs, Baby Einstein will now be sold as a kit, which will include a DVD, CD, and either a board book or cards (depending on the kit).
Nancy Lombardi: What prompted the decision to sell Baby Einstein as a kit instead of the individual DVDs that the brand is famous for?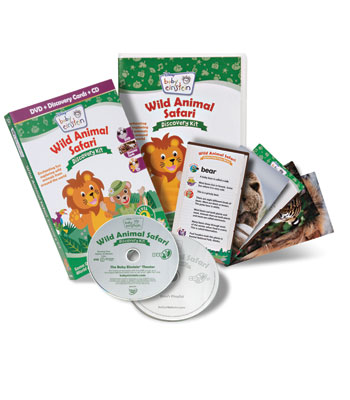 Susan McLain: Our goal is always to make baby's discovery of the world the best possible experience for babies and parents, and the Discovery Kits represent the next evolution of the DVD experience. The kits resulted from ongoing discussions with parents, our child development experts, and The Baby Einstein founders Bill and Julie Clark. The kits represent a new path for the company as Baby Einstein continues to listen, grow, and evolve with today's parents. The Baby Einstein Discovery Kits are grouped into three levels—Experience, Explore, and Expression—so the collection grows with baby.
N.L.: How do the non-DVD parts of the kit reinforce the DVDs teaching methods?
S.M.L.: Baby Einstein is all about making connections with the real world. The Discovery Kits are not designed as teaching tools. The focus of our products has always been to promote baby's discovery of the world and provide a fun way for parents and babies to spend time together, which everyone agrees is highly important in the first few years.
The kits offer a great value because they include three complementary products that work together to help parents introduce their baby to music, nature, animals, and the arts. Parents can extend the moving picture and music experience of the DVDs to other areas of a baby's day through the CDs and book or cards, which feature the same music and images experienced in the DVD.
N.L.: What are the nine new kits and what topics do they cover?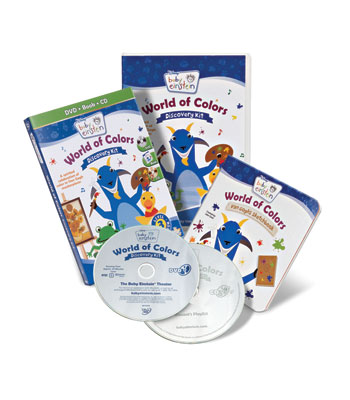 S.M.L.: The Baby Einstein Discovery Kits are grouped into three levels— Experience, Explore and Expression—so the collection grows with baby.
While there is no age range specified for each because babies' development is fluid, any of these kits can be enjoyed by babies 3 months and up. However, we think Level 1—Experience, featuring Baby Mozart and Baby Beethoven, will be most enjoyed by babies who are looking, listening, and simply absorbing the experiences presented by the world around them.
Babies who are physically moving around and showing an interest in touching, grabbing, and playing with toys and people will really enjoy Level 2—Explore featuring Animals Around Me and Wild Animal Safari.
And Level 3—Expression, featuring World of Colors and World of Words, is likely to be most enjoyed by babies who really like colors, or enjoy just listening to stories and rhymes, or who enjoy movement and dance.
There will be one new Discovery Kit for each level, Experience—Baby Lullaby; Explore—Neptune's Ocean; and Expression—World of Rhythm.
N.L.: What's coming up for the Baby Einstein brand for the remainder of 2011?
S.M.L.: We've increased our social media presence to foster even further engagement and feedback with parents. We also recently launched Baby Einstein Rewards, a loyalty program that offers fun and exciting rewards just for purchasing Baby Einstein products. We are rolling the program out on all of our product lines this spring.