Sony, Hot Topic, Isaac Morris Partner for Breaking Bad Apparel
Sony Pictures Consumer Products and Sony Pictures Television have teamed up with Hot Topic for a limited six-week exclusive program to celebrate the fifth and final season of the TV series Breaking Bad. Hot Topic is carrying four Isaac Morris-licensed men's T-shirts and two juniors' T-shirts. As part of the promotion, consumers can enter an online sweepstakes for a chance to win a trip to the set of Breaking Bad during one of its final taping sessions.
The fifth season of the show has been divided into two runs of eight episodes each. Part one of Breaking Bad began on Sunday, July 15, and part two will air during summer 2013.
Master Moves Mickey Launches with Flash Mob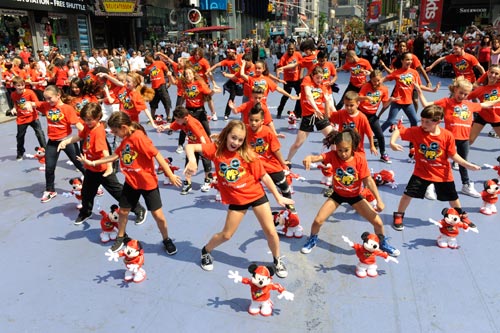 Mattel's Fisher-Price division, in conjunction with Disney, hosted a flash mob in Times Square last week to launch Master Moves Mickey (M3) timed to coincide with activities taking place during last week's BlogHer conference in New York City.
Master Moves Mickey is the third iteration of feature plush for Mickey Mouse that infuses the original Disney character plush with modern music and moves appealing to the next generation of fans and aspiring dancers. Master Moves Mickey features 15 break dancing moves set to original tracks and funky beats.
"Master Moves Mickey was designed to encourage self-expression and confidence through dance and we know there is no better dance partner than a trusted friend like Mickey Mouse," said Susie Lecker, senior vice-president of Fisher-Price Friends, in a statement. "The M3 flash mob in New York is a great example of how Master Moves Mickey is providing inspiration and motivation to children of all ages, and now they'll be encouraged to break out their very own dance moves with their pal, Mickey Mouse. Many children are naturally inclined to dance and this is a really fun way to tap that instinct."
Master Moves Mickey is available now with an MSRP of $69.99 at all major retailers.
Hasbro Brings Back Furby; Launches One Direction Line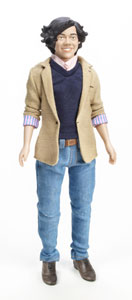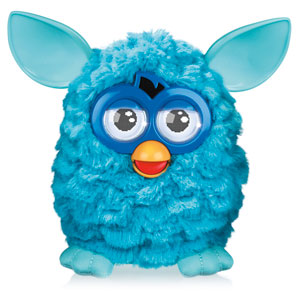 Hasbro hosted a preview of its key holiday items last week timed to coincide with activities taking place during last week's BlogHer conference in New York City. Hasbro unveiled an updated Furby that offers a modern take on the plush introduced in 1998. Furby, with an MSRP of $59.99, will be shaped by its experience with the user. Furby will once again speak Furbish out of the packaging and "learn" English the more a user interacts with it. Place two Furbys near each other and they will interact by dancing, singing, and conversing. It will be available in six colors at launch with four more colors expected to be added by year's end.
Additionally owners can download the free Furby app for iPhone, iPad, and iPod touch, available on the App Store. Using the Furby app, children can virtually feed their Furby, access a Furbish-to-English dictionary, and use the Furbish-to-English translator.
Hasbro also unveiled its One Direction line of dolls. Fans of the band can collect Harry, Liam, Louis, Zayn, and Niall figures, each standing 12-inches tall and sporting stylish clothes. Each figure is sold separately with an MSRP of $19.99.