The Passing of Jack "Mr. Snoopy" Weissman
Jack Weissman passed away Wednesday, September 5 from complications of M.D.S., a blood disease. He was 84.
A pioneer in the footwear industry Weissman was known as "Mr. Snoopy." He was the originator of character licensing in footwear when he obtained the licensing rights for the Peanuts characters created by Charles Schulz. Weissman's company Marketing Footwear Associates became an international business and went on to license E.T, National Football League footwear, Pac-Man slippers, and Budweiser athletic footwear.
In 1974, he started Butterfly Originals, a licensed children's accessory company with international distribution of more than 40 licenses including Snoopy/Peanuts, The Muppets, and Pac-Man. Weissman was also a principal in a licensed school supply company, Plymouth, Inc.
He sold his original M.F.A. business to Mercury International and went on to create Marketing Licensing Associates (M.L.A) with a partner, Robert Rowan. M.L.A. is an agency for licensors and licensees. In 1999 he was elected to the LIMA Hall of Fame.
He is survived by his wife of 37 years, Joyce Mantyla. Two children survive him from his first marriage, a daughter, Rande Joiner (Bob Honig) of Potomac, Md., and a son, Lee Weissman (Laura) of Irvine, Calif., a granddaughter, Sara Weissman, a nephew Dick Weissman (Joy) and a niece Marcy Rogovin (Charles).
A memorial service will be held Sunday, September 23 at the Community Church of New York, 40 East 35th Street at 2pm. In lieu of flowers, contributions may be made to the Two Ten Footwear Foundation, 1466 Main Street, Waltham, MA 02451, Attn: Jack L. Weissman Memorial Scholarship Fund.
WBCP Announces Hobbit Global Licensees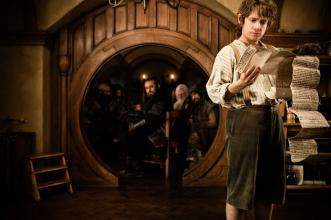 Warner Bros. Consumer Products EMEA (WBCP) announced its global partners for the upcoming The Hobbit Trilogy. From Academy Award-winning filmmaker Peter Jackson, The Hobbit: An Unexpected Journey, and the two remaining films in the trilogy, The Hobbit: The Desolation of Smaug, and The Hobbit: There and Back Again, are productions of New Line Cinema and Metro-Goldwyn-Mayer (MGM). Global licensees for the upcoming film include LEGO and Vivid Group, along with co-master toy partner The Bridge Direct, which is launching a comprehensive range of collectible figures and playsets.
Ravensburger has the rights for 2-D and 3-D puzzles and card games. Rubie's Costume Co. has created a costume line inspired by The Hobbit Trilogy and The Lord of the Rings Trilogy.
HarperCollinsPublishers will be launching the official tie-in books to The Hobbit: An Unexpected Journey, The Hobbit: The Desolation of Smaug, and The Hobbit: There and Back Again. Global licensee Eaglemoss will be releasing figurine and chess partwork collections. This is in addition to the myriad of local licensing deals that will support all things related to The Hobbit Trilogy, according to WBCP.
LIMA Symposium Adds Speakers
The Licensing Industry Merchandisers' Association's (LIMA) second annual LIMA Retail Symposium, scheduled for Wednesday, October 10 at The Yale Club in New York City, has announced additional speakers.
Additions to the lineup include:
• Martine Reardon, Chief Marketing Office, Macy's
• Ruby Anik, Retail Marketing Expert and Char Keefer, Senior Retail Marketing Strategist, American Express
• Carol Spieckerman, President & CEO, Newmarketbuilders
• Raymond Nadeau, Creative Director, Brune Advertising
• Fern Lee, CEO, THOR Associates
• Christina Norsig, CEO/Founder, PopUpInsider
• Martha Van Gelder, Terry Lundgren Center
Also presenting and previously announced is toy industry veteran Neil Friedman (formerly of Mattel and Toys "R" Us), whose session will be moderated by Sesame Workshop's Maura Regan, senior vice-president and general manager, global consumer products.
In addition, noted retail authority Paco Underhill, founder and CEO of Envirosell, is the keynote speaker for the event.