Lawsuit Against TRU for Tabeo

Numerous media outlets, led by Reuters, are reporting that Fuhu, Inc., creator of the Nabi tablet is suing Toys "R" Us (TRU) accusing TRU of fraud, breach of contract, unfair competition, and trade secret misappropriation in reference to TRU's Tabeo tablet.
Fuhu claims that TRU agreed to sell the Nabi tablet exclusively at TRU last year to learn product secrets to bring their own tablet to market. The lawsuit, filed in federal court in San Diego, seeks to stop TRU from selling Tabeo.
The suit says that TRU agreed to sell the product last fall yet ordered virtually no items and did nothing to promote the product.
A TRU spokeswoman told aNb Media this morning that, "We are in the process of reviewing the filing and, as such, cannot comment at this time."
Saban Acquires Zui
Saban Brands announced that it has acquired Zui, which provides access to a large collection of curated, kid-friendly online content. The addition of Zui will add 12 employees to Saban as well as a new physical presence in San Diego, where Zui is headquartered.
Zui.com allows children to access a large library of videos and online games. It also features a safe, social media experience for kids where they can develop a personal profile page with their own avatar, "like," "vote," and "favorite" content, access games, and add friends with no open messaging. Zui also operates KidZui, a downloadable browser providing access to a kid-safe internet experience and more than six million websites, online videos, pictures, and games.
ASTRA Launches Consumer Site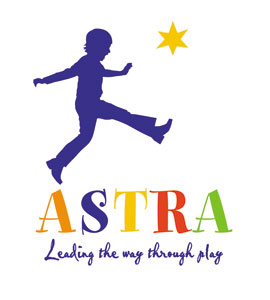 The American Specialty Toy Retailing Association (ASTRA) announced that it has launched a consumer website (www.yourneighborhoodtoystore.org) to provide expert advice on toys and play for children of all ages. The site will feature toys that are available at independent toy stores. It also offers retailers and manufacturers opportunities to feature their products and to promote the advantages of shopping at locally owned retailers.
Scholastic Celebrates Clifford's 50th Birthday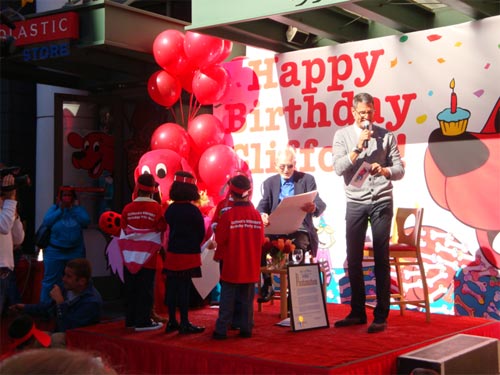 Scholastic Media, a division of Scholastic, Inc., kicked off a yearlong 50th birthday celebration for Clifford the Big Red Dog in New York City yesterday. Clifford's Biggest Birthday Party Ever was a live webcast event streamed to classrooms nationwide. In honor of the celebration, New York City Mayor Michael Bloomberg, proclaimed yesterday as "Clifford The Big Red Dog Day."
Approximately 5,000 classrooms nationwide registered to participate in the event via live webcast and watched as hundreds of first graders from New York City schools participated in the party in front of Scholastic's SoHo headquarters. Clifford series author and creator, Norman Bridwell participated in the birthday festivities.
"We're delighted to pay tribute to Clifford, his creator, Norman Bridwell, and thousands of classrooms from around the country," said Deborah Forte, president of Scholastic Media and executive vice-president of Scholastic, Inc. "For 50 years, Clifford has been delighting children and bringing out the best in them; it is only fitting that his many fans come together for this big celebration."