Kung Fu Panda 3 Set for 2015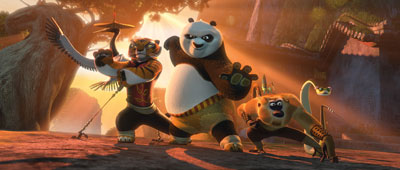 DreamWorks Animation SKG announced a release date and cast for Kung Fu Panda 3, which will be distributed by 20th Century Fox. Bryan Cranston (Breaking Bad, Madagascar 3: Europe's Most Wanted), Mads Mikkelsen (Hannibal, Casino Royale), and Rebel Wilson (Pitch Perfect, Bridesmaids) join Jack Black, Angelina Jolie, and other original cast members in the third installment of the franchise. The film, slated for December 23, 2015, marks the first planned co-production with China-based Oriental DreamWorks.
The film is directed by Jennifer Yuh Nelson and is produced by Melissa Cobb, executive produced by Guillermo del Toro, and co-produced by Jeffrey Hermann along with Jonathan Aibel and Glenn Berger, who wrote and co-produced the original films and continue in these roles.
The first two chapters of DreamWorks Animation's Kung Fu Panda franchise opened in 2008 and 2011. Together, they have generated approximately $1.3 billion at the worldwide box office, according to DreamWorks. The animated TV series Kung Fu Panda: Legends of Awesomeness debuted on Nickelodeon in 2011.
Consumer Products Program in Development for Discovery's The Devils Ride
Discovery Communications announced a partnership with Bischoff Hervey Entertainment Television, the production company for the Discovery Channel series, The Devils Ride. Discovery and Bischoff Hervey will develop a consumer products program around both the show and motorcycle clubs featured in the past two seasons.
The lines will include both The Devils Ride branded products, as well as products based on Laffing Devils, Sinister Mob Syndicate, Knockout Motorcycles, and FastBoyz, all motorcycle clubs featured on the show.
Changes will develop a line of apparel and accessories including T-shirts, sweatshirts, fashion tops, belt buckles, dog tags, key chains, and bandanas. The line is expected to hit stores this summer, targeting distribution at specialty stores and motorcycle dealers and retailers. Discovery and Bischoff Hervey also plan to extend the line later this year to include after-market car and motorcycle accessories.