PlayStation 4 Debuts at E3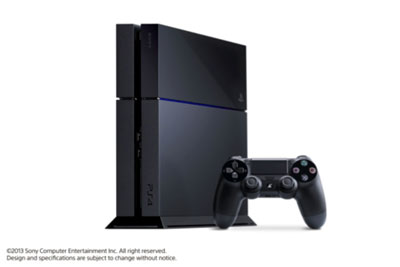 Sony Computer Entertainment, Inc., announced that the PlayStation4 (PS4) will be available this holiday season in North America and Europe for an MSRP of $399. The design of PS4 made its public debut at the PlayStation press conference yesterday, which kicked off the Electronic Entertainment Expo (E3) in Los Angeles.
The surface of the PS4 body is subdivided into four sections, as if four blocks are stacked together making one figure, with disc slot, buttons, power indicator, and vent placed within the slim interspace created between the sections. The power indicator designed atop the body will glow in a PlayStation blue color when the power button is turned on. The foreside and backside of the body is slightly angled; it not only gives users easy access to the power button and disc slot when placed either horizontally or vertically but also helps conceal the connected cables. The unit has a black-themed color along with the matte and gloss finish.
PS4 peripherals include the stand-alone Wireless Controller for PlayStation4 (DUALSHOCK4) and PlayStation Camera, which will be available at launch for an MSRP of $59.
The upcoming software lineup for PS4 from software developers and publishers will include Destiny from Bungie, Inc., in partnership with Activision Publishers, Inc., Diablo III from Blizzard Entertainment, Inc., Kingdom Hearts III and Final Fantasy XV from Square Enix, Assassin's Creed IV Black Flag and Watch_Dogs from Ubisoft Entertainment, NBA 2K14 from 2K Sports, The Elder Scrolls Online from Bethesda Games Studios, and Mad Max from Warner Bros. Interactive Entertainment, totaling more than 110 titles. In addition, 12 new IP, are under development from Sony, including Killzone: Shadow Fall, Knack, inFAMOUS: Second Son, #DRIVECLUB, and The Order: 1886.
Ubisoft to Create Interactive Series for Mobile, Consoles
Ubisoft announced yesterday at E3 that it is delivering an interactive TV series playable on mobile devices and next-gen consoles, partnering closely with Microsoft to bring it to Xbox One. The Rabbids Invasion TV series, created by Ubisoft Motion Pictures in partnership with France Televisions and Nickelodeon, is expected to air later this year. Rabbids Invasion The Interactive TV Show will be available in 2014.
The interactive series is being developed by Ubisoft Paris with support from Ubisoft Barcelona. With more than 14 million games sold, the Rabbids are some of Ubisoft's best-loved characters, and their wacky adventures appeal to kids and families across the globe. With Rabbids Invasion The Interactive TV Show, the majority of the 78 seven-minute long CGI episodes from the original Rabbids Invasion TV series will be adapted to allow the audience to join with the Rabbids in acting out some of their crazy antics.
Trucktown TV Series in Development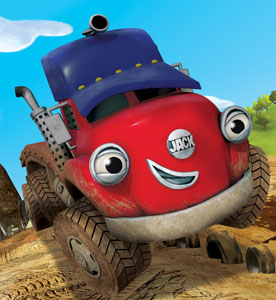 Corus Entertainment's Nelvana Studio has announced the start of production on a new boys' preschool CGI animated series Trucktown, based on a series of children's books. Forty x half hour episodes have been greenlit with delivery set for spring 2014. Corus Entertainment's Treehouse in Canada is the first broadcaster to pick up the new series.
Trucktown, which follows the playful adventures of a group of young trucks, is based on a series of best-selling books by children's author Jon Scieszka (The Stinky Cheese Man and other Fairly Stupid Tales, The Time Warp Trio, Spaceheadz) and published by Simon & Schuster, which includes more than 50 titles and has sold more than one million books.
The action centers around Jack Truck and his best friends Dump Truck Dan and Max the Monster Truck.