SMC Has Licensing Rights to Poppy Cat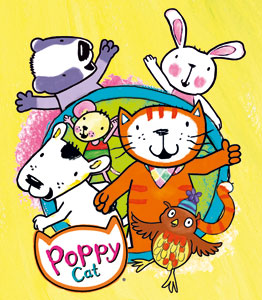 SMC Entertainment Group, Inc. (SMC), has been appointed the exclusive licensing agent in North America for the TV series Poppy Cat. The series currently airs on Sprout and NBC Kids in the U.S. market.
SMC will be launching a licensing and merchandising program based on the series characters, focusing on toys, plush, apparel, accessories, room décor, bedding, games, and more. The licensing program will target preschoolers, ages 2–5, and their moms.
Poppy Cat, the TV series, is co-produced by Coolabi's television production arm, Coolabi Productions and King Rollo Films, and was commissioned by Nick Jr. in the UK. The series is about a curious cat who loves to explore with her unique mix of animal friends. The series is seen through the eyes of Poppy Cat's young owner, a little girl called Lara. The series is based on the award-winning books by British illustrator and author Lara Jones.
ICSC Says Chain-Store Sales Rose
U.S. chain-store sales posted a gain of 3.9 percent for the fiscal month of June on a year-over-year basis, the strongest gain since January's 4.5 percent, according to a tally of comparable-store sales compiled by the International Council of Shopping Centers (ICSC).
"Excluding drug stores, the preliminary tally actually rose by a very strong 5.3 percent in June, which would be the strongest reading since August of 2012," said Michael P. Niemira, vice-president of research and chief economist for ICSC. "Overall, these data continue to paint an improving picture after a 'softer' first quarter (February–April) and are encouraging as we move into the second fiscal quarter of the year."
For July, ICSC research anticipates that the upward trend will remain in the 3–3.5 percent range.
SGCompanies Completes Wormser Acquisition
SGCompanies completes its acquisition of the Wormser division from SaraMax. The Wormser Company, a sleepwear manufacturer, was founded in 1948 by Walter Wormser. The Wormser Company was sold to SaraMax in 2006 with the character and entertainment brands continuing to be successful at all tiers of distribution.
"The acquisition of the Wormser division from SaraMax adds tremendous equity to our SGI Apparel Group's sleepwear division with expansion into new channels of distribution," said Bernard Leifer, president & CEO, SGCompanies, in a statement. "In addition to immediate growth potential into these channels, we also hired several key staff members that will be instrumental with the integration of the division and provide a seamless transition."
As a result of the acquisition, SGI Apparel Group has doubled its sales and design staff. With the expansion of SG Companies New York showroom in February 2013, half the staff members will work in the New York office and the rest in its corporate headquarters in New Jersey.