Schwartz Steps Down From Fremantle
FremantleMedia Kids & Family Entertainment announced that Sander Schwartz, president, is leaving the company later this month to pursue new business opportunities in television production. Schwartz established the division in 2009 with a portfolio of titles that includes Tree Fu Tom, Kate & Mim-Mim, Strange Hill High, Wizards Vs Aliens, Grojband, and Max Steel.
"It has been an honor and a privilege to work with the outstanding team at FremantleMedia," said Schwartz in a statement. "Though I have decided that it's time for me to take on a new challenge, I leave with great confidence in the company's rich opportunity as a leader in family entertainment."
Of his departure, Sangeeta Desai, COO & CFO FremantleMedia said in a statement, "We would like to thank Sander for his contribution in launching the division and its successes to date. We wish him well in his future endeavours."
ASTRA 2014 Show Dates
The American Specialty Toy Retailing Association (ASTRA) announced that the theme of its 2014 Marketplace & Academy is "Where Play Means Business."The event will take place in Phoenix, Ariz. June 8–11, 2014. For more information, visit www.astratoy.org.
In the Night Garden Announces Broadcast Deal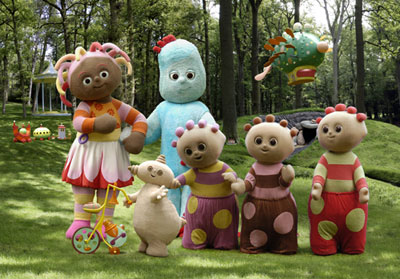 DHX Media announced a new seven-year broadcast deal with CBeebies for In the Night Garden, ensuring that the series will be on air in the UK until the end of 2020.
Plush, playsets, figures, developmental toys, vehicles, and roleplay products are available from UK master toy licensee Golden Bear.
This fall sees the launch of new learning electronic toys from Inspiration Works. This and the Golden Bear toy range will be supported by a Q4 television advertising campaign, and there will be more innovative novelty and picture storybooks from Penguin Books. In addition, new licensee Ravensburger will introduce a range of puzzles, launching in January 2014 with a floor puzzle and 4-in-1 puzzle.