Sesame Street to Offer Bonus Programming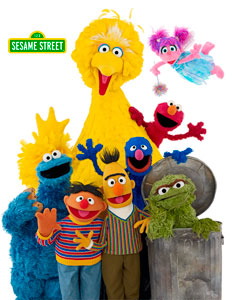 PBS Kids and Sesame Workshop announced that it will introduce a bonus half-hour program of Sesame Street this fall on-air and on digital platforms. Starting Monday, September 1, the additional half-hour program will air on weekday afternoons on PBS stations, complementing the one-hour series that airs weekday mornings. For the first time, selected full episodes of the 30-minute show will also be available for free online at pbskids.org/video, on the PBS Kids Video app, and on the PBS Kids Roku channel.
PBS KIDS reaches more kids ages 2–8 and more moms with kids under age 12 than any other. "We're thrilled to extend our reach on PBS. What better way to celebrate our 45th anniversary season than to touch more children's lives," said Terry Fitzpatrick, chief content and distribution officer at Sesame Workshop. "These days, families expect to be able to connect with their favorite Sesame Street friends at any time of day. The new afternoon show is a great complement to our continuing efforts to reach more kids with engaging lessons that will help them grow smarter, stronger, and kinder."
Each half-hour episode of Sesame Street is a shortened version of each one-hour program and will include a "Street Story," a "Word on the Street" segment, a celebrity vocabulary segment, songs, spoofs, dance breaks, and popular segments such as "Cookie's Crumby Pictures" or "Super Grover 2.0."
ASTRA Announces Best Toys for Kids List
The American Specialty Toy Retailing Association (ASTRA) unveiled its 2014 Best Toys for Kids award winners. The list includes 20 winning toys in 13 categories.
"ASTRA retailers are America's play experts," says Kathleen McHugh, president of ASTRA. "They know toys inside out and they watch children play with them every day in their stores. Our Best Toys for Kids award program represents their collective expertise. It represents the fun, top-quality products with high play value that consumers can find in locally owned neighborhood toy stores around the country."
The Best Toys for Kids program was created by ASTRA to help its retailer members attract media coverage and customers to their stores during the all-important fourth quarter. The 2014 Best Toys for Kids award winners are:
ACTIVE PLAY
Slack Blox
 from Brand 44 Colorado
Teeter Popper
 from Fat Brain Toy Co.
CHOOSE YOUR OWN CATEGORY
Sands Alive! Deluxe Set from 
Play Visions, Inc.
CLASSIC PLAY 0-7 YEARS
Mini Micro Classic Kickboard Scooter
 from Micro Kickboard
CLASSIC PLAY 8+
Simon from 
Basic Fun, a division of The Bridge Direct, 
distributed by Schylling
CONSTRUCTIVE PLAY
Architetrix Constructor Set
 from Hape
Remote Control Machines DLX
 from Thames & Kosmos
CREATIVE ARTS PLAY
LoopDeLoom Weaving Loom Kit from Ann Williams
Grow N' Glow Terrarium
 from Creativity for Kids
EARLY PLAY
pipSquigz
 from Fat Brain Toy Co.
Roller Derby
 from Hape
GAME PLAY 3-7 YEARS
Peek-A-Doodle-Doo
 from Fat Brain Toy Co.
Robot Turtles from ThinkFun
GAME PLAY 8 YEARS+
Gravity Maze from ThinkFun
LEARNING PLAY
Timeline—American History from Asmodee Editions
KEVA Brain Builders
 from MW Wholesale/Mindware
PRETEND—FANTASY PLAY
Royal Princess Playhouse
 from International Playthings
PRETEND—ROLEPLAY
HABA Doorway Puppet Theater
 from HABA USA
SCIENTIFIC PLAY
Snap Circuits Motion
 from Elenco
Glowing Chemistry from Thames & Kosmos
Trending on TTPM: Children's Book Reviews
TTPM is showcasing what's trending in each specific product category. Today it's Children's Book Reviews. This trending list is determined by consumers. It's the number of page views for that item in the previous 30 days and is updated every 24 hours.