Amazon Introduces Additional Kids' Series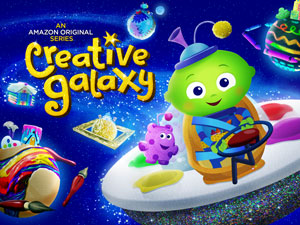 Amazon announced its second original kids series, Creative Galaxy, is now available for exclusive unlimited streaming on Prime Instant Video at no additional cost to Prime members. A make-along, create-along art adventure series for children ages 3–5, Creative Galaxy comes from Angela Santomero (Blue's Clues, Super Why!, Daniel Tiger's Neighborhood). The series features Arty, an adorable alien artist, and Epiphany, his inspirational sidekick, on their adventures through the Creative Galaxy solving problems through art, music, and dance.
Creative Galaxy features vocal talent from Christian Distefano (PAW Patrol) as Arty, Kira Gelineau (Dear Viola) as Epiphany, and guest stars Samantha Bee (The Daily Show), Jason Jones (The Daily Show), Cloris Leachman (Malcolm in the Middle), Jason Priestley (Beverly Hills 90210), and Brooke Shields (Lipstick Jungle).
Prime members have unlimited streaming access to the first six episodes of Creative Galaxy, at no additional cost to their membership. Prime members can watch on Amazon Fire TV, Fire phone, Kindle Fire, iPad, iPhone, Roku, Xbox, PlayStation, Wii, and Wii U, and other connected devices, online at www.amazon.com/AIV, and on Prime Instant Video in the UK. Each episode consists of two 11-minute stories. The remaining six episodes will become available in September. In addition, this December Prime Instant Video will offer a holiday-themed bonus episode. Creative Galaxy will also be available in Kindle FreeTime Unlimited, a service built just for kids that gives them the freedom to explore all their favorite books, games, educational apps, movies, and TV shows.
In addition, Amazon recently collaborated with the Association of Children's Museums (ACM) on a series of screenings and educational activities related to its original kids' programming. Creative Galaxy screening events will be held on July 19 at the Bay Area Discovery Museum, Boston Children's Museum, Brooklyn Children's Museum, and Children's Museum of Houston.
Amazon launched its first kids' series, Tumble Leaf, last month. Amazon will make a third children's series, Annedroids, available on Prime Instant Video starting on July 25.
Snap Creative Introduces Toy Sales at Movie Theaters
Snap Creative, and its in-theater division Snapco, announced that it has released five collectible promotional toy programs at movie theaters worldwide for this year's summer movies. The licensed portfolio includes How to Train Your Dragon 2, Transformers: Age of Extinction, Disney's Planes: Fire & Rescue, Guardians of the Galaxy, and Teenage Mutant Ninja Turtles.
Movie-goers can collect two or three different figures and/or keychains along with reusable cups and popcorn packs. Millions of collectible packages will be available in some of the largest theater chains worldwide in the United States, China, Mexico, Canada, Germany, Spain, Vietnam, Thailand, and more.
Trending on TTPM: Riding Toys
TTPM is showcasing what's trending in each specific product category. Today it's Riding Toys. This trending list is determined by consumers. It's the number of page views for that item in the previous 30 days and is updated every 24 hours.