Bendon Acquires Artistic Studios
Bendon, Inc., announced the acquisition of Artistic Studios, Ltd., (ASL). The acquisition of ASL by Bendon, which is owned by Wicks Capital Partners IV, L.P. and management, provides an entry into the premium craft market and further solidifies Bendon's position as a leader in the U.S. children's coloring and activity sector, according to a statement released by the company. The terms of the acquisition were not disclosed.
ASL produces and sells children's activity products, art sets, and crafts in various retail channels in the U.S. and abroad with a strong distribution presence in the wholesale clubs. ASL's products are primarily sold into toy and craft departments within larger retailers at higher price points than the majority of Bendon's current offerings.
"Along with our purchase of Dalmatian in 2013, this acquisition firmly cements Bendon's position as a leader in the fragmented U.S. children's activity products sector and propels the company into its next phase of growth," said Daniel L. Black, managing partner at Wicks.
Hasbro, Ubisoft Create Hasbro Game Channel
Hasbro, Inc., and Ubisoft announced the Hasbro Game Channel—a destination for family game entertainment on consoles, featuring games based on Hasbro's classic brands, including Monopoly, Risk, and Trivial Pursuit. Starting this fall, the Hasbro Game Channel will be available to download worldwide on Xbox One and PlayStation4. All games will also be available for download individually on the Xbox 360 and PlayStation3.
M&M'S Store Opens in Shanghai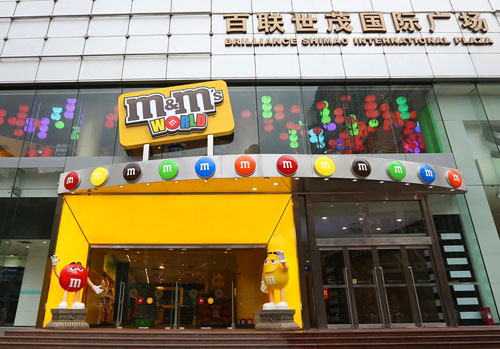 The Mars Retail Group announced the grand opening of its first M&M'S World store in Asia—M&M'S World Shanghai—on East Nanjing Road. Creating 130 new jobs, the retail-tainment destination is the first in Asia.
Spanning two floors, the store offers M&M'S Brand Chocolate Candies in 22 colors and three varieties as well as a wide range of M&M'S merchandise, including apparel, kitchenware, and plush. There's also Shanghai- and China- themed M&M'S branded products, such as mugs, tins, and T-shirts, designed specifically for the Shanghai store. M&M'S World Shanghai is the fifth M&M'S World store, joining the other iconic stores in New York's Times Square, Orlando, Las Vegas, and Leicester Square London.
Turtles Movie Sequel Announced; SpongeBob Movie Trailer Released
The Teenage Mutant Ninja Turtles movie grossed more than $65 million domestically over this past opening weekend. Paramount quickly announced the film's sequel with a projected date of June 3, 2016. Also, the trailer for The SpongeBob Movie: Sponge Out of Water was released at the end of July. The film is set to release on February 6, 2015.
Trending on TTPM: App Accessories for Kids
TTPM is showcasing what's trending in each specific product category. Today it's App Accessories for Kids. This trending list is determined by consumers. It's the number of page views for that item in the previous 30 days and is updated every 24 hours.