Brand Central Signs Reading Rainbow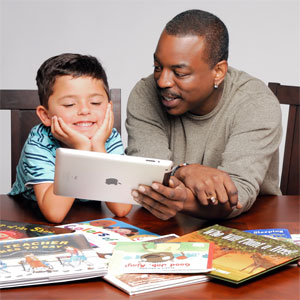 RRKidz, LLC, the company that relaunched the children's educational entertainment brand Reading Rainbow for the digital age, announced that it will be partnering with Brand Central, LLC to launch a consumer products program to accompany the brand's recent digital relaunch and classic IP.
The Reading Rainbow brand came to fame first as an award-winning children's television series on PBS encouraging kids to read. It earned over 200 broadcast awards, 26 Emmys, and the Peabody Award in its 26-year run. In 2011, two years after the show's conclusion, actor and host of Reading Rainbow, LeVar Burton and his business partner Mark Wolfe founded RRKidz, Inc., to continue to bring kids the finest reading and enrichment experiences available. Fully reimagined for the digital age, Reading Rainbow again promotes the inherent fun in learning and exploration through their digital service with hundreds of animated books, videos, and games.
Brand Central will help launch a two-tiered Reading Rainbow-branded consumer products program to utilize both the brand's beloved nostalgia and history and its reinvigorated future. The agency will also seek licensees to produce new products that will enhance Reading Rainbow's innovative digital learning platform. Potential new products that enhance the new digital platform include games, publishing, crafts and activities, and educational products.
LIMA Members Can Now Vote for the LIMA Awards
The International Licensing Industry Merchandisers' Association (LIMA) has finalized the ballot for the 2015 International Licensing Awards. LIMA says that a record 142 nominees from 14 countries, representing a wide array of categories have been nominated. LIMA members may cast their votes online here through Wednesday, May 12. Winners will be announced at the LIMA Awards Ceremony on Tuesday, June 9, during Licensing Expo in Las Vegas. Category updates for the 2015 ballot include separating Film, Television, and Entertainment into Animation and Live Action; Art & Design has been restructured into Lifestyle: Art, Design, or Fashion; Digital/New Media has been updated to Digital; and Celebrity has been newly identified as Celebrity or Music.
The other categories in which awards will be presented are Character or Toy Brand; Sports or Sports-Themed Entertainment; Corporate Brand; Retailer of the Year; Licensed Promotion; and Overall Best Licensed Program. This year's nominees for Overall Best Licensed Program, representing each of the major property classifications, are:
• AMC The Walking Dead—AMC/Striker Entertainment
• Disney's Frozen—The Walt Disney Company/Disney Consumer Products
• Downton Abbey—NBCUniversal International Television Production/Knockout Licensing
• Minecraft—Mojang
• My Little Pony—Hasbro
• One Direction—Modest Management/Global Merchandising Services, Ltd.
• Scotts Miracle-Gro—The Scotts Miracle-Gro Company/Seltzer Licensing Group
• Stanley, Black + Decker, DeWalt—Stanley Black & Decker, Inc./Beanstalk
• The Very Hungry Caterpillar/The World of Eric Carle—Eric Carle Studio/The Joester Loria Group
• World Cup – FIFA
Nominations were solicited from the worldwide licensing industry. Click here for a complete list of the 2015 Awards nominees.
Fermata Signs Additional Football Clubs
Fermata Partners announced the signing of five additional European football (soccer) clubs to its growing roster. Fulham Football Club, Newcastle United Football Club, Norwich City Football Club, Queens Park Rangers Football Club, and Swansea City Association Football Club have each appointed Fermata to serve as its trademark licensing representative for North America.
Fermata continues to further its efforts to bring an aggregated collection of global football properties to the North American marketplace. Fermata's business plan for its football practice is rooted in the belief that the North American consumer is seeking an expanded offering of licensed merchandise from premier global football properties. Fermata begins representation of all five clubs effective immediately. Together with Liverpool FC and Tottenham Hotspur, Fermata is actively working to align with key manufacturers to present consumer products for all seven clubs to leading retail partners.
What's New in Paw Patrol on TTPM
TTPM is showcasing the newest toys for Paw Patrol. For the latest in toy reviews as well as what's trending, visit TTPM.com.