Wonder Forge to Feature Eric Carle in Lineup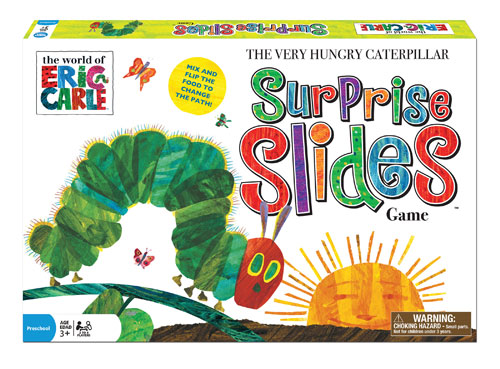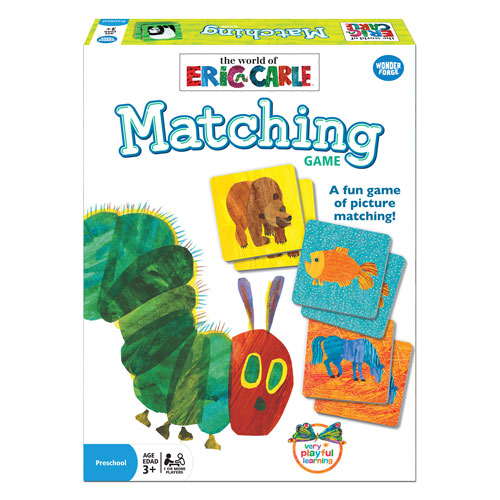 Wonder Forge, in partnership with The World of Eric Carle, announced a multi-year North American licensing agreement to develop preschool games based on the best-selling books by Eric Carle. The new line will feature Carle's iconic Very Hungry Caterpillar, on two of Wonder Forge's most popular preschool game platforms—Matching and Surprise Slides. The Joester Loria Group, worldwide licensing agent for The World of Eric Carle, brokered the deal.
The World of Eric Carle The Very Hungry Caterpillar Surprise Slides Game and The World of Eric Carle Matching Game are now available at select retailers and will be showcased during this week's Fall Toy Preview in Dallas.
Nelvana, Playmates, Oktobor Partner for Mech Mice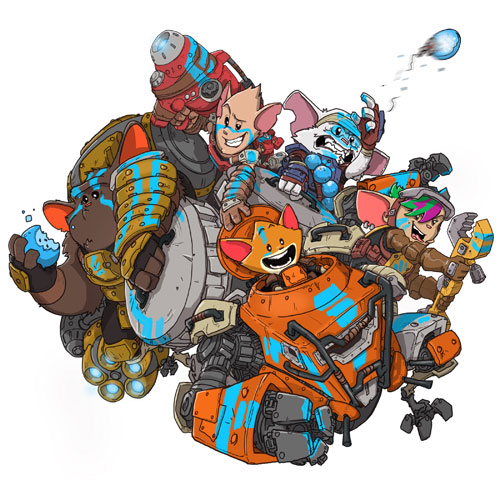 Corus Entertainment's Nelvana is teaming up with Oktobor Animation and Playmates Toys to develop and produce Mech Mice, an animated action-comedy for kids 6–11. The CG series, about a ragtag team of heroic high-tech mice ready to save the world, is anticipated to premiere in 2017. Mech Mice, created by Oktobor Animation's Dan Wang and Chris Waters, is an original idea from Lance Priebe, creator of Disney's Club Penguin and founder of digital gaming studio, Hyper Hippo. Priebe will oversee development of web and mobile games based on the series. Oktobor, Nelvana, and Playmates Toys are partners in the production. Playmates Toys is also the global master toy partner for the brand.
New Licensees for Peppa Pig
Peppa Pig, which airs on Nick Jr. and on Treehouse in Canada, announced five new licensing partners and an even more extensive product assortment from master toy licensee Jazwares. Entertainment One (eOne) has signed new deals with Cra-Z-Art, Accutime Watch Corp., Tin Box Company, Pamson,and Zak Designs. In addition, Jazwares is expanding its offerings to include an all-new Peppa Pig construction toys for the U.S. and Canada. Also, licensee TCG Toys is expanding its Peppa Pig collection to include the Peppa Pig Jumbo Mega Mat.
This year, eOne says the global Peppa Pig licensing program is on track to exceed $1 billion in retail sales. Peppa Pig airs in over 180 territories and has been translated into more than 40 languages.
For more on Peppa Pig see the October issue of TFE, which is available this week in Dallas at the Fall Toy Preview or online.
American Greetings Properties Now American Greetings Entertainment; Two New Series for Netflix

American Greetings Properties (AGP), the intellectual property and outbound licensing division of American Greetings Corporation, announced that the division has changed its name to American Greetings Entertainment to better reflect the company's focus on strategic expansion for its Care Bears brand as well as for the development of new intellectual properties (IP).
American Greetings Entertainment continues to grow the Care Bears brand with a multi-million dollar investment in a new Netflix Original animated series, Care Bears & Cousins, launching November 6, 2015. There's a host of new licensing partners in various categories hitting retail as soon as this holiday.
In addition American Greetings Entertainment partnered with Stoopid Buddy Stoodios, the LA-based production company founded by Matt Senreich and Seth Green, on another Netflix Original series called Buddy Thunderstruck, with 12 episodes of stop-motion animation set for release in 2017.
Financing Now Available to Help Toy Companies Grow

Bambini Partners, founded in 2012 by toy industry veterans John Lee and Jerry Welch, announced that it is currently working with TAB Bank to provide financing to toy manufacturers. TAB Bank, a wholly owned subsidiary of Utah-based FJ Management, is an FDIC-insured commercial bank.
"Working capital is the lubricant ensuring that the system works," says Jerry Welch, general partner of Bambini Partners. "Especially in a highly seasonal business like the toy business." Yet, Welch says that since the Great Recession many companies have had a hard time connecting with the right bank to provide the funds needed for growth. Welch says he saw this firsthand while working with a client. This toy manufacturer—a family-owned $50 million toy company—had always self financed. But the company reached a point where it needed outside financing to reach the next level of growth. Welch says he stepped in to help thinking that in a few phone calls the company would achieve the financing it needed. However, he says he soon realized that post-recession many regional and community banks no longer exist and that is where many mid-size companies turned to for help. At that point, Welch started working with TAB Bank and realized it could be an incredible resource for the toy industry.

"Our relationship is with TAB and we think they will be a huge resource for the toy industry," he says. "We'll introduce companies to TAB. These are companies that have $70–$80 million in revenues and it could be as small as a company with $5–$6 million in sales. But the companies have receivables to finance and inventory. They will be candidates [for financing from TAB]."
Welch says that this program will focus on the toy, infant, juvenile, and pet industries. The program is now in effect, officially launching this week during Fall Toy Preview. For more information, contact John Lee (jlee@bambinipartners.com) or Jerry Welch (jwelch@bambinipartners.com).
MAPP Trap Introduces MAPP Policy Enforcer
MAPP Trap, an internet search system that helps companies monitor and identify price-discounting online sellers, launched its auto-enforcement module. The MAPP Enforcer allows users to create customized plans that automatically send personalized emails to online policy violators.
"Not only does the Enforcer let a company automate the notices they're sending from in-house," says MAPP Trap CEO, Ron Solomon. "But it also tracks which emails have been sent, to who, and when. There is even a merchant CRM where users can make merchant-specific notes to keep track of responses."
To date, the majority of users have implemented three-strike plans. Generally, the first email contains proof of the merchant's violation(s) along with a reminder of the vendor's policy. The Enforcer allows the user to attach its policy document to the email and violations are automatically embedded. If the merchant continues violating after a pre-determined number of days, the system sends a second email warning that if violations continue the merchant will be cut-off. If the merchant continues violating after two warnings, a third email is generated telling the merchant they have been cut-off, subject to the vendor's policy.
For more information about MAPP Trap visit www.creditorsnetwork.com.
Four More Transformers Movies in the Works
Variety is reporting that four more Transformers films are in development. The announcement was made at MIPCOM, which is underway this week. Read about it/See the video here.
Corus Entertainment, Bento Box Entertainment Create Bento Box Canada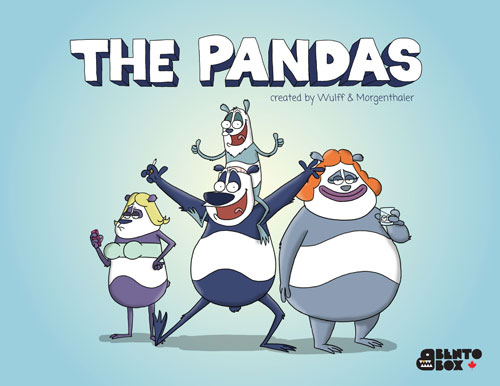 Corus Entertainment and Bento Box Entertainment announced the creation of Bento Box Canada, an animation production company based in Toronto. The venture follows last year's announcement of the multi-year, co-development deal between the two companies. As part of the agreement, Bento Box Entertainment and Corus will work to develop and produce a slate of original, primetime-animated series for Corus networks, to be distributed internationally by Bento Box Entertainment.
The partnership will produce animated series targeted to the 18-34-year-old demographic. Bento Box Canada will operate from Corus Quay, the facility that is home to Corus and Nelvana utilizing creative, technical, and back office services from both companies.
This fall, production will begin on the first Bento Box Canada series, The Pandas. From creators Mikael Wulff and Anders Morgenthaler, The Pandas is an irreverent, animated family comedy full of hard jokes, whimsical wonder, biting satire, and just the right amount of heart.
Bento Box Canada's board of directors will include Scott Greenberg, CEO of Bento Box Entertainment, Brett Coker, COO, Bento Box Entertainment, Colin Bohm, executive vice-president, head of Corus Kids, and Scott Dyer, president of Nelvana.
What's New in Collectible Toys on TTPM
TTPM is showcasing the newest items in Collectible Toys. For the latest in Toys, Tots, Pets, and More as well as what's trending, visit TTPM.com.