Barnes & Noble's Holiday Toy List
Barnes & Noble announced its picks last week for the must-have toys and games of the season.
"Play is not only fun, it's essential to a child's development and a critical component in grasping key educational concepts as kids get older," said Kathleen Campisano, vice-president, toys and games, Barnes & Noble.
Barnes & Noble arranged its list by age and interest:
Ages 0–2
For the Early Learner: Stretchy Giraffe A to Z Abacus from Hape
For Inquisitive Babies: Tree Top Adventure from Manhattan Toy
For Strengthening Motor Skills: Explore & More Rolling Owl Push Toy from Skip Hop
For the Beginning Builder: DUPLO Baby Zoo from LEGO
For Pull-Along Puzzlers: Animal Train Puzzle from Orange Tree Toys
Ages 3–5
For Grand Dinosaur Adventures: Imaginext Big Dino from Fisher-Price
For the Little Videographer: Kidizoom Action Cam from VTech
For Big Imaginations: Smart Toy Bear from Fisher-Price
For Pup-Inspired Rescue Missions: PAW Patrol Mission Chase from Spin Master
For Blossoming Musicians: B.Ribbit-tat-tat Frog Drum from Battat
Ages 6–8
For the Virtual Reality Generation: View Master VR from Mattel
For Creative Joy: Play-Doh DohVinci Spotlight Spin Studio from Hasbro
For Curious Minds: Makey Makey—An Invention Kit for Everyone from JoyLabz
For Interactive Pretend Play: Zoomer Zuppies Barnes & Noble Exclusive from Spin Master
For Aspiring Inventors: Roominate Townhouse from Maykah/Roominate
Ages 9–12
For Celestial Explorers: TK1 Telescope & Astronomy Kit from Thames & Kosmos
For Tech Lovers: MiP Gold from WowWee
For Harry Potter Enthusiasts: Harry Potter Chess from The Noble Collections
For Aspiring Engineers: Meccanoid G15 from Meccano
For Master Builders: Star Wars First Order Special Forces TIE Fighter from LEGO
Ages 13 and up
For Star Wars Fanatics: BB-8 App-Enabled Droid from Sphero
For Strategy Gamers: Betrayal at House on the Hill from Wizards of the Coast
For Celebrating the World of Architecture: LEGO Architecture Louvre from LEGO
For Discrimination Collectors: S.H. Figuarts Super Saiyan Gohan Dragon Ball Z from Bandai Tamashii Nations
For Purveyors of Pop Culture: Funko Vinyl POPs from Funko
The Passing of Cardinal's Sylvia Berger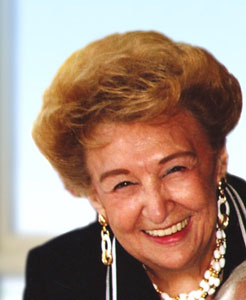 Cardinal Industries announced that Sylvia Berger, partner and wife of founder Les Berger, passed away on November 10, 2015. She was 97. Sylvia ran Cardinal with husband Les for more than 60 years. She recently retired at age 96. (Les Berger passed away in March 2014. He was 95.)
Berger's family released the following statement: "Born Sylvia Kirsch, she married Les Berger in 1950, five years after he started the toy and game company. Shortly thereafter, Berger requested Sylvia join him in building the company. Les often credited her with their success. He often referred to Sylvia as "the boss" because she signed all the checks. She was involved in every step of building the business and they were almost inseparable for all those years. Sylvia and Les watched as their son Joel and then their daughter Bonnie joined Cardinal. Together the family grew Cardinal from a small family business into the No. 2 game company in the United States and one of the oldest privately held toy companies in the U.S. Les Berger was inducted into the Toy Industry Hall of Fame in 2015. Sylvia attended the ceremony with her children and accepted the award on behalf of her late husband."
Cardinal was recently acquired by Spin Master.
TTPM's Most Wanted List 2015
Thanksgiving is this week and that means holiday shopping moves into high gear. Shopping for the kids in your life? Here is a recap of TTPM's Most Wanted List, which was announced earlier this season. For the latest in Toys, Tots, Pets, and More as well as what's trending, visit TTPM.com.