PupStyle, European Home Designs in Dog Fashion Deal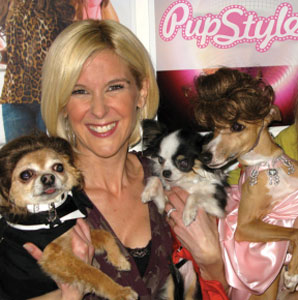 PupStyle's Dara Foster has signed a licensing agreement with European Home Designs, a manufacturer of pet products, to create a line of dog fashion, accessories, and bedding. The line, which is expected to launch in spring 2012, will range in price from $9.99 to $49.99.
Dara Foster launched www.pupstyle.com 10 years ago. She is a pet fashion stylist and TV personality and can be seen regularly as the pet style contributor on NBC's Today Show, The Wendy Williams Show, The Nate Berkus Show, as well as TV Land, E!, ABC News, and more. She was recently profiled in the New York Times and has signed a production deal with Kinetic Content.
The deal with European Home Design was brokered by Sharon Bennett of Bennett Branding and Holly Rawlinson of The Name Game.
Fremantle in Bellator Deal
FremantleMedia Enterprises (FME), the brand extension arm of FremantleMedia, announced a global rights deal with Bellator Fighting Championships for FME to exclusively represent the rapidly growing brand's international TV distribution rights, as well as handle the licensing, digital, and ancillary rights for the U.S. and international markets.
Since its launch in 2009, Bellator has rapidly gained momentum in the U.S. and abroad, and is now the No. 2 promoter and producer of mixed martial arts worldwide. Currently in its fifth season, Bellator airs in more than 80 million homes on MTV2, in high-definition in 30 million homes on EPIX and can be seen weekly on Spike.com. Recognizing the growing popularity of the brand, Viacom, parent of MTV Networks, recently acquired a majority stake in the company. Additionally, Viacom has announced that Bellator will debut on Spike TV in early 2013, where it will be seen in more than 100 million homes. Bellator Fighting Championships showcases a unique format of fighting with 12-week, eight-man tournaments.
Firefly Signs Anne Geddes
Firefly Brand Management announced that it has signed a licensing agreement with The Geddes Group for international licensing representation. The new partnership between Firefly Brand Management and The Geddes Group will help bring artist Anne Geddes' classic, iconic images to new audiences of women, girls of all ages, and the next generation of mothers around the world.
Diesel in Underwear Deal with WBCP
Diesel in collaboration with Warner Bros. Consumer Products will launch four new underwear styles representing four different DC Comics Superheroes. Styles available include The Batman Boxer Trunk, The Flash Boxer Trunk, Green Lantern Boxer Trunk, and The Joker Boxer Trunk.
MEGA Signs Marvel for RoseArt Line
MEGA Brands, Inc., has entered into a licensing agreement with Marvel Entertainment to feature Spider-Man and other classic comic book characters as part of MEGA Brands' RoseArt 3-D Create 'n' Color products.
The new Marvel-inspired RoseArt products are now available at Walmart for this holiday season.