Universal Signs Hasbro for Despicable Me 2 Games
Universal Partnerships & Licensing (UP&L) and Illumination Entertainment announced that it has signed Hasbro to a master gaming agreement. Hasbro will create Despicable Me 2 versions of Monopoly, Operation, and two collectible Minion Pods games where players launch Minion pods to battle against each other and complete missions. Hasbro joins global master toy licensee Thinkway Toys and master domestic apparel licensee Hybrid Apparel. The games are expected to be available summer 2013.
The upcoming motion-picture event Despicable Me 2 arrives in theaters July 3, 2013.
HBO Signs Funko for Game of Thrones Figures
HBO Global Licensing has signed Funko to develop a line of vinyl figures inspired by characters from the TV series Game of Thrones. The collection will feature six figures—Tyrion Lannister, Ned Stark, Daenerys Targaryen, Khal Drogo, The Hound, and a White Walker—and will be released in time for this holiday season.
The vinyl figures, which are 3.75 inches tall, will be available mid-November in various stores across the country including the HBO Shop in New York City, HMV retail outlets, Amazon Online, and ThinkGeek.com.
Additional Licensees for Almost Naked Animals
The Licensing Shop, Inc., announced additional licensees for the Almost Naked Animals merchandise program in Canada. Leese Enterprises International has been signed for confectionery and novelty candy. Tickadeeboo Entertainment has been signed for live shows, character, and mascot events. These licensees join existing partners with Canadian rights including Basic Fun, Character Options, Titan Publications, Underground Toys, and eOne for home entertainment.
Almost Naked Animals is both produced and distributed by 9 Story Entertainment. It airs in the U.S., Canada, and globally. The Licensing Shop represents the property for licensing in Canada.
American Greetings Properties Signs Asian Licensees for Care Bears
American Greetings Properties (AGP), the intellectual property and outbound licensing division of American Greetings Corporation, and MediaLink, AGP's international licensing agent, have announced two new licensees for Care Bears in Asia. KT International will expand the Care Bears presence in China launching a new line of apparel, accessories, and housewares for this holiday season. VL&M, AGP's first Care Bears licensee in Thailand, will be launching apparel lines targeting infants, kids, and teens also for this holiday season.
Licensing Deals for Sassy Slang
Icebreaker Entertainment LLC, a multi-brand consumer products company, announced that it has signed with Recycled Paper Greetings, a wholly-owned subsidiary of American Greetings Corp. to produce Sassy Slang greeting cards.
"Sassy Slang is a hip new brand for teens, tweens, and young adults looking for edgy, flirty, flattering products," said Christi Scofield, president and founder of Icebreaker Entertainment and creator of the Sassy Slang brand, in a statement.
Additional Sassy Slang products include school supplies, currently available at Target, beverage coolies for both cans and bottles, big and bold novelty lighters available exclusively at Dollar General stores, and a wide variety of apparel items. Synchronicity is representing the brand for licensing.
Syngery Represents BuzzingBOTS for Licensing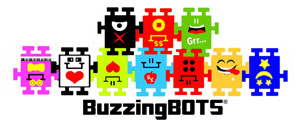 BuzzingBOTS, the creation of designer Kristine Tsung, is now available for licensing from Synergy Licensing. BuzzingBOTS are a group of characters that each has its own personality and demoticon. The initial licensing efforts will target the tween market.
JTMG Signs Dirty Minds for Licensing
Joy Tashjian Marketing Group (JTMG) has been named exclusive licensing agency for the innuendo-based adult board game Dirty Minds by TDC Games.
The first licensee is TF Publishing, which will create a calendar based on the word play innuendo clue-and-answer game. (For example: I'm a four-letter word; I'm a name for a woman; I end in u-n-t. What am I? Answer: Aunt).
JTMG will target all novelty categories as well as apparel and T-shirt companies for Dirty Minds.
Designed for two or more adults, the dirtier the mind, the worse a player will be at playing Dirty Minds because all of the answers are clean.