Silver Dolphin Acquires App Rights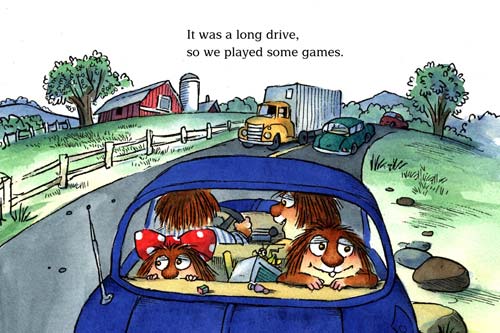 Silver Dolphin Books, an imprint of Baker & Taylor Publishing, has acquired the app publishing rights for the children's brands Little Critter and Richard Scarry. The company plans to release a total of six new apps in 2013 for Little Critter, Richard Scarry, and an all-new IP, Astro B-1.
The apps are debuting on both the iOS and Android platforms.
Additional Publishing Deals for Care Bears
American Greetings Properties (AGP), the intellectual property and outbound licensing division of American Greetings Corporation, announced two publishing deals with Phidal Publishing and Dalmatian Press for Care Bears in the U.S. Product will launch in spring 2013, and the new publishing formats will complement existing licensees Bendon Publishing and Running Press, which are currently in the market with mini-books, value-priced color and activity books, educational books, flashcards, and Imagine Ink books.
Phidal Publishing will introduce novelty formats including Learning Series, Write & Draw, Super Sticker books, Poster Paint books, My Little Library, Sliding Puzzle books, and more. Dalmatian Press will launch a full line of board books, 8×8 storybooks, Grab-n-Go Play Packs, and color and activity books.
Balloons for Suzy's Zoo
Lawless Entertainment announced a deal with Pioneer Balloons on behalf of Suzy's Zoo.
Pioneer Balloons will develop a variety of balloon types including latex, foil, bubble, and punchball utilizing art from all three of the Suzy's Zoo character sets: Suzy's Zoo (aka Duckport), Little Suzy's Zoo, and Wags and Whiskers. The balloons will be sold in the U.S., Canada, Mexico, and Australia to balloon distributors, as well as at mass and specialty stores, supermarket chains, and drugstore chains beginning March 2013.
Mead Signed as Smash Licensee
Joy Tashjian Marketing Group, working on behalf of NBC-TV, has signed Mead Products, a subsidiary of Acco Brands, as the newest licensee for the NBC-TV series Smash. Mead/Acco will manufacture calendars featuring stars and themes from the musical drama.
Smash celebrates the beauty and heartbreak of the Broadway theater as the series follows a cross section of talented dreamers and schemers who all have one common desire—to be a "Smash."
Real Housewife of N.J. Signs with Sherman & Blank for Licensing
The Real Housewives of New Jersey star Teresa Giudice is working with Sherman & Blank, Inc., a full-service licensing agency and consulting company, which has established Team Teresa for licensing and merchandising of her brand.
In addition to Guidice's role on The Real Housewives of New Jersey, she has also appeared on Celebrity Apprentice and has published numerous books: Fabulicious!: Teresa's Italian Family Cookbook, Skinny Italian: Eat It and Enjoy It—Live La Bella Vita and Look Great, Too!, and Fabulicious!: Fast & Fit: Teresa's Low-Fat, Super-Easy Italian Recipes.
Numerous categories will be explored for licensing.
Apps for Discovery's Animal Planet Brand
Cupcake Digital, Inc., announced a partnership with Discovery Communications to create a series of original apps for preschoolers and kindergarteners under the Animal Planet brand. The first interactive activity app is Animal Planet's Hide and Seek featuring animal images of domestic pets. Using the interactive format, children can develop vocabulary skills through various games, puzzles, tracing, sequencing, and sorting activities.
The apps will be available on Apple, Amazon, Google Play, and Barnes and Noble platforms.
Chicken of the Sea to Get Licensing Program
Perpetual Licensing, LLC announced it has signed with Chicken of the Sea International to develop its strategic brand licensing program.
Perpetual will work with Chicken of the Sea to extend the brand into new healthy, nutritious, and convenient seafood and seafood-related products. Licensed products could include soups (such as clam/seafood chowders), seafood stocks, meal starter kits, sandwich spreads, condiments, and other products that complement seafood.
Chicken of the Sea is distributed to more than 50,000 retail locations. The company says it sells more than 250 million cans and pouches of seafood annually.