Tabletops Unlimited, Kellogg's in Deal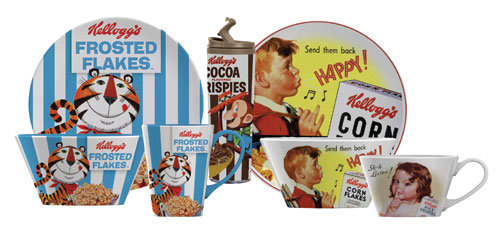 The Kellogg Company has partnered with housewares company Tabletops Unlimited (TTU) to create licensed products in the casual dinnerware, serveware, prepware, glassware, cookie jar, and canister categories for Kellogg-owned brands and associated character art, logos, and slogans. The deal covers both current and vintage Kellogg's brands.
TTU will be creating tabletop collections for the following Kellogg's brands: Apple Jacks, Kellogg's Corn Flakes, Kellogg's Corn Pops, Froot Loops, Kellogg's Frosted Flakes, Honey Smacks, Rice Krispies, Kellogg's Raisin Bran, Cheez-It, Special K, Eggo, Pop-Tarts, Keebler, and Kellogg's Vintage. The line will be sold in the U.S.
The deal was brokered by The Joester Loria Group, which represents Kellogg's for licensing.
Vera Bradley Designs, Tiny Prints Partnership
Vera Bradley Designs, Inc., has partnered with Tiny Prints to offer a collection of baby stationery including personalized baby shower invitations, birth announcements, thank you notes, and address labels, that showcase Vera Bradley's colorful prints and designs.
The Vera Bradley for Tiny Prints baby stationery is sold exclusively on Tiny Prints at www.tinyprints.com/verabradley/.
Vera Bradley Designs also announced that it launched its own baby collection. The line includes apparel items, baby gifts, and several baby bag styles.
Peppa Pig Apparel Deal
Entertainment One Family (eOne) announced a licensing partnership with Evy of California to develop a new line of Peppa Pig-themed apparel for girls. The first collection is scheduled to debut in select mass and specialty retailers across the country this spring.
The new line will include T-shirts, sportswear, and dresses for girls age 2–5.
The apparel company also has licensing agreements with Hello Kitty, Disney Princesses and Fairies, Minnie Mouse, and Boo the World's Cutest Dog. Peppa Pig currently airs on Nick Jr.