Card.com to Feature Discovery TV Series
Discovery Communications and Card.com, a prepaid debit card provider, announced the launch of prepaid Visa and MasterCard debit cards featuring designs from Discovery Channel series, including Gold Rush, Fast & Loud, Deadliest Catch, and MythBusters. The cards are currently available at www.Card.com.
The prepaid debit cards can be used everywhere Visa or MasterCard is accepted. These are not gift cards, but rather bank-issued, fraud-protected, FDIC-insured debit cards with a user-friendly online banking experience that includes bill pay, cash transfers, and transaction history.
Fetch, WBCP in Pet Deal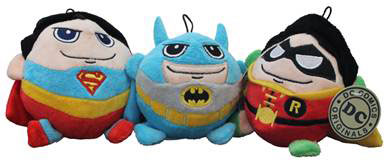 Fetch. . . for pets! announced a new line of DC Comics-themed pet apparel and toys for dogs in a licensing partnership with Warner Bros. Consumer Products (WBCP), on behalf of DC Entertainment. The line debuts exclusively at PetSmart stores this month. The line will feature DC characters on T-shirts, dresses, and bandanas. The line also offers an assortment of toys, such as ball bodies, teethers, bottle crunchers, and plush figures.
TCG Signs Tickety Toc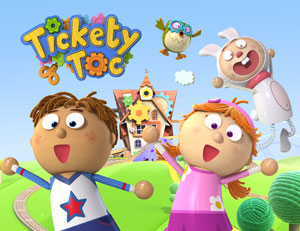 Zodiak Kids have signed TCG to manufacture, distribute, and market a new line of wooden toys and activities featuring the Tickety Toc characters for North American distribution in fall 2014.
The deal was brokered by U.S. licensing agent, Established Brands and Canadian licensing agent, Studio Licensing, on behalf of Zodiak Kids.
Consumer products will launch in North America this fall led by master toy partner, Just Play, and Home Entertainment partner, Anchor Bay Entertainment. Tickety Toc is currently airing on Nick Jr. in the U.S. and on Disney Junior in Canada.
SEGA, DTI in Deal for In-Flight Games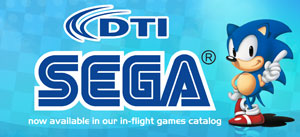 DTI, a provider of in-flight games, has signed an agreement with SEGA of America, Inc., to supply gaming titles to airlines, including several games from the Sonic the Hedgehog series, Golden Axe, and Streets of Rage 3. DTI is wholly owned by Advanced Inflight Alliance (AIA), a subsidiary of Global Eagle Entertainment, Inc.
DTI has signed a licensing agreement for more than a dozen of SEGA's games, which can all be played on the industry's latest Android-based seat-back and portable in-flight entertainment platforms, as well as legacy systems.
The games are in the final weeks of testing. Airline carriers will be announced shortly.
Playboy Enterprises and VuQo in Liquor Deal
Broad Street Licensing Group announced that it has brokered a worldwide licensing deal between Playboy Enterprises and VuQo, Inc., for tequila, vodka, and gin. Earlier this year, VuQo signed a licensing agreement with Playboy Enterprises to produce and distribute Playboy Vodka in Asia Pacific. The new deal now covers a super-premium line of spirits that includes vodka, tequila, and gin; which will be available globally. Playboy Vodka and Playboy Tequila are set to be launched later in 2013, while Playboy Gin will be available worldwide next year.