Brand Central to Represent Virgin Galactic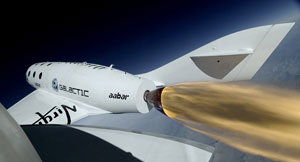 Brand Central announced that is has been selected by Virgin Galactic to develop its consumer products licensing program in North America. The launch of Virgin Galactic, the world's first commercial space line, will herald a new era of access to space. Virgin's Sir Richard Branson and his children will mark the start of the passenger service by taking their seats on Virgin Galactic's inaugural commercial flight. The event will be covered live by NBC, Virgin Galactic's broadcast partner for North America. It is expected to take place August 2014.
The inaugural flight will be celebrated by the launch of a series of events. Some of the events currently in development include a Mark Burnett produced reality show (also intended for NBC), Zero G Colony, (a technology and music festival to be held near Spaceport America in New Mexico), a publishing range, an IMAX documentary, and more.
Brand Central is also working with William Morris Endeavor, who is working with Virgin Galactic on sponsorship and brand integration partnerships, to create a 360-degree brand extension program. Beyond North America, Virgin Galactic's brand licensing is managed by Fluid World.
New Deals for Peppa Pig
Entertainment One Licensing (eOne Licensing) announced further expansion of the Peppa Pig brand in the U.S. with new licensing deals. The series currently airs seven days a week on Nick Jr.
eOne has partnered with the Joy Cone Company for a nationwide cross-promotion. The Joy Cone Company will feature an on-pack mail-in offer for a free Peppa Pig Ty Beanie Baby with the purchase of any Peppa DVD and any package of Joy Cone ice cream cones. Running in April through December, the promotion will be featured on more than two million packages.
P2 Games will introduce the Peppa Pig's Party Time app. This is the third Peppa Pig app from P2 Games. It is compatible with iPhone, iPad, iPod Touch, and Android devices such as Kindle Fire. It's available on iTunes and Amazon.
Bakery Crafts will produce Peppa Pig cake top décor, cupcake rings, and edible Icing Art. Pioneer Balloon Company will create a new line of Peppa Pig balloons.
Waste Management Bags in Walmart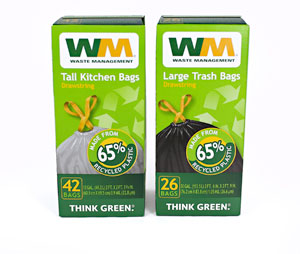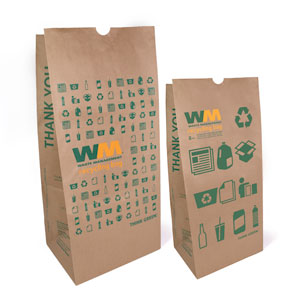 Waste Management, North America's leading provider of integrated environmental solutions, teamed up with Reynolds and Duro Bag Manufacturing Company for a line of trash and recycling bags launching in select Walmart locations this month. The deals were brokered by The Joester Loria Group, which represents Waste Management.
The Waste Management recycling bags by Duro Bag Manufacturing are paper bags with fun and informative graphics, which are designed to demonstrate what household items can be recycled. Waste Management trash bags by Reynolds are made from 65 percent recycled plastic.
CBS Introduces Star Trek Beer
CBS Consumer Products and The Federation of Beer announced the creation of a new Star Trek-branded beer called Klingon Warnog. It is slated to ship in the U.S. and Canada this year. Klingon Warnog is an official Star Trek beer brewed under license by Tin Man Brewing Company of Evansville, Ind.
Knockout Licensing to Represent Singer

SVP Worldwide has appointed Knockout Licensing to manage and expand its licensing program for the Singer brand, known primarily for its sewing machine brand.
Knockout Licensing will be exploring growth opportunities with existing Singer licensees such as Dyno Merchandise (sewing notions) and NKOK, Inc., (children's sewing machines, children's knitting machines) as well as actively seeking additional licensing partnerships to extend the Singer brand into reliable, easy-to-use products, spanning a broad range of categories such as crafting, knitting, quilting, fabric care, and other home tools and appliances.
Vans, ASPCA in Footwear and Clothing Deal
Vans has partnered with the ASPCA (The American Society for the Prevention of Cruelty to Animals) to support its mission to protect animals across the country by releasing a footwear, apparel, and accessories collection for women. The seven-piece Vans x ASPCA collection features a collaged print of the organization's favorite adopted furry friends.
Designed to match back to the classic footwear collection, the Vans x ASPCA Apparel and Accessories Collection includes matching dog and cat prints on the Vans Beach Girl Trucker Hats and Vans most popular backpack style, the Realm Backpack. A special Vans x ASPCA T-shirt sports a pug puppy adorned with orange glasses with Vans and ASPCA dog ID tags. The line will be available at Vans retail stores this month.
Veria Living to Be Developed into Licensing Program
Veria Living, the media brand for healthy lifestyle and wellness programming, has signed a representation agreement with talent agency N.S. Bienstock to become its licensing and merchandising agent.
As part of the arrangement, N. S. Bienstock will seek category leaders in the natural and healthy products space, including apparel, exercise equipment, food, health and beauty aids, biometrics and cookbooks.