Nickelodeon, G Mason Group in Pet Deal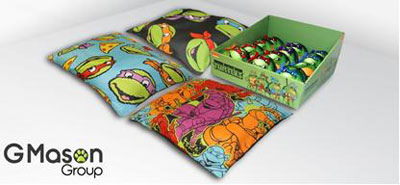 G Mason Group announced its partnership with Nickelodeon to launch a line of pet products featuring Nickelodeon brands such as SpongeBob SquarePants and Teenage Mutant Ninja Turtles. Available this holiday season, the collection includes leashes, collars, pet beds, toys, and apparel for cats and dogs.
Sweets Line for Candy Crush in UK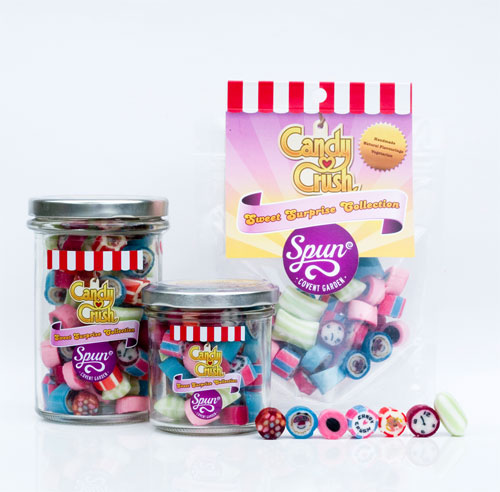 King Digital Entertainment plc, creator of Candy Crush, announced that Candy Crush Saga has launched its first UK collection of candies in partnership with Spun Candy. It is available now at Selfridges stores nationwide and at Spun Candy's store in the heart of Covent Garden in London. Four different collections of Candy Crush candies are available at launch, inspired by popular episodes in the game.
eOne Signs Licensees for SO SO Happy
Entertainment One Licensing (eOne) has signed the following licensees for SO SO Happy. Iron Fist has been signed for a line that will include fashion tops and bottoms, blouses, sweaters and coats, dresses, jumpsuits, and footwear. Loungefly and Goodie Two Sleeves have also been signed to produce a collection of SO SO Happy apparel and accessories for the U.S. market.
Goodie Two Sleeves has positioned itself as a provider of tees, hoodies, and related separates, often with funny but positive sayings. The Loungefly collection will include fashion bags, wallets, coin purses, lanyards, lunch boxes, plush bags, backpack clips, and novelties.
Tudor Games Signs Deal with NFL
Tudor Games, makers of the original Electric Football game, announced a licensing agreement with the National Football League (NFL) to market a new collection of NFL Electric Football games and NFL Team Action Figure sets.
Enhancements for this year include Invisibase Speed and Strength Cleats, devices that propel the one-inch action figure players across the field. Translucent in color, players wearing Invisibase Cleats appear to be running directly on the new SpeedTurf playing fields. SpeedTurf replaces the metal boards of the past with a fully detailed high-tech surface, powered by a variable speed handheld PlayAction Remote Control. The new battery-operated games are available in three playing-field sizes. NFL Electric Football Action Figures are available in sets of 11 players in home and away uniforms for every team. The game was first introduced in 1947.
New Deals for Snap Creative
Snap Creative announced the following licensing deals. Snap Creative is offering a line of collectible cups and cup toppers for movie theater chains featuring Guardians of the Galaxy. For Teenage Mutant Ninja Turtles, there will be collectible branded popcorn boxes, cups, and cup toppers for each character available in movie theaters.
Spartacus: The Complete Series, will be released September 16 on limited-edition Blu-ray—Digital HD. Each set will be packaged with a Spartacus collector figurine by Snap Creative.