Madame Alexander, NASCAR in Deal
The Madame Alexander Doll Company announced a partnership with NASCAR Team Properties to design and develop NASCAR play doll collections including dolls featuring Danica Patrick, driver of the No. 10 GoDaddy Chevrolet SS for Stewart-Haas Racing in the NASCAR Sprint Cup Series. This is the first in a series of new collections that will be introduced in fall 2015.
The Simpsons Coming to Minecraft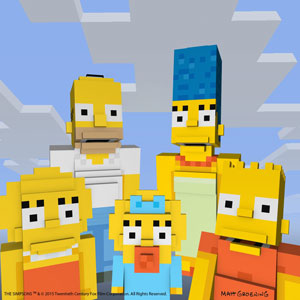 Twentieth Century Fox Consumer Products and Xbox will launch The Simpsons content packs for Minecraft Xbox 360 and Xbox One editions. Scheduled for release in late February, the downloadable pack will include the Simpsons family plus 19 of Springfield Elementary School's key characters.
Multiple Deals for American Greetings Properties
American Greetings Properties (AGP) announced a collaboration between its properties Care Bears, Strawberry Shortcake, and Madballs, and Socks and Accessory Brands Global (SABG). Product is expected to be in stores for back to school 2015. In the U.S., Care Bears, Strawberry Shortcake, and Madballs hosiery and accessories will be available in mass and mid-tier retailers as well as shoe stores. Madballs accessories will also be available in Canada.
Additional separate announcements include a collaboration between Care Bears and the juniors' apparel label, Iron Fist with product expected in stores in spring 2015. AGP also announced a partnership with Buckle-Down for belts, buckles, wallets, and accessories. The Buckle-Down products are expected for winter 2015.
New York Philharmonic Signs Remarkable Brands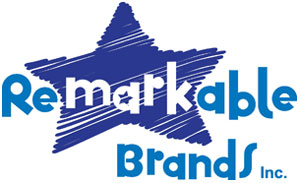 The New York Philharmonic has signed Remarkable Brands, a licensing and branding agency led by Stacey Reiner, as its worldwide licensing agent. Remarkable Brands will develop a wide-ranging licensing program for the 173-year-old institution. It is planning a two-tiered licensing program that will include home décor, high-end accessories, books, artwork, calendars, and more targeting adults, as well as musical instruments, books, and posters for children.
Campbell Soup Signs Big Tent for Licensing

Big Tent Entertainment announced that it has been retained by Campbell Soup Company to develop a line of licensed products. Under the multi-year agreement, Big Tent will create a merchandising program focusing on non-consumable categories including home and kitchenware, décor, appliances, storage, publishing, novelty, toys, apparel/accessories, digital, and collectibles.
The Limited Signs Beanstalk for Licensing
American fashion retailer The Limited has signed Beanstalk to develop a licensing program. To extend The Limited's reach as a lifestyle brand, Beanstalk will seek partners across apparel and accessories categories, including sportswear, athleisure, outerwear, fashion jewelry and accessories, handbags, footwear, optical, plus size, and maternity. Fashion products will be distributed across complementary retail channels. Menswear and home products may also be future considerations, says Beanstalk.
SoBe Introduces Fruit Snacks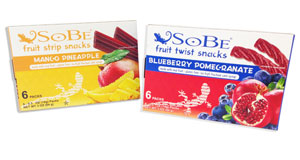 PepsiCo. has partnered with Simply Natural/Healthy Food Brands to launch SoBe fruit twist snacks. The deal was brokered by The Joester Loria Group on behalf of PepsiCo.'s SoBe. As a follow-up to the brand's first food extension with Life Water Frozen Fruit Bars, the SoBe fruit snacks will hit the market on February 1 exclusively at Walmart. The line will be rolling out across multiple retailers through the year.
Eric Carle Live Show Premiered in Australia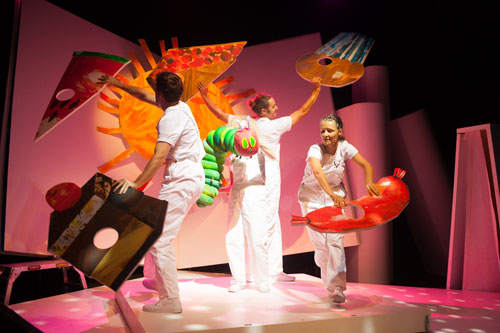 The Joester Loria Group and The Eric Carle Studio announced the premier of The Very Hungry Caterpillar Show and Other Timeless Stories, at Sydney Festival earlier this month. Produced by Joey Creative, Eric Carle's iconic characters come to life with 75 puppets that replicate his distinctive collage-style artwork. A giant pop-up book is a centerpiece of the production.
Producers Jonathan Worsley and Michael Sieders bring their experience to the project. Worsley's career spans film, theater, puppetry, television, commercials, and music videos. He is a former protégé of Baz Luhrmann, having worked on La Boheme in New York City. Co-producer, Sieders, and director Naomi Edward, have extensive experience in live theater and productions for children.
A variety of activities accompany the show including an interactive zone for kids including photos with the puppets and the opportunity to create their very own hungry caterpillar. Following its run in Sydney, the show will tour other parts of Australia.
The Joester Loria Group, exclusive global licensing agent for The World of Eric Carle, in collaboration with Haven Licensing, the local agent for the brand in Australia, worked closely with The Eric Carle Studio to develop the live show.
Shopkins Signs UK Licensees
The licensing campaign for Moose Toys' Shopkins, represented by Bulldog in the UK, is expanding with licensees in games, posters, and amusement plush. Winning Moves is set to launch its Shopkins range with the Top Trumps card game in markets worldwide and will follow up with games for the EMEA and Asia/Pacific markets. Pyramid will offer posters in all sizes for the UK and Ireland market and Whitehouse Leisure will create plush and key chains for the European amusement channels. The new licensees join a program, which has already signed Pedigree Books, DJ Murphy magazines, and Scholastic.
The games ranges will be available this spring and the posters are available now. The Whitehouse line will be in amusement parks across Europe in mid-2015.
Genius/A Squared Sign Deals for Psycho Bunny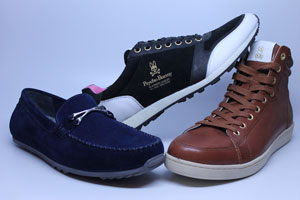 Genius Brands International, and its wholly owned subsidiary, A Squared Entertainment, have signed three licensees for the luxury fashion brand, Psycho Bunny, that will extend its line of men's apparel into a broad range of new product lines. Hosiery from Leg Resource, Inc., footwear from S3, and headwear from JRM Accessories will be available at retail in fall 2015.