New Licensees for Moose Toys
Moose Toys announced 16 additional licensees joining Shopkins' licensed merchandise program for the U.S. and Canadian market bringing the total licensee count to 25. The deals were brokered by The Licensing Shop, Inc., and include the following:
• The Bridge Direct—construction toys and activities
• Bentex Group—fashion tops, T-shirts (mass)
• Mighty Fine—fashion tops, T-shirts (mid-tier/specialty)
• Intimo—Sleep and lounge wear
• Global Design Concepts—bags
• Ashko Group—footwear
• Jay Franco—bedding, linens
• Jakks Pacific's Disguise division—Halloween costumes
• Ashtel—oral care
• Trends International—posters
• Tech 4 Kids—novelty lighting
• Cardinal Games—co-branded games
• Mrs. Grossman—sticker program
• Radz—novelty toy/candy dispensers
• Blue Orange Games—Spot it! co-branded games
• NTD Apparel—master apparel (Canada only)
Rubie's Launches Avengers: Age of Ultron Costumes
Rubie's Costume Company announced the launch of costumes, accessories, wigs, and masks inspired by Marvel's Avengers: Age of Ultron. Available in child and adult sizes, the officially licensed Marvel's Avengers: Age of Ultron collection includes: Iron Man, Thor, Hulk, Captain America, Black Widow, Vision, Hawkeye, and super villain, Ultron. The line will be available for this Halloween.
Rasta Imposta Granted Pixels License
Rasta Imposta announced that the company has been granted a license from Sony Pictures Consumer Products to produce Halloween costumes featuring characters from Pixels, based on the movie releasing July 24, 2015.
Rasta Imposta will bring the Pixels Arcaders to Halloween 2015 along with Lady Lisa and the classic video game character Q*Bert all from the upcoming feature film.
Gas Monkey Garage Hits Europe
Independent licensing company Rocket has been appointed as the pan-European agent for Gas Monkey Garage featured on Discovery's Fast N' Loud. The first European licensee, Burning Rubber UK Ltd, has already been appointed. The apparel range will include T-shirts, polo shirts, hoodies, sweaters, workshirts, casual shirts, socks, gloves, car jackets, and work jackets. Accessories such as hats, beanies, underwear, belts, buckles, stickers, car pendants, key rings, and key covers will also be part of the line. Rocket was selected as Gas Monkey Holding's agent in Europe by Brandgenuity LLC, Gas Monkey's exclusive licensing agency.
New Licensees for Downton Abbey
Knockout Licensing announced the addition of two new licensees to its Downton Abbey licensing roster with the addition of Premier Yarns and The PajamaGram Company.
Premier Yarns has been granted the rights to utilize the Downton Abbey brand including the color palette associated with its period costumes and sets for hand knitting or crocheting yarns.
The PajamaGram Company has been granted the rights to produce and sell Downton Abbey Pajamas packaged in a vintage-style lingerie bag.
NCircle Has Rights for Thomas Edison's Secret Lab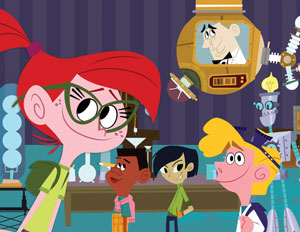 Genius Brands International, Inc., (GBI) has licensed to NCircle Entertainment the North American home entertainment rights, including DVD and specific digital rights, for its animated science-inspired adventure series, Thomas Edison's Secret Lab.
NCircle will widely distribute Thomas Edison's Secret Lab digitally (VOD, SVOD, EST, DTO) and on DVD at major retail outlets nationwide and online starting in December. The series will also debut on Netflix in July and on PBS stations and the Kid Genius Cartoon Channel on Comcast in September.
4K Media Signs Bioworld
4K Media, Inc., the Konami Digital Entertainment, Inc., subsidiary that manages the licensing and marketing of the Yu-Gi-Oh! brand, announced that it entered into a licensing agreement with Bioworld Merchandising. Under the agreement, Bioworld has the rights to feature the animated imagery from each of the popular Yu-Gi-Oh! series on a variety of apparel and accessory products.
Bioworld Merchandising will develop a broad range of Yu-Gi-Oh!-inspired merchandise across multiple consumer product lines, including headwear, bags, sleepwear and underwear, hosiery, casual footwear, small accessories, electronics accessories, fleece throws, and tumblers.
Painting Lulu Signs Deal with Mattel
FlyCatcher, Inc.'s Painting Lulu announced that it has signed a multiyear licensing agreement with Mattel that will bring the Barbie and Hot Wheels brands to the physical and digital worlds of Painting Lulu just in time for the back-to-school and holiday seasons.
Painting Lulu is a paper-to-digital coloring set that bridges the gap to the digital world by creating a coloring experience like no other. Kids color in the Painting Lulu coloring book with regular crayons, then scan the page using the Painting Lulu app on any smart device and the coloring page will instantly appear. Using the Painting Lulu Digital Crayon, kids can enhance and correct their coloring with the many tools and colors available. The Barbie- and Hot Wheels-licensed products are the first two licensed brands integrated into the Painting Lulu image-analysis technology.
Perpetual Licensing, Painting Lulu's licensing agent, brokered the license with Mattel.
Zak Designs Introduces Star Wars Line
Zak Designs is introducing dinnerware and drinkware featuring Star Wars classic characters. Among the newest items in the line is a 10-inch plate and a new 13-oz. iconic tumbler that features a dome lid and straw. The plates and iconic tumblers are available in R2-D2, C-3PO, Darth Vader, and Stormtrooper varieties. Zak is also releasing a 21.5-oz. Lightsaber water bottle.
Zak has also released a set of 10-oz. juice glasses that feature classic patches of the Galactic Empire or Rebel Alliance as well as several different coffee mugs with iconic sayings and renditions of the classic characters. Zak also has a 25-oz. Tritan water bottle and a 16-oz. Double-Wall tumbler.
Lawless Entertainment to Represent Rufus
Lawless Entertainment announced its appointment as worldwide representative for Rufus, a book-based property targeting children ages 4 and up, that features Rufus, a lovable and adventurous dog. Rufus was created, written, and illustrated by Caroline Mabey. Lawless Entertainment is handling all licensing and merchandising worldwide including publishing as well as seeking co-production partners for the project.