Spin Master Named Master Toy for The Secret Life of Pets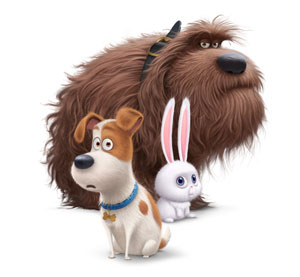 Universal Partnerships & Licensing (UP&L), Illumination Entertainment, and Spin Master announced that they will partner to market and distribute toy products globally for The Secret Life of Pets.
The comedy about the lives our pets lead after we leave for work or school each day marks the animated feature film debuts of Louis C.K., Eric Stonestreet, and Kevin Hart and will be released in North America on July 8, 2016.
Spin Master has the rights to develop a wide variety of toys. In addition to traditional plush and figurines, Spin Master has developed interactive and motorized toys that bring the pets to life. Product will be on shelf beginning May 2016.
Jazwares, Rooster Teeth in Deal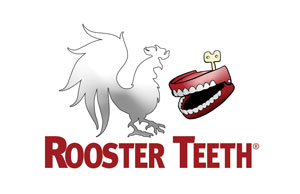 Jazwares announced an agreement for a toy partnership and international product licensing representation throughout North America and EMEA with production company and internet media sensation, Rooster Teeth. Jazwares will design, develop, and distribute toys and plush to international retailers, and act as the licensing agent for products outside the toy category. With its diverse show portfolio, the Rooster Teeth product program will focus on Lazer Team, and its upcoming feature film, as well as Achievement Hunter, RWBY, Slow Mo Guys, Xray and Vav, How To, Happy Hour, and the RT Animated Adventures. Product is expected in spring 2016.
Rooster Teeth is a studio focusing on animation, gaming commentary, and comedy that produces audience results of more than 16 million YouTube subscribers and 28 million weekly views, according to Jazwares.
Sakar to Develop Bratz Electronics Line
Sakar announced a global licensing agreement to develop a new collection of branded electronics for MGA Entertainment's Bratz doll line. The agreement is part of an upcoming makeover of the Bratz franchise spanning updated doll personalities as well as a broad selection of branded toys, content, and consumer products.
Sakar is developing multiple SKUs ranging from earbuds, headphones, and Bluetooth speakers to action cams, smartphone cases, flash drives, password diaries, power banks, walkie talkies, and a portable sing-a-long karaoke device molded to resemble the Bratz dolls' lips. The line will target girls 6–13 and is expected to be in stores spring 2016.
Fermata Signs Manchester City
Fermata Partners announced that it will be Manchester City Football Club's (MCFC) licensing agency for North America. Fermata expects to have several licensing agreements finalized shortly, with initial deliveries of product hitting retail to coincide with the start of the 2015–16 Premier League season in August.
Manchester City has become one of the best-known and most successful football clubs in the world, enjoying significant success the past five seasons. During that time, Manchester City has won two Premier League titles (2011–12 and 2013–14), an FA Cup Trophy (2010–11), and a League Cup (2013-14), and has become a regular participant in the UEFA Champions League.
Just Play Named Master Toy for Kate & Mim-Mim
FremantleMedia Kids & Family Entertainment (FMKFE) announced that it has greenlit the second season of Kate & Mim-Mim. Series two is due to launch on Disney Junior U.S. and will then air globally in late 2015.
In addition, Just Play has been named as global master toy partner and will initially create plush, dolls, figure packs, and roleplay products. The initial launch is scheduled in North America and the UK for spring 2016, followed by a wider international retail rollout in line with the second series.
Penguin Young Readers, a division of Penguin Random House, has been signed as the North American publishing partner. The initial line will launch in fall 2016 and will include storybooks, leveled readers, e-books, and doodle, activity, and sticker books.
A first DVD collection has launched in the UK, alongside a magazine special from Immediate Media. Acronym recently launched the first Kate & Mim-Mim English language app and Universal has just released the first DVDs in Germany.
Produced by DHX Media, in association with FremantleMedia and launched last year on CBeebies in the UK, Disney Junior in the U.S., and Super RTL in Germany, Kate & Mim-Mim is aimed at 2–5 year olds, and inspired by a real life girl and her toy. FMKFE has now sold the series to 80 international territories including Clan in Spain, DR in Denmark, SVT in Sweden, Tiji in France, and Okto in Singapore.
New Licensees for Baby Genius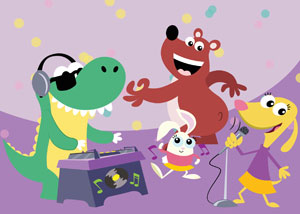 Genius Brands International (GBI) expands the Baby Genius retail program throughout North America with new licensees.
GBI has signed Winfat Industrial Company Limited, which produces the Winfun brand, who will design and develop early learning toys with a musical focus. DGL USA will produce musical instruments and toys, dance mats, karaoke machines, and plastic bath toys under the Baby Genius banner. Both licensees will introduce their product lines in fall 2015.
Winfat and DGL join a roster of previously announced partners debuting a comprehensive new product at retail this September in many anchor categories, including Manhattan Toy, developing soft toys; PBS Distribution, delivering Baby Genius content across a multitude of platforms (DVD, CD, digital); Zak Designs, creating a line of mealtime products; LeapFrog Enterprises, launching the first Baby Genius content available on the LeapPad line of learning tablets; and Cupcake Digital and Black Lantern, both developing new apps under the Baby Genius brand banner.
Commonwealth, Uglydoll in Deal
Pretty Ugly, LLC owner of the Uglydoll brand, announced that it has signed a licensing agreement with Commonwealth Toy & Novelty Co., Inc., for soft toy products. The new line will launch in 2016.
Simpsons Stores to Open in China
Twentieth Century Fox Consumer Products announced a deal with Her-Chain Clothing (Shanghai) Company Limited, supported by HongFang Group, which will launch the first Simpsons flagship stores in China later this year.
Peppa Pig Heads to Build-A-Bear
Entertainment One Licensing (eOne) announced a new partnership with Build-A-Bear Workshop for Peppa Pig. The new product will debut online and in Build-A-Bear Workshops in the UK on October 9, 2015, and in the months following in the U.S. and Australia.
The make-your-own Peppa Pig product line will feature a five-in-one sound chip, as well as two outfit options, and Peppa Pig's teddy bear. The line will be supported with an in-store marketing campaign.
Aurora, Precious Moments in Deal
Aurora World has signed a licensing deal with Precious Moments. Aurora has been awarded the worldwide rights for soft toys, soft dolls, all soft baby products, and plush featuring Precious Moments' teardrop-eyed children. The product line is expected to launch in 2016.
Peg + Cat to Be Licensed in Germany
9 Story Media Group announced the appointment of Germany's Super RTL to represent merchandising across Germany, Austria, and Switzerland for Peg + Cat, which is produced by The Fred Rogers Company and 9 Story Media Group. Super RTL, which has been airing the series since August 2014, is planning a full range of hard and soft lines and has already signed its first home entertainment deal. Sony Music Entertainment Germany is slated to launch Peg + Cat on DVD in the territory later this fall.
HiHat Media was recently appointed as the U.S. agent for the property, while 9 Story manages licensing for the brand internationally.
Gund, Huggy Buddha in Deal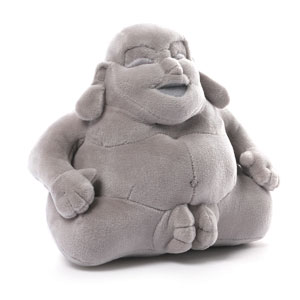 Remarkable Brands announced a licensing partnership between Huggy Buddha and Gund. The global, multi-year agreement covers all retail channels. Product is planned for the 2015 holiday season.
Huggy Buddha was created by Sandra de Vries, who wanted to give her first grandchild a soft Buddha plush as a good luck symbol for a happy life. Each Huggy Buddha comes with a hangtag that reads, "I wish you a happy life!"
Gund will manufacture and distribute a full line of Huggy Buddha plush formats, including sound toys, backpack clips, and activity blankets, as well as stationery products and hard goods.
PercyVites Signs Additional Licenses
PercyVites has added MGA Entertainment's Lalaloopsy and Zodiak Kids' Tickety Toc to its list of children's licenses that currently includes Max & Ruby, Arthur, Caillou, Johnny Test, and others. PercyVites will develop a digital party product line around each property.