Fox's Empire and Saks Fifth Avenue in Exclusive Partnership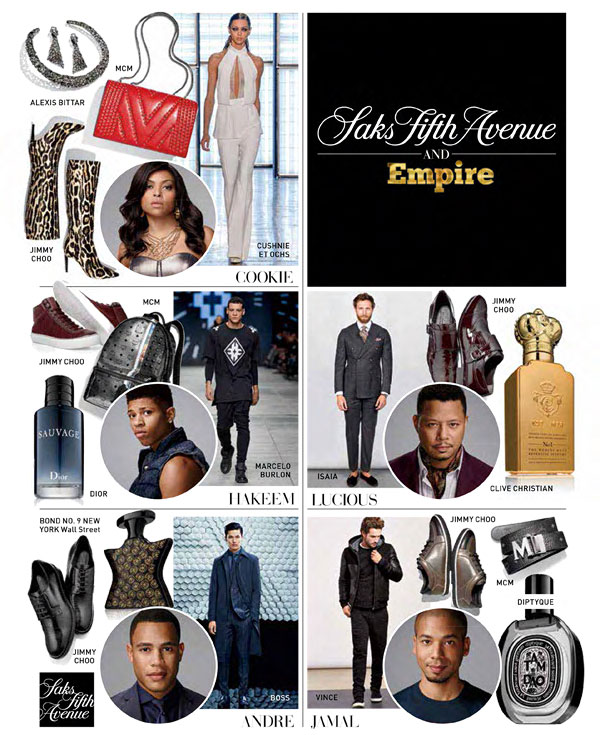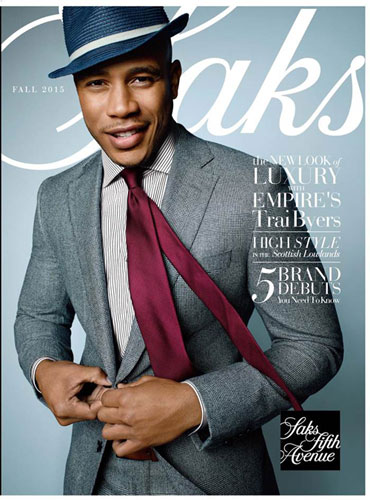 Fox's hit drama series Empire and Saks Fifth Avenue announced an exclusive partnership to bring fashions from the series to life. The partnership will feature curated collections from luxury fashion brands that represent the hit drama's glamorous aesthetic including fine jewelry from Alexis Bittar, women's ready-to-wear from Cushnie et Ochs, men's and women's footwear from Jimmy Choo, and handbags and accessories from MCM.
In addition, exclusive Empire-curated windows will be on display at Saks Fifth Avenue's New York City and Beverly Hills flagships from September 10–October 7. Empire actor Trai Byers will also be featured on the cover of Saks Fifth Avenue's fall magalog in Saks Fifth Avenue Collection's Fabric No. 1.
Items from each designer will be curated to create an Empire collection available at select Saks Fifth Avenue stores nationwide and saks.com. The Empire looks will also be available online at each brand's website as well as stand-alone retail locations.
In addition, Saks will host a September launch event in New York and men's luxury made-to-measure suiting events throughout September and October at locations in New York, Beverly Hills, Chicago, Boston, Houston, Bal Harbour, San Francisco, and Atlanta. #EmpirexSaks
Brand Licensing Team Signs Cold Stone Creamery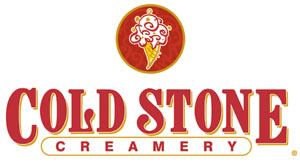 Brand Licensing Team announced that it has been chosen to represent Cold Stone Creamery for licensing in food and beverage categories. Cold Stone Creamery serves ice cream, shakes, smoothies, cakes, and cupcakes in over 1,000 stores in the United States.
Brand Licensing Team will leverage Cold Stone's indulgent flavors to offer other unique and craveable food and beverage products to consumers in retail grocery, mass, and club stores. Some of the categories that will be pursued include hot cocoa mixes, confection, desserts, baking mixes, and yogurt.
M&Ms, Zalemark Partner for Jewelry Line
Mars Retail Group and Zalemark Holding Company, Inc., completed a jewelry licensing agreement enabling Zalemark to design, market, and distribute a line of M&M's brand fashion jewelry. Currently under development, the collection may include earrings, bracelets, necklaces, and rings incorporating the colorful iconic candy brand and the whimsical M&M's characters.
The M&M's brand jewelry line will be available for retailers to preview in late 2015, with distribution expected in first quarter 2016. The line is expected to span $49–$129.
RJM Licensing Signs The Rainbow Fish Book Series
RJM Licensing has been appointed by NorthSouth Books, the publisher of The Rainbow Fish book series, to rep the series in the U.S. and Canada. In conjunction with the publisher, RJM will appoint sub-agents for the UK and Australia. Originally published in 1992, there are now seven titles in print with an additional title scheduled for 2017, which coincides with the 25th anniversary.
The Rainbow Fish series, which is ideal for licensed product for infants to age 6, uses holographic foil to make Rainbow Fish shimmer. Equally important to the stories are Rainbow Fish's friends such as The Little Blue Fish, The Wise Octopus, and The Big Blue Whale, which are featured along with gentle, timeless messages about sharing, friendship, accepting others, and facing one's fears.
Initial categories available for licensing include plush, toys, games, apparel and accessories, bedding and room décor, and stationery and craft items. Distribution for this program will be mid-tier retail and up.
WorldStrides, Smithsonian in Travel Program Collaboration
WorldStrides, an educational travel provider, and the Smithsonian Institution announced a collaboration of educational travel programs for university groups. Smithsonian University Travel Programs itineraries capitalize on the combined experience of WorldStrides and The Smithsonian, offering traveling groups of university students special access to research sites, scientific facilities, cultural landmarks, and a global network of experts for hands-on learning opportunities in destinations around the world.
These faculty-led travel programs are designed as extensions of the in-classroom experience for students in diverse majors including art history, engineering, physics, math, environmental science, and biology. The program itineraries were jointly crafted by WorldStrides and the Smithsonian Institution. Travel dates are custom. The first programs may launch as early as December.