LMA to Represent PEZ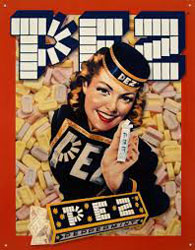 Lisa Marks Associates, Inc., (LMA) has been appointed the North American licensing agency for the PEZ brand. Following the brand's introduction 88 years ago in Austria, PEZ was introduced in America over 60 years ago. Today, generations of Americans consume over three billion PEZ annually in the U.S. alone. PEZ candy and collectible dispensers are available in more than 90 countries.
LMA has been signed to develop a strategic licensing program across key categories including personal care, food, toys and games, electronics, apparel and accessories, home décor, gifts and collectibles, publishing and art.
Cartoon Network, Hot Topic in Deal
Cartoon Network announced a new retail program for two of its original animated series—Steven Universe and Adventure Time—now available at Hot Topic stores nationwide as well as via hottopic.com. The program, which will run through December, includes a collection of licensed merchandise based on Steven and the Gems from Steven Universe, as well as Marceline the Vampire Queen, star of the upcoming Adventure Time special "Stakes," which will air on Cartoon Network as a week-long event debuting Monday, November 16.
Masha and the Bear in Italian Theaters
A joint agreement between Warner Bros., Animaccord, and Ink Global will see TV's Masha and the Bear make its big screen debut across Italy this Christmas. The theatrical release will run from December 23­–January 10, screened in selected theaters across the country distributed by Warner Bros. Entertainment Italy, introducing audiences to eight episodes never seen before on TV in Italy.
Harris-Sachs Brokers Puppy In My Pocket Licensing Deal
Harris-Sachs, LLC announced a licensing partnership for its client, Pamson Pacific Enterprises Corp., Ltd. for Puppy In My Pocket. Pamson Pacific, a manufacturer and exporter of seasonal toys and stationery, secured the agreement through Harris-Sachs with The Licensing Works!, a licensing and promotions company representing MEG Toys the creator of Puppy In My Pocket. Pamson Pacific's grant of rights includes a spring/summer line of toys to include bubble toys, chalk toys, and jump ropes among other seasonal items for kids.
New York Botanical Garden by Erwin Pearl Collection
Jeweler, Erwin Pearl, and The New York Botanical Garden (NYBG), introduce New York Botanical Garden by Erwin Pearl, a collection of fashion jewelry and accessories inspired by the grounds and architecture of NYBG, and rare illustrated works from its LuEsther T. Mertz Library. The partnership was brokered by NYBG's licensing agent, Jewel Branding & Licensing.
Abrams Artists Agency Signs Grizzly Adams
Abrams Artists Agency has signed Grizzly Adams, whose adventures in the wild terrain of early California inspired both a hit 1974 movie and a successful late 1970s TV series.Under the agreement, Abrams Artists Agency will manage the licensing, publishing, television, and film rights to the figure. Abrams Artists Agency's licensing division will collaborate with producer Tod Swindell, the owner of the Grizzly Adams brand rights.
In 2011, Swindell established Grizzly Adams, LLC to revitalize the brand, collaborating with MacGyver and Stargate SG-1 executive producer Michael Greenburg.