Ubisoft, Scholastic in Descendants Deal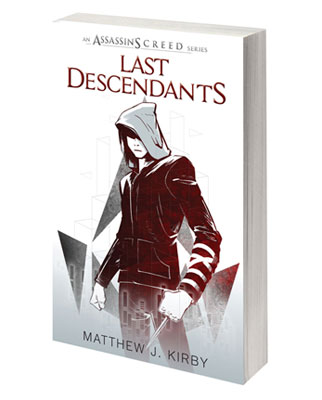 Ubisoft and Scholastic announced a collaboration on a new young adult book series, Last Descendants, based on the video game franchise Assassin's Creed. Written for readers ages 12 and up by award-winning author Matthew J. Kirby, the first book in the series will launch simultaneously in September 2016 in the United States, Canada, United Kingdom, Australia, and New Zealand. The second book will follow in January 2017.
Last Descendants is an action adventure, historical fiction saga featuring a group of teens caught up in the centuries-old Assassin-Templar feud. Inspired by the popular video game series, the first book is set concurrently in the present-day, 1860s New York City, and during the Spanish conquest of the Aztec Empire and will feature historical figures including William "Boss" Tweed, Hernan Cortes, renowned opera singer Adelina Patti, among others.
4K Media, Aquarius in Yu-Gi-Oh! Deal
4K Media Inc., the Konami Digital Entertainment subsidiary that manages the licensing and marketing of Yu-Gi-Oh! announced that it has signed Aquarius for the development of a Yu-Gi-Oh!-branded product line launching at retail this spring/summer in the U.S., Canada, Australia, and New Zealand.
Aquarius Entertainment will design puzzles, lunch boxes, die-cut chunky wood magnets, desktop standees, and playing cards featuring the characters and designs based on artwork from the Yu-Gi-Oh! animated series.
Yu-Gi-Oh! products produced by Aquarius will be distributed by its sister company, NMR Distribution, through specialty, mid-tier, mass, and department stores in the United States, Canada, Australia, and New Zealand beginning in spring/summer 2016.
PUMA, Sesame Workshop in Apparel Deal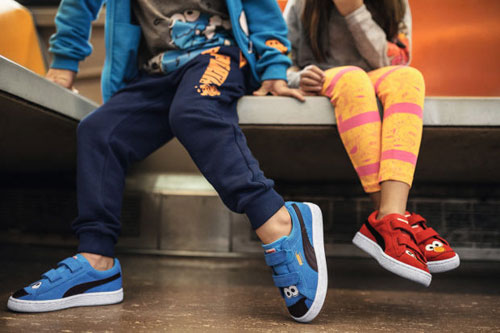 In a deal brokered by CPLG, PUMA partnered with Sesame Workshop for a kid's collection of footwear and apparel inspired by Sesame Street characters.
The PUMA x Sesame Street collection includes footwear styles from the PUMA archive in mini versions, available for boys and girls, ages 1–12.
The PUMA Suede model comes in four renditions that feature furry red Elmo, fuzzy blue Cookie Monster, scruffy green Oscar the Grouch, and best friends Bert and Ernie. Even the smallest feet are covered with the crib Sesame Street infant bootie for babies from 3 months to one year.
The apparel collection for boys and girls, ages 2–12, includes tees, sweatpants, sweat jackets, crew sweats, Bermudas, and leggings. Completing the collection are backpacks, play sacks, and water bottles. The collection is now available.
NBCUniversal Signs Agent in India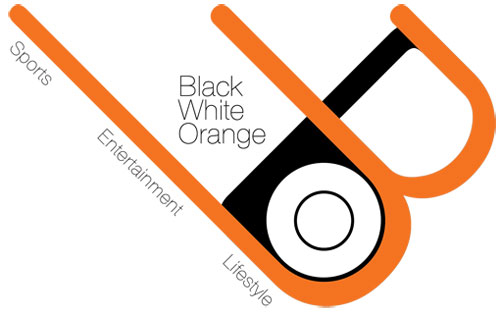 NBCUniversal Brand Development Group announced the appointment of Black White Orange as its licensing and merchandising agent in India and South Asia. Under the agreement, Black White Orange will manage licensing for NBCUniversal's expansive portfolio, including major franchises such as Illumination Entertainment and Universal Pictures' Despicable Me, as well as Universal and Amblin Entertainment's Jurassic World and Universal's Fast & Furious; upcoming films like Illumination and Universal's The Secret Life of Pets; and classic films from the studio's library, including Back to the Future and Jaws, amongst others.
As NBCUniversal enters into the Indian and South Asian markets for the first time, Black White Orange will unleash each film's potential in the form of authentic licensed merchandise such as apparel, toys, stationery, gifts, novelty, back-to-school, home décor, innovative non-traditional categories, and more. Black White Orange will establish, grow, and expand NBCUniversal's business in India, as well as in Sri Lanka, Bangladesh, Nepal, and other South Asian markets.
Black White Orange, which launched in September 2015, has also signed Sesame Street, YouWeCan, The Emoji Company, and bCreative.
Speakaboos, Sesame Workshop in Deal
Speakaboos announced the addition of 10 Sesame Street music videos to its platform, which supports literacy skills. The selection of content features popular characters such as Elmo, Cookie Monster, and Abby Cadabby as well as educational and entertaining Sesame Street vignettes. The music videos can be accessed through the Speakaboos digital storybook library at home and on the go via the web or on the Speakaboos app for both iOS and Android mobile devices.
The Sesame Street titles on Speakaboos will be enhanced with read-along word-highlighting in the platform's "Read to Me" mode to support literacy skills. The Sesame Street content joins the extensive Speakaboos library of over 200 digital storybooks categorized by high-interest topics featuring popular licensed characters, storybook classics, and original interactive stories.
Toei Signs Latin American Deals for Dragon Ball, Saint Seiya
Toei Animation has signed a comprehensive licensing agreement with Pepsico in Latin America, alongside a series of retailer deals in Brazil and Chile for Dragon Ball and Saint Seiya.
In a deal spanning Central America and the Caribbean, Pepsico will release a special, collector's edition Dragon Ball Tazo that will be included inside the bags of all of its major snack brands. Launched by Frito Lay in 1994, Tazos have become a phenomenon for collectors in Latin America.
Retailers in Brazil and Chile will produce exclusive Dragon Ball and Saint Seiya items. Brazil's C&A Modas will design Saint Seiya and Saint Seiya Hades T-shirts for boys and men at select department store locations and online. In addition, Brazil's Pitica's will create Dragon Ball T-shirts for men and boys that will be distributed online and in their branded kiosks located in 140 malls nationwide.
In Chile, ABCDIN will produce Dragon Ball houseware items online and throughout its department store locations around the country. Also in Chile, the fashion retailer, Dijon will design a range of Dragon Ball apparel to be sold at their brick and mortar locations and online.
IMG to Represent Billboard in Asia
Billboard announced that it has appointed IMG as the brand's licensing representative for products in Asia. The deal pairs IMG with Billboard to develop a product-licensing portfolio across Japan, China, Hong Kong, and Taiwan, and Southeast Asia, including Thailand, Indonesia, Philippines, Malaysia, and Singapore. The program will cultivate a wide range of merchandise, including apparel and accessories, bags and backpacks, headphone and tablet accessories, electronics and audio programs, and skateboards, among other products.
IMG's licensing agreement is part of a larger push by Billboard to expand its international presence, with global partnerships covering product and retail, media content, and licensing. Last year Billboard established a syndication partnership with Yin Yue Tai, China's leading music video website, to create the first co-branded Billboard China chart. Also in 2015, Billboard Radio China became Asia's first Billboard-branded internet radio station.