New Licensees, Territories for Dinosaur Train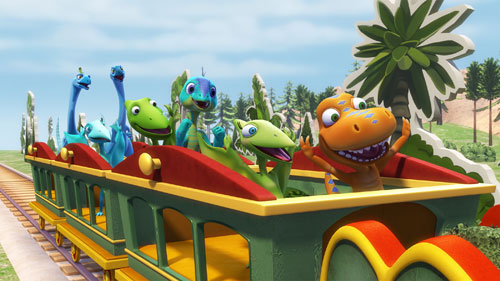 The Jim Henson Company has signed multiple licensing partners in key territories for Dinosaur Train. In Germany, The Jim Henson Company has signed TV Mania for apparel and accessories and GEDA Labels for mealtime products. In Italy, Giochi Preziosi is on board for food with premiums and Panini for publishing. In the U.S., Wall-Ah! has joined the Dinosaur Train program with wall decals. These new licensees join existing Dinosaur Train partners around the globe, including global master toy partner Jazwares; Evrika LLC for chocolate eggs in Russia; California Costumes for costumes in the U.S.; and Fun Stickers for stickers in the UK.
In addition, The Jim Henson Company has licensed Dinosaur Train in more than 200 territories across the globe via broadcasters and digital platforms, including PBS Kids (U.S.), Netflix (global), Disney Channel (Germany), Watchever GmbH (Austria, Germany, and Switzerland), Multithematiques (France), YLE (Finland), ERT (Greece), TFO (French Canada), Knowledge Network (Canada), SIC (Angola, Mozambique), Emirates Cable TV & Multimedia, Swen Entretenimientos (Brazil), ABC Australia, TVO (English speaking Canada), France Televisions, Movile Internet Movel (Germany), MTVA (Hungary), Tring TV (Albania, Kosovo), and Multichoice Africa Limited (Africa).
RWBY Launched at Hot Topic
Jazwares launched merchandise based on Rooster Teeth's western anime series RWBY (pronounced Ruby) at Hot Topic last month. The licensed products include exclusive apparel, accessories, and more from Bioworld Merchandising throughout 2016, along with vinyl figures, chibi blind box figures, and plush with a toy line expansion in 2017 from Jazwares.
RWBY is Rooster Teeth's award-winning animated series that tells the story of four girls brought together for one legendary purpose. Ruby, Weiss, Blake, and Yang are students at Beacon Academy, an ancient school designed to train the monster-slayers known as Hunters and Huntresses. Unfortunately, monsters aren't the only threat to the world of Remnant, and if these girls want to graduate, they'll have to learn to work together both on the battlefield and in the classroom.
Licensing for RWBY is managed by the licensing division of Jazwares.
Rubie's Launches TMNT: Out of the Shadows Costumes
Rubie's Costume Company, under a license from Nickelodeon, announced the launch of costumes, accessories, and masks inspired by the movie Teenage Mutant Ninja Turtles: Out of the Shadows. Available in child and adult sizes, the collection is available now for Halloween 2016. It includes printed jumpsuits, deluxe muscle chest costumes, costume tops, accessories, and masks. This collection will also include the first costumes available for the villainous mutants Bebop and Rocksteady.
Imagine by Rubie's will also offer Teenage Mutant Ninja Turtles: Out of the Shadows dress-up costumes and accessories for children in separates and boxed sets.
New Deal for Rainbow Fish
Marcus Fabrics announced its new collaboration with RJM Licensing to create a line of fabrics based on the children's book, The Rainbow Fish written by Marcus Pfister and published by NorthSouth Books. Marcus Fabrics is a leading source of fabrics for the DIY quilting, sewing, and crafts market, with products sold through quilt shops and fabric stores worldwide. The collection will be available in quilt shops November 2016.
The Rainbow Fish book series will celebrate its 25th anniversary in 2017. To celebrate the anniversary, a new book will be published, a costume character will visit many venues, and several promotions will be announced.