New Licensees for Peppa Pig
Entertainment One announced the following licensees for Peppa Pig during last week's Licensing Show.
Dreamwave for girls' swimwear
Cardinal Games for the Peppa Pig Playing Cards Super Set
H2W/Sunstaches for children's sunglasses
Jakks Pacific for the Peppa Pig Push 'n Scoot and Peppa Pig Family Adventure Playland as well as a selection of novelties, including Peppa Pig Mini Sky Bouncers, licensed character balls, and Peppa Pig Hoops
The Northwest Company for a tapestry throw
Playhut ­for the Peppa Pig Family Car and Peppa Pig Tree House play tents
Playtex for Playtex Sipsters Stage 3 Sippy Cups.
Peppa Pig has more than 700 licensees worldwide. The show airs in more than 180 territories and has been translated in more than 40 languages.
New Deals for Baywatch

FremantleMedia North America (FMNA) is expanding the Baywatch brand, based on the television series, in numerous areas. The company has recently announced several new partnerships surrounding Baywatch. Among the new partners that have come on board to create programs surrounding the Baywatch brand is Hybrid Apparel, who will be creating a line of men's, women's, and junior's apparel and accessories. American Classics will be creating a line of graphic tees based on the TV series. In addition, Funko has signed for stylized vinyl figures and Smiffys is licensed for Baywatch Halloween costumes.
In the gaming space, IGT is launching a Baywatch 3-D video slot machine that will feature IGT's TRUE 3D technology and transport players to some of the most iconic beach scenes in a glasses-free 3-D gaming environment.
Celebrating 25 Years of Sonic
Sonic the Hedgehog is celebrating 25 years and to mark this milestone, SEGA has lined up an international slate of new licensing partners to support the franchise through 2016 and beyond.
KidRobot will create collectible, art, and keychain figures for the Americas and EMEA markets. Other art initiatives include a global collaboration with Cook & Becker, will launch a range of high-end 25th anniversary limited-edition prints. Party City joins Sonic with a celebration that includes party goods, balloons, and costumes in North America. Concept One also joins the roster in North America with headwear and cold weather accessories. Skuzzles, out of North America, and Iron Gut out of the UK, are bringing limited-edition prints to their respective markets. Drop Dead Clothing Ltd. introduces the UK to products ranging from tracksuits and bags to T-shirts and bomber jackets. Love and Madness will introduce jewelry, hair accessories, and cosmetic bags in North America.
SEGA's ongoing partnership with First 4 Figures extends under a new direct-to-retail relationship for highly detailed figurines plus an exclusive range of gift and novelty products. Forbidden Planet will be launching an exclusive range of gift and novelty product, also under a new direct-to-retail relationship. The retailer will feature in-store branding, competitions, and window displays.
The new slate of partners for Sonic join the extensive roster announced earlier this year including Accutime Watch Corp., Vandor, Bentex Group Inc, H2W/Sunstache, Komar Brands, LoungeFly, Rubber Road, Signorelli, and Toy Factory. TOMY is the global master toy partner.
In addition, SEGA has teamed up with Amazon.com for a homepage takeover offering deals and custom merchandise. For mobile gamers, players can jump into Sonic Dash on Amazon Underground for a chance to win prizes by collecting special Amazon Boxes in-game. This promotion is exclusive to Amazon Underground.
Attendees of the San Diego Comic-Con fan celebration will to gain access to exclusive, limited-edition products from New Era, TOMY, and Archie Comics.
Licensing Program in Development for Tiniez
Richmond Management Group (RMG), representing Tiniez, announced the signing of toy and apparel licensees for a fall 2017 launch. Tiniez is an aspirational lifestyle brand that empowers girls around the world to be themselves, make their mark, and follow their dreams. With over 100 unique adorable characters each with her own aspiration and backstory, Tiniez models a world where no dream is too big and no girl is too small.
Jazwares is the master toy licensee and will be developing collectibles and plush, which is expected at retail in fall 2017. Jazwares will support Tiniez with their extensive network of social media influencers to focus on growing the digital footprint of the brand.
Kandy Kiss is developing a 30-40 piece apparel collection including tees, fashion tops, hoodies, leggings, skirts, rompers, and dresses. In addition, Palamon Costumes (a division of Li & Fung) will be introducing a select group of Tiniez characters chosen by Tiniez fans next Halloween highlighting their individual passions such as fashion, science, music, dance, and animals.
Home décor from Jay Franco & Sons will be available beginning in 2018 including a wide range of bedding, bath, and beach products. Digital stickers are available now through Bare Tree Media.
A Tiniez YouTube series featuring DIY videos and tutorials will launch this summer with support on PopJam—the leading social content app for kids in the UK, which launches in North America (U.S. and Canada) this summer. PopJam is a wholly owned platform of SuperAwesome, the largest kids digital media platform in the world.
Peekaboo Barn, Educational Insights Partner on Board Game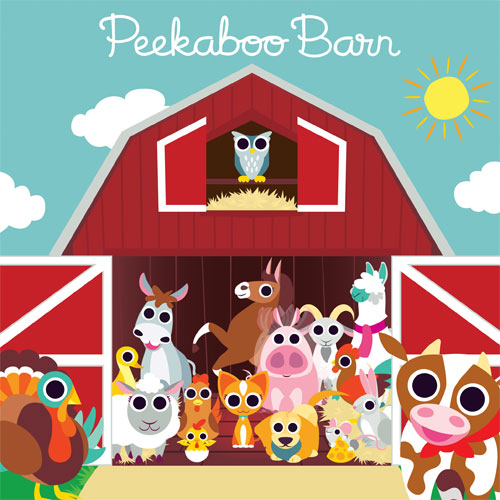 Night & Day Studios, one of the leading makers of children's apps globally, has awarded the board game license for its flagship preschool brand, Peekaboo Barn, to Educational Insights. The Peekaboo Barn board game will debut in early 2017 and will include the most popular characters from the original Peekaboo Barn app, a bestseller since 2008, and its sequel app, Peekaboo Barn Farm Day. Based on a Bedtime at the Barn story and gameplay concept by Night & Day Studios, Educational Insights is designing the board game to promote development of social, cognitive, language, and physical skills in early childhood.
Educational Insights joins licensees Candlewick Press, Rich Frog, and Zazzle in the growing Peekaboo Barn consumer products program. The brand made its first foray into non-digital form with a successful Candlewick Press board book with flaps in fall 2014. Additional products from these licensees will be out in 2017.
4K Media, GB Eye in Deal
4K Media, Inc., announced that it has signed a licensing agreement with GB eye to introduce Yu-Gi-Oh!-branded products across Europe. GB Eye will introduce Yu-Gi-Oh!-branded posters and mugs later this summer. The products will be available through key mass market and game retailers like HMV, Asda, That's Entertainment, GAME, and Forbidden Planet in the UK, Ireland, France, Germany, Austria, Switzerland, Belgium, Spain, Portugal, Italy, The Netherlands, Luxembourg, Russia, Ukraine, Belarus, Eastern Europe, South Africa, Australia, and New Zealand.