WeWork's Gross Joins Jakks' Board
Jakks Pacific announced the appointment of Michael J. Gross as an independent member of Jakks board of directors. Gross is the vice-chairman of WeWork Companies, Inc., a privately held company, which develops collaborative office sharing sites throughout the world. He joined the company as CFO in 2013. Prior to joining WeWork, Gross was CEO of Morgan's Hotel Group and served as a member of its board of directors.
Alpha Group Opens L.A. Office, Hires Exec Team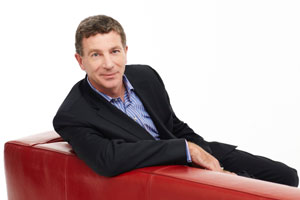 The Alpha Group U.S. LLC (formerly known as Auldey Toys of North America) announced the opening of its new office in El Segundo, Calif. The L.A. location will serve as an international design and marketing hub for The Alpha Group.
Alpha Group Co. announced the appointment of Jean-Christophe Pean as president of Alpha Group U.S. LLC and Europe. Pean has more than 17 years of varied sales and operations management experience in the toy industry, most recently as Mattel's executive vice-president for the North America Division.
Joining The Alpha Group U.S. as vice-president of marketing is Brehan Maul. Maul comes with a wealth of experience in the industry, managing top-tier, consumer-facing licensed properties, most recently as vice-president brand management and marketing at Bandai America.
Darren Lee Phillipson joins as head of product design, bringing years of product design and development experience with him having worked in leadership roles at Disney, DreamWorks Animation, and Fisher-Price.
Adrian Roche, who successfully launched Alpha Group U.S. in 2015, has been named vice-president, global business development.
The Alpha Group U.S. LLC will also take advantage of synergies within the Alpha Group Co., which recently opened an LA-based, live-action feature film development company, Alpha Pictures, as well as a new division Alpha Animation, which is focused on the development of animated feature content.
New Appointments at Funrise
Funrise announced two executive appointments last week. Randy Shoemaker has been named vice-president global brand marketing, leading the global development, consumer marketing, and retail promotion of all Funrise brands. Shoemaker joins Funrise from Lionsgate and has more than 20 years of experience delivering revenue and building brands at companies including DreamWorks Animation, THQ, Hasbro, and Electronic Arts.
Martin Good joins Funrise as vice-president international, leading the company's rapid international expansion across Europe, Middle East, Asia Pacific, and Latin America. As a seasoned executive with more than 25 years of international sales and operations experience, Good will assume responsibility for managing Funrise's pre-existing global sales and supply chain operations while actively spearheading the company's expansion into new markets. Good previously held senior executive positions at Zenixx, AtGames Cloud, and THQ.
Promotions at ChizComm
ChizComm Ltd. announced the promotions of both Stephanie Costabile and Kassandra O'Brien. Each has been named as director of marketing and communications. In addition, ChizComm announced that it will open a satellite office in Los Angeles in 2017.
Since the inception of ChizComm in 2013, the company has doubled its client base and continues to experience incredible growth. From playing mainly in the toy and entertainment spaces, the company has expanded into the beauty, lifestyle, food, textiles, and technology industries.