When 25-year-old Allyson Ames and her mother Sondra founded the Wonderland Bakery (www.wonderlandbakery.com) in Orange County, California five years ago, they built their business the same way they built their baked goods: from scratch. Cooking and baking since age 5, Allyson Ames attended the International Culinary Art Institute of America and has received the American Culinary Federation National Championship Award. Sondra Ames brings her financial and marketing expertise to Wonderland Bakery. She previously worked in global trading and founded an e-commerce and technology company that she steered for more than 15 years.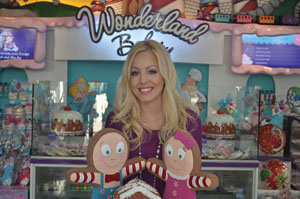 Since starting in 2005, Wonderland Bakery has reached critical acclaim in Orange County and beyond. It was selected to bake the official cookies for President Barack Obama's inauguration day and was also named one of Entrepreneur Magazine's Top 10 Personal Brands of 2010 and one of INC Magazine's 5,000 Fastest Growing Brands of 2010. The bakery continues to grow through the recent opening of a flagship store in Los Angeles's The Grove shopping center, merchandising and licensing deals, and the development of an entertainment property.
Wonderland Bakery partnered with Peter Adderton and Fred Goldring to bring the kids' brand to these next levels of growth. Adderton is the CEO of Skycrest Ventures, a venture investment firm focused on strategic brand building and investment in global brands and companies in the mobile, digital, and consumer retail space. Goldring is founding partner with Goldring Strategies, a strategic brand, entertainment marketing, and new product investment, development, and consulting firm.
"From a licensing perspective, we're really going to be quite fussy because we have a real clear vision on where we want to go with this," Adderton says. "In the licensing/toy business, the decisions you make in the first three to six months are critical in setting up the brand. We don't want to rush into something and do a licensing deal that doesn't fit the overall brand."
Licensed product categories that do fit the brand include a full range of toys, ready-made cake mixes for retail distribution under the newly created Wonderbake brand, and baking accessories and other kitchen goods. There are licensees already on board, but no announcements have been made yet.
An entertainment platform with original characters and content will also launch this year. Adderton says they are in discussions with TV networks about building a show starring Allyson Ames in an attempt to create a young Martha Stewart brand for kids.
With Wonderland Bakery locations opening in New York (within the next six months), Chicago, Dallas, and other major markets, the brand looks poised for sweet success. "Whether it's baking with Wonderbake mixes at home or having the unique experience of visiting a Wonderland Bakery location, we are confident the brand will continue to stir children's imaginations and retain its upbeat and earnest personality," Adderton says.