Over the years, I've run into TJ Morrison at toy events all over the world and shared stories, but didn't know his family history until recently. His dad, Doug, recounts their story which starts with Hasbro's Animal Fun Keyboard, moved quickly to Star Wars toys and much more. I love Doug's advice, "Never be afraid to try something new, even if you fail at first, keep trying." I'm a believer!
How did you and your family first enter the toy industry?
When I started my career, it was working for a company who produced recording announcement equipment for railway stations and airports. I worked initially as a service engineer and later as the Recording Studio Manager.
I started a company called Radical Technology Ltd which developed Digital Recorded Announcement and message display machines, using Texas Instruments ICs. Because of this connection I was asked if I would work as a consultant for Texas Instruments in their Regional Technology Center's recording studio, where I undertook recording and editing for TI products and their customers. This was in the very early days of speech products around the time of TI's Speak and Spell.
While working at TI, I worked on the early speech products for toy companies, most notably Hasbro. The first I worked on for Hasbro was a Playskool product called The Animal Fun Keyboard (based on old MacDonald's Farm Song), closely followed with Mall Madness for MB Games. Each of the products were also produced in five to six European languages, this was when I discovered that the human vocalization of animals differs for each language, who knew?! That meant we had to record and edit all new sounds for each language, where we thought we could use the same sounds across Europe.
While working with Hasbro on their speech products, we were asked to go to Hasbro's Cincinnati office to discuss a new product. It turned out that Hasbro had won the license to produce various toy products for Lucasfilm's Star Wars, and they wanted us to do the recording and editing of the speaking products. Hasbro were going to produce a range of figures with a separate Speech IC, that could be read by a coded reader. We had to record and edit all the voices for approximately 20 of the characters for the Star Wars films that became known as the prequels, starting with Episode I – The Phantom Menace. We recorded the characters in up to six different languages.
It was a condition of the projects that all the speech had to be approved by Lucasfilm as the projects were so secret. This was done months before the films were released. I had to go to Skywalker Ranch near San Francisco, with a Hasbro representative, for all the speech approvals.
It was a change of focus from producing recorded announcing machines. After working with many different toy companies, I decided to start So Sound Ltd., to focus on the recording and editing of toy products using many other ICs not just TI ICs. Also, I wanted to collaborate more with toy inventors and help them produce prototypes for their concepts, something we had currently been doing for the major toy companies. Now, of course, we invent ourselves.
Who has been involved and who is involved now?
Right from the start its always been myself and my wife Christine. Christine has always done our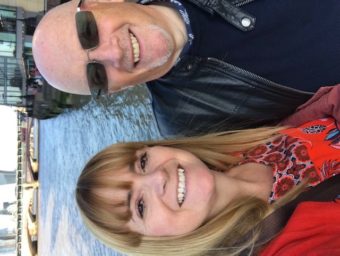 accounts work and admin. She has also worked other jobs while doing this including working for a large insurance company, New Scotland Yard and later the NHS as a vampire (phlebotomist)!
I was very happy to take on my oldest son (TJ Morrison) approximately seven years ago who had always shown great interest in the company. He is now a toy designer in his own right, of which I am extremely proud. Three years ago I was again delighted that my younger son (Charlie Morrison) who had also always shown great interest in the company was able to join us too; he is an audio and video engineer.
We have definitely kept a family theme going as my niece (Danielle) now does some of our admin work and up until very recently my in-laws (Terry & Lorraine) were employed to help out anywhere they were needed including making lots of cups of tea!
Do you think the next generation will get involved?
As our sons are the next generation and already at So Sound, we are now looking further forward to our grandchildren. Our two oldest granddaughters Beth and Ellie are 15 and twins but very different to each other. Beth loves drama and dance and Ellie is a fantastic artist. They are due to do work experience with us when the lockdown is lifted and we are keen to encourage them to eventually join So Sound in the future if that is their wish.
How has the business changed over the years?
I think that it's the way that speech, music and sound effects are used in toys. I think in the early days talking toys were more of a gimmick, something to attract attention to the product. Now I would say they're more there as an integral part of the product, as an encouraging and learning aid for the user, as well as fun and amusing. There is also a big difference in that there is a huge increase in the number of licensed products.
What advice do you have for anyone joining the family business?
My advice would always be, never be afraid to try something new, even if you fail at first, keep trying. I always encourage people to make things and learn as they go, and don't limit them, allow them to try different areas in the design process, we all make mistakes in that process, but you learn from it and become more creative. You will learn how to overcome problems. My dad used to have a great saying, "the person who never made mistakes, never made anything," and I think that is true.
The employees are the life blood of any company. We don't have bosses and workers, we have a team. My job is to encourage and gently direct the company's future, as with all companies, you have to evolve to survive and be willing to embrace new ideas and ways of working.
I would like to dedicate the success of So Sound to my wife and partner, Christine, without her help and encouragement none of the above would have been possible. Also, to next generation who are moving the Company forward in so many more directions that I would not have believed possible, onward and upward!