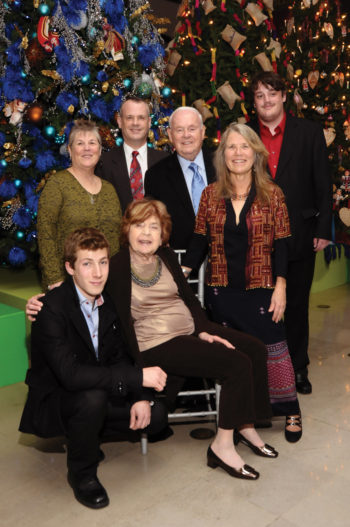 I had the pleasure of getting to know Eddy Goldfarb and his family when we honored him at our 2010 TAGIE Awards for Lifetime Achievement. His good friend and fellow inventor, Reuben Klamer championed Eddy to be honored and gave a memorable toast that evening. They have been lifelong friends, are both in their late 90's now and still inventing! Also a memorable moment at the Awards that year was when John Ratzenberger, actor and inventor, ran up to meet Eddy to get his autograph.
Eddy invented more than 800 toys and holds almost 300 patents. Some of his well-known hits include Yakity Yak Teeth, Battling Tops, Hydro Strike, Shark Attack, Vac-u-form, KerPlunk and Stompers. He started in the business with Marvin Glass and moved to California after a falling out with Marvin (they were opposites, but that is another story). After a tough start in California, Eddy built his business into multiple buildings and 39 employees.
As the apple doesn't fall far from the tree, especially in our industry, Eddy and his son Martin teamed up more than 20 years ago and continue to bring on the hits!
Eddy and his inventions are currently the subject of a new short documentary, Eddy's World, produced and directed by filmmaker Lyn Goldfarb, his daughter. You can find more information about the film at www.eddysworld.net
Mary Couzin: How did your family first enter the toy industry?
Eddy Goldfarb: It all started with me! I always knew from the time I was a young child that I was going to be an independent inventor, but never in my wildest dreams did I think that it would be in the toy industry!
During World War Two, I served on the USS Batfish submarine in the Pacific. After the victory in Europe, we still did not know how long the war with Japan would continue and when we would be coming home. So it was time to get serious about planning my future for when the war ended.
During my free time when I wasn't on duty overseeing the radar and sonar watches, and we weren't being depth charged or shot at, I was able to read a lot of books that helped me decide my future. Before the war, I had been getting no place with my invention ideas since they bounced from one industry to another. I realized that I should focus on one industry and especially one that needed new products on a yearly basis. I decided my best opportunity would be the toy business!
I invented my first three toy items on the Batfish during my fifth war patrol. I thought them out carefully, made detailed drawings in my notebook, and so I was ready when the war ended.
Knowing nothing about the toy industry, I did not realize that educational items at the time were of no interest. Of course, my new three items were educational and they're still available to this day!
MC: Who has been involved and who is involved now?
When the war ended, I finally got home and started working on my toy ideas. I met and married Anita and now we had two people in the family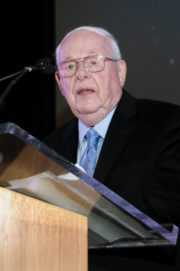 business. She believed in me and backed me entirely. It took a while, but we finally started doing well.
Our children were born into the toy business! They were all testing out new toy prototypes from a young age. They had the most expensive toys in the neighborhood!
As the children grew up, they went their own ways except for Martin. He had a deep passion for games and toys. I'm so thankful and proud that he is still running it today.
MC: Do you think the next generation will get involved?
Let's wait and see!
MC: How has business changed over the years?
The toy business has always been changing and evolving since I started, but the one constant is that it has always been receptive to new ideas. No matter if the technology is old or new, fun is still fun!
MC: What advice do you have for others thinking of joining the family business?
With so many great examples of family businesses in the toy industry, there's no need to overthink this. As long as you get along, go for it!