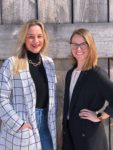 Picture this: You are three months from your college graduation. You majored in something you love, but don't really know how it relates to the real world. You are job hunting but you don't quite understand what job title you should put into your search. You aimlessly stare at your computer screen wondering what your next step is and wish you had some guidance and advice. Does that sound familiar? In many ways, this is the story of what we have all faced at some point in life — a desire for the next step, without really understanding what that could be. That is, until you have an enlightening conversation, the fog starts to rise, and you begin to feel in control of what your career steps look like. This crossroads is exactly where the WIT Young Professionals Network has swooped in to assist.
We're Megan Gardner and Amanda Marschall and we're the co-chairs for the Women in Toys, Licensing & Entertainment Young Professionals Network (WIT YPN) — and we have set out to cultivate a network of brilliant women who support and inspire one another. Our network's purpose is to ensure those new and not-so-new to the industry have the tools they need to succeed through a passionate network of peers and a variety of custom programming. 
At our core, we are all about career development. Through formal and informal events and sessions, we design our YPN programming to allow those interested to get involved in the way that best suits their needs. While the name "young" professionals network has typically insinuated a particular age group, we have decided to reinvent that mindset. Instead, we are fully inclusive of all, looking at "young" as someone early in their career, someone looking for a career change, or someone re-entering the workforce. Through this desired purpose, we have had the opportunity to bring together a dedicated group of women who serve on the YPN committee and have created memorable and thought-provoking programming such as our Career Kick Off Month and a Shame-Free Book Club.
In any industry, understanding and growth typically come from the seasoned colleagues around you. However, if you are just starting (or restarting!) your career search, you don't necessarily have people to turn to for advice. To aid in this lack of resources, the WIT YPN created and hosted a Career Kick Off Month earlier in 2021, which encompassed programming catered to a variety of potential needs. We held mock interview slots where you could be paired with industry leaders to test out your go-to answers during an interview. We had resume workshops where you could submit your resume to a panel of various hiring managers for feedback on areas of opportunity to make you stand out. We had a webinar on how to get the most out of your LinkedIn profile. We held a fun virtual happy hour so you could grow your personal network. And those are just a few examples of what was offered. Through the design and implementation of this programming month, we were very conscious that everyone has slightly different needs and set out to create opportunities for people to drop in and out of the sessions that would benefit them most.
Over the years we have learned that the power of a great network and the personal connections it fosters can be invaluable. One of the ways we aim to promote personal connections is through our book club. We run a Shame-Free Book Club, which means we put zero pressure on people to actually read the book before coming to the book club discussion. If someone started it but didn't finish, they are welcome! If someone intended to start it, but life got in the way, we still want them at the discussion meeting! Finished it and loved it? They will add a wonderful perspective! Our objective is to cultivate meaningful dialogue, using books as the conduit. We have found that our discussions typically take on a life of their own and end up inspiring members to look at problems differently, speak up in a meeting more quickly next time, or even give them the confidence to pursue the next step in their career. It is a wonderful place for those on the job hunt to come, discuss, and learn from a collection of exceptional individuals.
The next goal we have set out to accomplish is related to the connection with college students. WIT generously offers free memberships to students, which provides them with a massive opportunity to learn from and connect with the industry. We want to make the WIT YPN the conduit between universities and the industry to create a pipeline of diverse talent. We want to be the resource that a prospective graduate sees at their career center, and thinks, "Wow, that seems like an incredible industry and organization to be a part of! How do I get involved?" For us, it is about getting WIT and the YPN known around college campuses so that we can help better equip students in knowing how to start their career, but also provide employers the opportunity to pull from a strong talent pool.
We'd love for you to join us on our mission in providing programming and connection avenues for those starting or

restarting their careers. To find us, you can scan the QR code to head over to the WIT website and become a WIT YPN member today. Also, don't forget to follow WIT on social media @womenintoys — we're so excited to meet you!
Amanda Marschall is the senior manager of learning and development at The LEGO Group. Megan Gardner is the senior manager of business improvement at The LEGO Group. They are both based out of Enfield, Connecticut. 
This article appeared in the October 2021 issue of TFE Magazine.