Pacific Play Tents, born out of the camping equipment company Stansport, started more than 15 years ago when the employees' children would come to the Stansport facility and play in the tents. The next logical step was to create a line for children. That line, now a separate company, encompasses tents, play chutes, folding furniture, toy tunnels, and so much more. This year the company is introducing a line of products based on Jim Henson's Dinosaur Train property. In addition, a line of environmentally conscious items made of bamboo will also be available.
Nancy Lombardi: How did Pacific Play Tents get its start?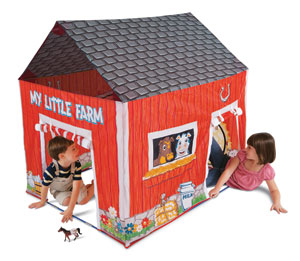 Brian Jablon: Pacific Play Tents was derived from Stansport, which is a 60-year-old camping and outdoor equipment company. Both are privately held family companies and I am one of the employees. The CEO and I are the same age and our children would play together in the full-size tents in our showroom. We obviously thought, let's do this for kids. We took our standard, what's known as a two-season camping tent, and turned it into kids' products. It's water resistant and can be played with indoors or outdoors.
N.L.: What can we expect to see in the 2011 line?
B.J.: We are introducing a line made of organic materials at Toy Fair. The line will be made of 100 percent bamboo. It is chemical free, very soft, and has a nice texture. The only difference from the original line is that the bamboo line is not water resistant because there is no water-resistant coating on it. However, we do find that most people play with our tents indoors anyway so we don't expect this to be a concern. The bamboo items will be available in our nursery tent line and the standard play tent line. It is 2.5 times more expensive than our standard line because of the natural materials. We are also offering a line made out of recycled plastic bottles, which also makes this line a bit more expensive than our standard line.
We are introducing items based on the Dinosaur Train property, which is part of our standard line of products.
N.L.: Where are consumers purchasing the Pacific Play Tents items?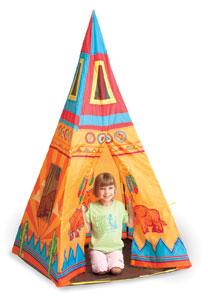 B.J.: Pacific Play Tents is at the higher end of our market segment with regard to size, price, and quality. Our products can be found in Toys "R" Us, in specialty stores, and in numerous online stores. Amazon.com is off the charts for us this year. We don't normally do a lot of business with Kohl's during the year but this year it has been off the charts.
Yet, we have found that higher-end products such as ours will sell 10 times greater online. Consumers have three to 10 seconds while going down an aisle in a retail store. But online, consumers look at the product, read about it, and they come back to it several times before they make a decision. They are spending more money but they are substantially more informed about what they are buying.
N.L.: How has Pacific Play Tents weathered the recession?
B.J.: We are challenged with how much inventory to carry. Retailers are doing more just-in-time and not giving us the lead times they were once giving. They are ordering much smaller quantities but they want you to be ready with the inventory when they need more. We are up this year over last year, which is positive. Last year we were flat. We didn't lose any ground. We didn't gain any ground. This year we picked up ground.