W!ldbrain Entertainment develops television programming, motion pictures, short-form programming, commercial content, and consumer products. The company was recently acquired by DHX Media. Erin Webb Dippold, W!ldbrain's director of licensing, fills us in on the latest news at W!ldbrain for its popular Yo Gabba Gabba! property, as well as others.
Chris Adams: Yo Gabba Gabba! launched in a climate where it was difficult for a new property to get widespread attention—from both programming and licensing perspectives. What is it about the property that has allowed it to thrive on air and on shelf?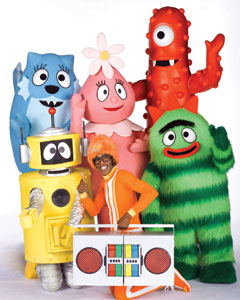 Erin Webb Dippold: Yo Gabba Gabba! has been on air since August 2007, but it is still a young brand with a lot of opportunity. We have a healthy licensing program with approximately 40 great partners. However, there are available categories that would enhance the brand. We have reached the mass market, as well as specialty, and we have seen success across multiple channels of distribution and across multiple age demographics. This is not the usual pattern for a preschool property.
Product success for Yo Gabba Gabba! can be attributed to the unique nature of the brand. The show is unique and because of that our fans are hip and enthusiastic about engaging with the brand. Much of the Yo Gabba Gabba! product is gender neutral. It appeals to preschoolers, their parents, and young adults/college-age kids, which opens up myriad product opportunities that may not work for other preschool shows.
C.A.: What is happening at W!ldbrain in addition to Yo Gabba Gabba!?
E.W.D.: In addition to Yo Gabba Gabba!, the studio produces a slate of programming that includes The Ricky Gervais Show, which is now in its second season on HBO. W!ldbrain also has a co-production deal in place with Fuel.
For The Ricky Gervais Show, our goal is to create a successful online merchandising program that really connects with the show's fan base. The Ricky Gervais Show has an existing loyal fan base because of the enormous success of the podcasts the animated series is based on. Now that the series is on HBO we are able to reach those fans and introduce many new ones to the hilarious antics of Ricky, Steve, and Karl. Through our online store, we are able to develop and maintain a direct relationship with those fans. We can meet their merchandise needs and adjust the product offerings quickly based on the feedback we receive. We launched the online store for The Ricky Gervais Show merchandise, timed with the launch of season two on HBO, on January 14.
W!ldbrain Entertainment is also developing a line of consumer products based on the popular All Girl Arcade/Spark City World (www.allgirlarcade.com). The products will be based on the popular themes, fashion items, and characters within the Spark City World. This is really an amazing opportunity to introduce the fans to the consumer products where they engage with the brand—online. The fashions that will be sold in the Spark City World online store will be integrated into the Spark City World avatar fashion options. Users will be able to actually dress in some of the same fashions as their avatars. Since this brand lives online it makes perfect sense to extend into consumer products with the shopping experience online.