Zinkia Entertainment, based in Spain, is the creator of Pocoyo. The company's goal is to create and develop brands with a global entertainment vision. Pocoyo, a hit across Europe for many years, is now gaining traction in the U.S. Based in Madrid, Maria Doolan, managing director of global brand and business development for Zinkia, explains how Pocoyo will compete in the U.S. marketplace for both English- and Spanish-speaking fans.
Nancy Lombardi: When did Pocoyo launch in the U.S.? How long has it been out in other countries?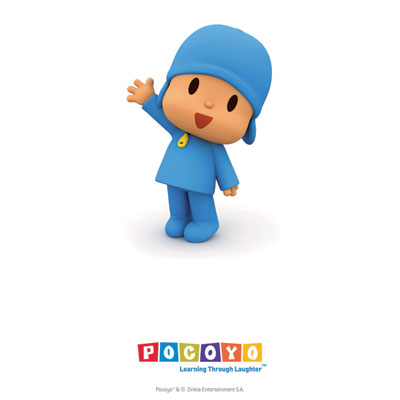 Maria Doolan: The Pocoyo television series debuted in the U.S. in 2010 on Nick Jr. The series also currently airs in select markets on PBS and airs in Spanish on Univision's Planeta U and Discovery Familia. The Pocoyo toy line, from Bandai America, and DVDs from NCircle Entertainment were first introduced into the U.S. in fall 2010.
Pocoyo first launched in the UK in September 2005 on CiTV and today is broadcast in more than 120 countries worldwide supported by a corresponding licensing program that encompasses some 150 licensees in many key territories throughout Europe, Asia, and Latin America and accounts for more than 2,000 consumer products worldwide.
The Pocoyo brand continues to grow and we have several new launches planned for 2011 and beyond.
N.L.: Much of Pocoyo's success has been in Spanish-speaking countries. How do you plan to transition that success to the U.S. English-speaking market?
M.D.: Our strategy has always been to replicate our successful business model when we introduce the Pocoyo brand into any new market, including the U.S. We begin with the execution of a very targeted marketing, promotions, and media campaign. Using this strategy, we have already seen a tremendous amount of growth in our fan base over the past six months in the U.S., particularly in the growth of the brand on such platforms as Facebook and YouTube. We also have a variety of content that is applicable to multi-platforms, so that whatever the market needs we are able to cover it. Given that Pocoyo airs daily on Nick Jr. and on PBS stations across the country, the television exposure has been an excellent tool in building brand awareness among the English-speaking demographic in the U.S.
We have also just recently launched a broadcast ad campaign running across a range of channels such as E!, OWN, Nick Jr., the Hub, Cartoon Network, Lifetime, and others. Again, the goal is targeting the brand's core audience of moms and kids. Additionally, we are constantly developing new national promotions to further engage our audience on a variety of media platforms. All of these efforts contribute to the brand's potential for the U.S. market.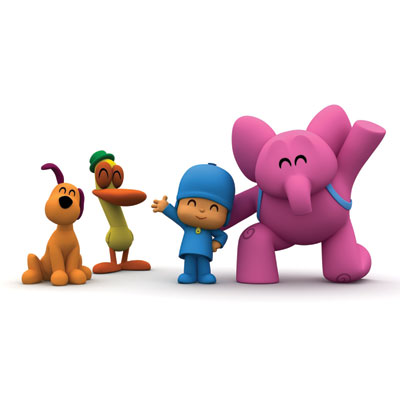 N.L.: How much emphasis will be placed on the U.S. Spanish-speaking market?
M.D.: Pocoyo airs in Spanish in the U.S. on both Univision and Discovery Familia. We are also continuing to develop strategies beyond television, such as retail partnerships, that will focus on furthering the reach of the brand among America's Spanish-speaking demographic. The Pocoyo DVDs from NCircle Entertainment, for example, are available with both English and Spanish language tracks. Pocoyo is enjoying huge success in Latin America. Some brand awareness may have migrated from existing Spanish-language markets into the U.S., and we expect the brand will resonate similarly with the Spanish-speaking audience in the U.S.
N.L.: How will Pocoyo compete against well-established preschool brands such as Thomas & Friends, Fisher-Price's core brands, and others? It is a tough market and it's about getting the moms' and the child's attention. How do you plan to do that?
M.D.: Pocoyo is a visually unique property and the characters are so much fun that children really engage with them and the stories they tell. This is evidenced by the television show's ability to consistently earn an average viewing share of 11.2 percent, with a 46 percent share among its target audience of children ages 3–6, in the markets where it currently airs. When you combine that with the soaring number of views on platforms such as YouTube (40 million unique views per month) and the brand exposure generated by more than 2,000 consumer products manufactured by 150 licensees worldwide—including more than 2.5 million DVDs and over two million Pocoyo books sold to date—we believe Pocoyo is poised to compete successfully in the U.S. marketplace. And once children see and experience Pocoyo, they want to see and experience more of Pocoyo. So as long as we're making the content available on-air, online, and elsewhere, we believe that we'll be successful in building a solid fan base here in the U.S.
With moms and caregivers, once they learn of Zinkia Entertainment's commitment to engaging, empowering, and inspiring children and the impressive returns of our "learning through laughter" approach to teaching core values such as love, respect, and tolerance and our ability to ignite a child's natural curiosity about the world, they too come to value Pocoyo.
Additionally, we just announced that Pocoyo has been named Global Kids' Ambassador for World Wildlife Fund's Earth Hour initiative with a mission to raise environmental awareness among today's children. We are proud to have Pocoyo partnered with such an amazing organization and cause, which we believe parents will embrace and will only further awareness of the brand.
N.L.: What types of retailers carry the product in the U.S.?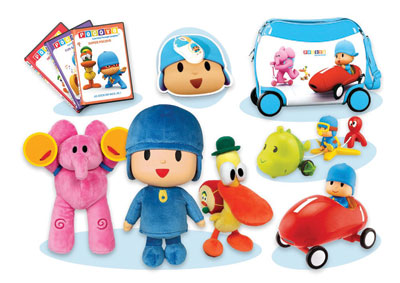 M.D.: We launched with Toys "R" Us and Pocoyo products are also currently available on Amazon.com. DVDs are also available through NCircleEntertainment.com. We are currently in negotiations with additional major retailers to carry Pocoyo products and merchandise in the U.S. and will have some important announcements regarding this later this year.