LIMA Holds Licensing Contest During Licensing Show
The International Licensing Industry Merchandisers' Association (LIMA) is sponsoring a brand licensing competition, which will be held at Licensing International Expo this June. The competition, "Am I Ready for Primetime Licensing?," is designed to provide a high-visibility platform for new (and not yet available at retail) properties across categories.
LIMA will be accepting submissions through Friday, May 6 with three to five finalists selected and invited to present to a panel of expert judges on Monday, June 13 from 3:00–4:30 p.m. during Licensing Show at the Mandalay Bay Convention Center in Las Vegas. One winner, selected by a panel of judges, will receive one-year free membership in LIMA, free booth space (which will be a 10' X 10' booth available to companies and properties not currently a customer of Advanstar licensing shows: Licensing International Expo, Brand Licensing Europe, and Brand Licensing Central & Eastern Europe.) at Licensing Show 2012 and advice from top executives in the field. Submissions can be in either document or presentation format not to exceed eight pages or slides. Entry is free and limited to one submission per company.
Submissions should be emailed to Jennifer Coleman at jcoleman@licensing.org Submissions must include the following:
Description of the brand or property
Target demographic(s)
Outline of marketing strategy
Outline of the marketing partnership with licensees
Media plan
Retail distribution plan
Key driver category(ies)
Launch timeline
Debra Joester, president and CEO of The Joester Loria Group, will head up the panel of expert judges. Additional judges will be announced in the coming weeks. For information about the 2011 Licensing University conference program, contact Christina Attardo at cattardo@licensing.org or call (646) 744–3741.
Mattel's Indianapolis 500 Stunt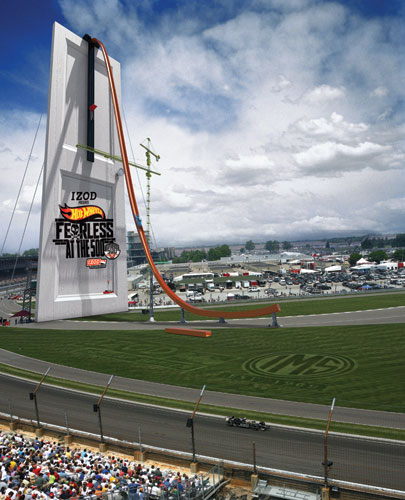 Mattel announced that on Sunday, May 29, IZOD Presents Hot Wheels Fearless at the 500, will be an attempt by Team Hot Wheels, which is a newly created crew of stunt drivers, to break the current world record distance jump of 302 feet in a four-wheeled vehicle. It's part of the 100th anniversary of the Indianapolis 500 at the Indianapolis Motor Speedway.
A masked mystery driver from Team Hot Wheels will attempt speeding down a 90-foot ramp, suspended on a 10-story high door (which equates to 100-feet tall), and soaring across the infield of the Indianapolis Motor Speedway.
The stunt brings to life the iconic Hot Wheels V-Drop track set and is part of an overarching brand campaign designed to extend the Hot Wheels experience past childhood, targeting fans of all ages. The Hot Wheels campaign is supported across multiple media platforms with digital media and television ads, on product packaging, social media activations, and premiere partnerships.
The stunt will culminate by revealing the mystery driver's true identity following the race on Sunday, May 29. A 30-minute documentary-style special is in the works to air on race day.
From a social media standpoint, Hot Wheels is partnering with GetGlue, which allows users to check into TV events and shows, movies, music, and books, plus see what friends are consuming in real-time. Fans can also interact with Team Hot Wheels through social media channels including: Facebook, Twitter, and YouTube.
From March 8­–April 30 Hot Wheels fans can go to www.hotwheels.com/forreal for a chance to win a VIP trip to the Indianapolis 500 or thousands of other cool prizes. With special codes found on select Hot Wheels packaging, fans can not only enter to win a trip to Indy but also unlock 17 live-action videos featuring heart-pounding Team Hot Wheels stunts. Codes to unlock exclusive content will be available on packaging and online.
Sesame Workshop, USO Tour to Help Military Families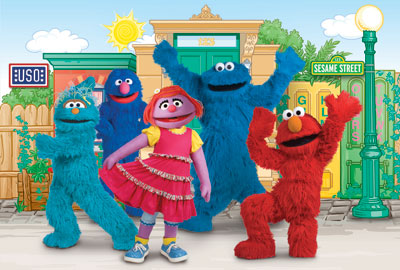 First Lady Michelle Obama and Dr. Jill Biden kick off fifth installment of The Sesame Street/USO Experience for Military Families. It is a free traveling USO tour exclusively for military families based on Sesame Workshop's Talk, Listen, Connect (TLC) initiative. It launches at a community event on April 14 in Columbus, Ohio. The tour will unveil a new Sesame Street character, named Katie, designed exclusively for the USO tour.
The Sesame Street/USO Experience for Military Families, which is produced in partnership with the VEE Corporation, made its debut in July 2008 to help families deal with the challenges of deployment and homecomings. Audiences will meet a new character named Katie. She is a military child relocating to a new home. With the help of Elmo and other Sesame pals, Katie opens up about her fears and excitement as she deals with change and making new friends. The new show is headed to Alaska in late April on an around-the-world tour, and features a 25-minute high-energy character performance with special giveaways and vital outreach materials for those who attend.
Since the tour's inception four years ago, The Sesame Street/USO Experience for Military Families has logged more than 61,200 miles to 90 bases in 33 different states and nine countries. The tour has also performed 315 shows for more than 192,600 service members and their families. This phase of the tour will perform in Alaska, Hawaii, Guam, Korea, Turkey, Italy, Germany, the Netherlands, Belgium, the United Kingdom, and Spain.
Zinkia, ITV Global Sever Relationship
Zinkia Entertainment SA and ITV Global Entertainment Limited, the co-producers of the children's animated series Pocoyo, have mutually agreed to end their international co-distribution arrangement. Going forward, Zinkia will now be the exclusive worldwide distributor of all rights in the Pocoyo franchise. All queries about the licensing of Pocoyo should be addressed to Zinkia's Maria Doolan (maria.doolan@zinkia.com).