Focus Brands is the parent company of Cinnabon, Schlotzsky's, and Moe's Southwest Grill, among many others. Cinnabon, which is popular in many malls across the U.S., has a robust licensing program. However, there is still room for growth in the U.S. market. Interestingly, Cinnabon has even more brand recognition in the Middle East, yet licensing in that part of the world is in its infancy.
Nancy Lombardi: Explain the Focus Brands family of companies.

Cara Becker: Focus Brands is the parent company of Cinnabon, Moe's Southwest Grill, Schlotzsky's, Auntie Anne's, and Carvel. We have the international franchising rights for Seattle's Best Coffee but we cannot license that particular brand into consumer packaged goods products.
N.L.: Where is the growth coming from for Cinnabon?
C.B.: The licensing for Cinnabon is currently focused on the U.S., Canada, Mexico, and the Caribbean. One of the markets I am really interested in is the Middle East. Cinnabon has a huge brand presence in the Middle East. It probably has better brand recognition in the Middle East than it does in the U.S. There are hundreds of locations throughout Saudi Arabia, Jordan, and Egypt. It's a mall-based society so it's grown tremendously over the past 10 years.
N.L.: What is the outlook on licensing in that region?
C.B.: When I have spoken with companies in that region about licensing it seems to be an industry in its infancy. A lot of the manufacturers don't really understand licensing especially as it relates to a food brand. If you are talking about entertainment properties, then yes, they understand licensing Mickey Mouse onto a T-shirt. But when you look at the concept of licensing ingredients they don't see the value in it. All it will take is a few products proving their worth in the market before people say, "wow the brand recognition drives sales and this is why it makes sense."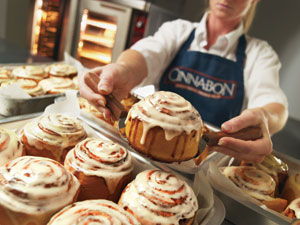 N.L.: What are some of the latest licensing plans for Cinnabon for North America?
C.B.: We've been licensing into consumer packaged goods (CPG) for almost 10 years so we have a very extensive program in place. We will continue to work with the top companies in CPG licensing whether its General Mills' Betty Crocker and Pillsbury or Kellogg's, for example. However, we are also looking to venture into new categories; we are particularly interested in developing frozen desserts. We are also examining the snack space. We are developing something in the breakfast category, which is expected to be out next year. One item in particular is a unique product and will answer a "white space" that's out in the market right now. I am also interested in pursuing more beverages, in particular coffee. We have a fantastic coffee creamer, which launched this year with International Delight. I want to have a Cinnabon ground coffee to pair up with it.