Retailers Announce Black Friday Hours; Target Opens Some Denver Stores on Thanksgiving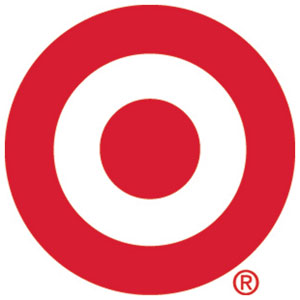 Retailers have begun announcing their November 25 Black Friday store hours. However, the "Black Friday" sales concept is apparently expanding to encompass early November through Christmas as retailers, online and offline, offer consumers deals on top of deals to lure them in to shop early—and, in theory—repeatedly. It may be a matter of time before stores are open all-day on Thanksgiving.
• Kohl's will open nationwide at 12 a.m. on Black Friday, November 25, which is the earliest opening in company history. Stores will be open for 24 straight hours from 12 a.m. until midnight. Not early enough for you? Online shoppers can save even earlier with all Early Bird specials available on Kohls.com on Thanksgiving Day.
• Macy's will open its stores across the country at midnight on Thanksgiving night for the first time.
• Sears/Kmart has not yet announced its Black Friday hours. However, the retailer began heavily promoting its layaway service before Halloween.
• Target says that for the first time it will open its doors at midnight on Thanksgiving and will remain open until 11pm on Black Friday night. Target also announced that it has extended its hours for the holiday season. Christmas Eve hours are expected to be 7 a.m. to 7 p.m. or 8 p.m. (consumers should check their local store). Target will open at 7 a.m. on December 26 for all those who have returns and who want to start the gift-card shopping season. Stores are expected to remain open until 11pm on December 26.
In another first for Target, it announced that it will be open limited hours on Thanksgiving Day in the Denver market's 29 stores from 8 a.m.–2 p.m. MST. All other Target stores will remain closed on Thanksgiving.
Target is piloting limited hours on Thanksgiving Day in Denver because it continues to be a strong grocery market, featuring numerous SuperTargets and stores with the expanded fresh food layout. Target plans to evaluate the Denver test before making decisions about whether to expand Thanksgiving hours to other markets in the future.
• Toys "R" Us has not yet announced its Black Friday hours. However, the retailer has numerous holiday promotions already in place. See story below.
• Walmart has not yet announced Black Friday hours. However, the Black Friday savings on electronics and toys is starting this Saturday, November 5 at 11 a.m. nationwide.
"Christmas is in full swing at Walmart, and we're excited to offer incredible early savings on great gifts as well as fun activities for the whole family," said Duncan Mac Naughton, CMO, Walmart U.S. in a statement.
For the first time, Walmart is offering customers an early, exclusive preview of its most highly sought-after Black Friday specials. Customers who sign up at <www.walmart.com> or <www.facebook.com/walmart> will be the first to receive an early preview of its specials on the widest assortment of top electronics, toys, apparel, and more. The retailer says it will reveal the specials soon.
TRU Appeals to 1980s Toys "R" Us Kids with Holiday Ad Campaign

Toys "R" Us (TRU) announced last week its 2011 holiday advertising campaign. TRU will air two ads from its 1980s archives, will advertise this season's exclusives, and will highlight the arrival of new toys, while explaining the value being offered to consumers.
One retro ad features children singing the iconic "I'm a Toys "R" Us Kid" jingle. The spot ends with the updated tagline, "Still the World's Greatest Toy Store," emphasizing that, even three decades after these commercials first aired, TRU remains the holiday shopping destination.
Another commercial from the late 1980s shows Geoffrey the Giraffe taking his family—and viewers—on a trip through a snowy, animated world of bright holiday lights. Their destination—a TRU store where colorful boxes overflow with wondrous toys. This classic advertisement features "A Toys "R" Us Time of Year," a song that will strike a chord in the hearts of loyal customers who, of course, just happen to be today's parent.
These ads began airing on October 30 on major networks, including ABC, CBS, CW, and NBC, as well as various cable stations.
My Keepon Chosen for Bloomberg Businessweek Ad Campaign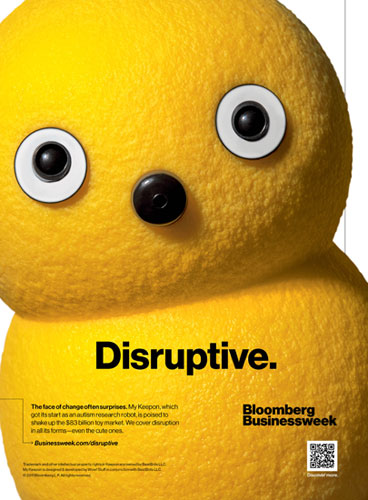 Bloomberg Businessweek has chosen Wow Stuff's My Keepon as part of a multi-faceted out-of-home and print advertising campaign for the magazine. This decision stems from a story the magazine wrote about My Keepon earlier in the year.
"My Keepon really grabbed our attention when going through recent issues of Bloomberg Businessweek," said Carl Fischer, head of brand marketing for Bloomberg Businessweek in a statement. "Once we got past its cute factor, we were even more intrigued by the Keepon story: autism research robot dances its way to YouTube fame and becomes a mass market toy expected to be a top-seller this holiday. This is the perfect example of the "disruptive" content we deliver."
The My Keepon creative is part of an initial series of four rotating advertisements inspired by recent stories in Bloomberg Businessweek. The campaign, which was developed internally, uses the words "Disruptive," "Charged," "Viral," and "Worldly" to reference the magazine's editorial content, its vibrant look, and its unique audience. The ad featuring a giant My Keepon falls under the title of "Disruptive" and contains the following copy:
Disruptive.
The face of change often surprises. My Keepon, which got its start as an autism research robot, is poised to shake up the $83 billion toy market. We cover disruption in all its forms—even the cute ones. (Editor's note: The $83 million is a 2010 global sales figure, according to the NPD Group.)
Ads will be placed throughout New York and San Francisco. National print ads will appear in outlets such as The New Yorker, The Atlantic, and Wired, in addition to ads that have appeared recently in Adweek and Ad Age. Regional print advertisements also will appear in New York Magazine and San Francisco Magazine.
To kick off this ad campaign, shoppers can stop by Toys "R" Us Times Square tomorrow (Friday, November 4) to see unprecedented displays. My Keepon is available exclusively at Toys "R" Us.
To read the original Bloomberg Businessweek story about My Keepon, visit www.Businessweek.com/disruptive.
DuneCraft Furthers Partnership with Arbor Day Foundation
DuneCraft and The Arbor Day Foundation created a product that informs children and adults about the depleting rainforests and what we can do to help save them. Every year, 50 million acres of tropical rainforests are cleared. The Rainforest Biosphere has just been introduced by DuneCraft to grow your own piece of the colorful and tropical rainforest.
DuneCraft has been working with The Arbor Day Foundation since 2008, when the company developed its Grow Your Own Tree Line. DuneCraft has funded the planting of more than 3,300 trees in national and state forests since 2008. The company says that 5 percent of the Grow Your Own Tree line is donated to The Arbor Day Foundation.