American Greetings Properties has dubbed 2012 as "30 Years of Caring" to relaunch its Care Bears property. This cross-generational campaign will encompass a new TV series on The Hub, an extensive product line, and a media campaign, which blends traditional and social media.
Nancy Lombardi: American Greetings has dubbed 2012 "30 Years of Caring." Will that be a message that gets conveyed to consumers? If so, how will the message be promoted? What will it mean?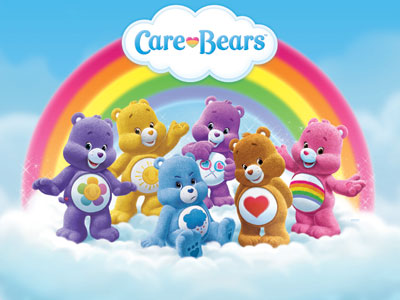 Gabrielle Oliff: We are utilizing the "30 Years of Caring" tagline as a mom-directed message. Since we know that so many moms of kids ages 2–7 grew up with the brand, we want to make them nostalgic for all of their favorite Bears and to share them with their own children. Our broader consumer message will be "Welcome to Care-a-Lot," which is also the title for the new Care Bears CGI series premiering on The Hub this summer. This invites all consumers to enter the caring and sharing world of the Care Bears and to meet the Bears, each with a distinct personality and belly badge.
N.L.: Explain the premise of the TV series? What types of products can we expect to see from licensees? What will be some of the key items in Hasbro's line?
G.O.: The new series invites the viewer into the land of Care-a-Lot where wishes come true and unbelievable adventures ensue. Care-a-Lot is the high-above-the-Earth home of the Care Bears—with the coolest, most caring, magical friends around. Many fan favorites including Cheer Bear, Share Bear, and Tenderheart will be front and center in the new entertainment.
Hasbro will launch its supporting product line in spring 2013. It will be largely plush based, which is a core play pattern for the brand. In addition to Hasbro, several licensees are already on board for the relaunch including Bendon for publishing; Bioworld, Briefly Stated, Changes, and Freeze for apparel and accessories; and A.D. Sutton for infant products.
N.L.: Why do the Care Bears continue to endure? What is it about them that is so appealing?
G.O.: We are very lucky to have a solid evergreen property in the Care Bears. Consumers have been coming back to the Bears for 30 years because of their enduring personalities, their huggability, and their timeless messages of caring and sharing.
N.L.: How has this brand transcended other "retro" properties that have made a comeback? Why has this one endured beyond the immediate "retro" hook?
G.O.: Since the Care Bears have seen several iterations over the past 30 years, almost every age group has "grown up" with the Bears—moms in their 20s and 30s, teens and tweens, and now kids ages 2–7. The caring and sharing message of the brand is universal and timeless and all of the favorite characters keep coming back in entertainment and product.
We have a retro program that targets moms, teens, tweens, and infants that features the classic looks of the brand and spans multiple categories from T-shirts to baby wipes to books to party goods.
N.L.: How does AG work to reach today's kids? Is it through TV ads? What types of new media/social media are utilized? Or are there other ways?
G.O.: Compelling characters, such as the Care Bears, and our accompanying consumer touchpoints—online, in store, and through entertainment are what consumers look for in a brand so that it is always accessible. We will be relaunching CareBears.com in late spring. We currently have a vibrant Facebook page and are exploring other ways to get the brand message out to the consumer through social and new media as well as more traditional outlets such as TV and print ads.