The Hunger Games Scores Big at Box Office; Products Now at Retail
Fans of The Hunger Games were out in full force this weekend. The PG-13-rated film, based on the young adult novels, tells the story of a future where teenagers are forced by a totalitarian government to compete in a fight to the death.
The film generated $152.5 million at the box office, which is the third biggest opening weekend of all-time and the best ever for both a non-sequel and for a non-summer release.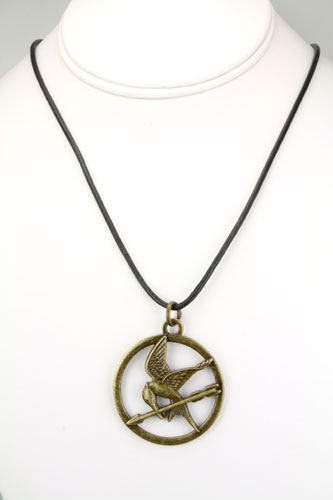 The only two bigger debuts were last summer's Harry Potter and the Deathly Hallows Part 2 with $169.2 million and The Dark Knight, which opened in 2008, with $158.4 million, according to BoxOfficeGuru.com.
Toys "R" Us announced in anticipation of the film's release last week that it is featuring movie-related products. The Hunger Games Mockingjay Necklace from NECA is based on the pendant worn by the series main character, Katniss. Fans can display the image of a bird that "never should have existed" with this pendant on a leather cord necklace.
The Hunger Games Charm Bracelet from NECA is available in two different versions so fans can show off who they support. While both bracelets feature a "District 12" logo, one has an image of Katniss, while the other showcases the "District 12" male competitor Peeta.
Also available in the line is The Hunger Games Mockingjay T-Shirts from FEA Merchandise; The Hunger Games Fleece Throw from NECA; and The Hunger Games 7-inch Action Figures from NECA.
Professional Bull Riders Gets Licensing Agent
The Professional Bull Riders (PBR) announced that it has signed All-American Licensing and Management Group (AALMG) to act as a licensing agent for the PBR. AALMG will be responsible for a series of categories, including interactive games, health & beauty, snacks, foods, and non-energy and non-alcoholic beverages.
The AALMG team will leverage emerging technology with traditional licensing practices to conceptualize, develop, and bring products to market.
The PBR Built Ford Tough Series (BTFS) season opened on January 6–8 with capacity crowds at Madison Square Garden in New York City. The BFTS will make 28 stops in 23 states before the Built Ford Tough World Finals in Las Vegas, which is scheduled for October 24–28, 2012. The World Finals are where the PBR World Champion will be crowned and awarded the coveted championship buckle and a $1 million bonus. The richest bull riding event in the world, the World Finals has a total purse of more than $2 million.
The BFTS is televised every week on CBS, CBS Sports Network, NBC, NBC Sports Network, and YouTube.
Classic Media Programming Deals
Classic Media announced last week that it has secured a range of new deals throughout the Middle East and Africa to provide more than 225 hours of programming to TV, home entertainment, and IPTV partners. These deals establish the presence of several titles across Classic Media's diverse portfolio, including Tinga Tinga Tales, Life with Boys, Guess with Jess, and Postman Pat.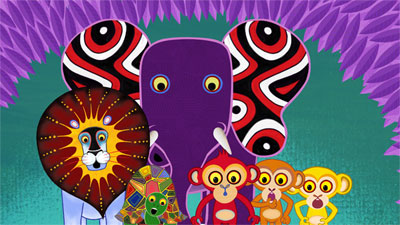 Tinga Tinga Tales—a series that introduces preschool children to the vibrant art and sounds of Africa and is produced in Nairobi by a team of local artists, animators, and musicians—has been picked up by SABC (South Africa), Citizen TV (Kenya), and Multimesh (Ghana).
Life with Boys has been acquired by Nickelodeon (Pan-Africa) and Noga in Israel.
A range of deals have also been secured for preschool series Guess with Jess including ATV's children's channel Minika (Turkey), Kazakhstan TV's children's channel Balapan, as well as VOD rights with Integral across the Middle East, who have also acquired Postman Pat—Series 3-8 and 3-2-1 Penguins for its service.
TCG Launches ROXX in South Africa
TCG (formerly known as The Canadian Group) has announced plans for international distribution partners for its collectible game ROXX. In an exclusive arrangement, TCG is partnering with Prima Toys to launch ROXX in South Africa.
ROXX, the newest collectible, tradeable, competitive game of skill, features edgy game pieces that appeal to tween boys, who play to win through two levels of play.
Prima Toys will launch ROXX in South Africa at the same time that the property launches in the United States and globally, which is expected to be July/August 2012.
Prima's marketing plans include TV commercials, direct sampling to kids, online advertising, social media, print campaigns, product demonstrations, and a possible tournament across the main city centers in South Africa.