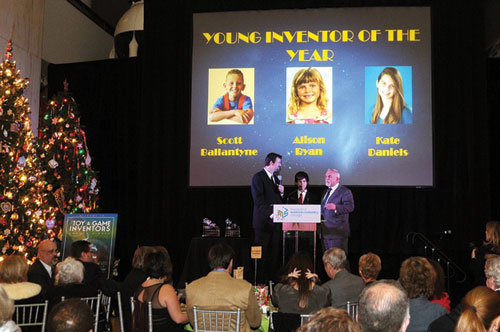 For the past several years I've been attending the TAGIE Awards (The Toy & Game Inventor Awards). Held during CHITAG, the Chicago Toy & Game Fair, I've watched the event grow tremendously. This year's event, held at Chicago's Museum of Science and Industry, was completely sold out. It was hosted by Tim Walsh (inventor of Tribond and Blurt and now filmmaker for the movie Toyland) who has a great comedic style. Hasbro inventor relations' main man, Mike Hirtle, gave the keynote address. For me, there were two highlights during the evening. The first was the lifetime achievement award presented to Eddie Goldfarb. He has created more popular toys than can be named here. However, some of his highlights include Yakity Yak Chattering Teeth, Ker Plunk, and Battling Tops. The second highlight was watching Kate Daniels win the Young Inventor Award. It was presented by Seth Calvin, the 2009 winner, and John Ratzenberger (of Cheers and Toy Story fame. He's the voice of Hamm the piggy bank). I also enjoyed the open bar. . . perhaps a little too much.
I must compliment Mary Couzin who coordinates the TAGIE Awards. It should be noted that the toy industry has watched as this gathering has become more important year after year. We need events to keep the industry grounded and the toy community in touch with the wheels that keep it turning. Aside from the TAGIE Awards, another example of an event that brings the industry together is TimetoPlayMag.com's spring and fall media preview showcases. While these events are a bit different in that they showcase new products to the media, they also bring the industry together in a fun and festive atmosphere. Both events get the word out that the industry is adaptable and vital.
At a time when there are so many toy shows and they seem to have all become disconnected and fragmented, this social interplay is essential. We need to keep in touch with each other on a personal basis. This takes more than an email, a tweet, an instant message, or a "like" on Facebook. It is about eye-to-eye contact with your industry peers. TAGIE does all it can to highlight the importance of being a communicative industry, and we as an industry should do all we can to support these grassroots endeavors. I'll see you at the next open bar.
---
Design Edge is a New York-based graphic design and research development studio with an office in Hong Kong. Matt Nuccio can be reached at (516) 377–0500 or at matt@designedge.net.