DreamWorks Signs Fisher-Price for its Properties
Fisher-Price and DreamWorks Animation announced that they have entered into an exclusive licensing relationship in which Fisher-Price will serve as the worldwide master toy licensee for a number of DreamWorks Animation's theatrical feature film releases and television series.
Under the Mattel brand, Fisher-Price will debut the first of its new toy collections for Kung Fu Panda 2 and The Penguins of Madagascar at Toy Fair. The additional DreamWorks Animation theatrical releases featured under the licensing relationship include Puss In Boots, The Croods, Madagascar 3, and Legend of the Guardians and the television properties include Kung Fu Panda: Legends of Awesomeness.
Kung Fu Panda 2 debuts in theaters on May 26, 2011. Kung Fu Panda: Legends of Awesomeness the television series will debut on Nickelodeon in the fall.
TRU Introduces Exclusive Cars Wood Line
Toys "R" Us announced the launch of its first-ever collection of wood vehicles, track, and playsets based on the Disney/Pixar movie, Cars. Two years in the making, and now available exclusively at Toys "R" Us stores around the world and online at Toysrus.com, the Disney/Pixar Cars Wood Collection was created and designed by Toys "R" Us in collaboration with Disney Consumer Products. The current collection of 15 items consists of a variety of collectible Cars vehicle two-packs, destination playsets, and a track set giving kids a unique way to recreate the storyline from the 2006 blockbuster movie. The wood line will soon be expanded with vehicles and playsets based on the highly anticipated release of Cars 2, in theaters June 24, 2011.
Toys "R" Us says this is the first time that it has partnered with a licensor to design and create an exclusive line of products, in addition to sourcing them as well.
TÜV Rheinland Opens Lab in Bentonville
TÜV Rheinland is set to open a new laboratory in Bentonville, Ark. that will provide an extensive portfolio of testing and certification services for mainstream consumer products. The lab will focus mainly on providing testing and assessment services for softlines including wearing apparel, costumes, upholstery, and home furnishings as well as toys, and children's products. Other testing capabilities offered by the new lab include consumer electronics, appliances, household goods and decor, cosmetics, and others. This Bentonville facility is TÜV Rheinland's first North American laboratory for these market segments.
"We are extremely excited about the broad range of testing services we can now conduct here in the U.S. laboratory, and the sophistication of the equipment with which we can execute them," says Wolfgang Kruschak, vice-president softlines TÜV Rheinland AG, in a statement. "We offer state-of-the-art equipment that will allow us to do things better and faster than ever before, providing a higher level of service that differentiates us from competitors. This provides an invaluable service to our customers, as it reduces both the cost and time to ensure compliance with CPSIA and other safety regulations mandated by the Consumer Product Safety Commission, as well as individual U.S. states and other countries including Europe and Canada." The lab is expected to open March 2.
Yoostar in the Movie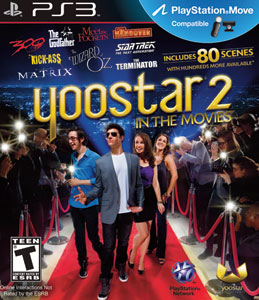 Yoostar Entertainment Group announced the complete set list for the March 8 release of Yoostar 2 for the Kinect for Xbox 360 and PlayStation 3 computer entertainment system. The first console game to insert players into their favorite films and television shows, Yoostar 2 is launching with 80 scenes in the box, offered in five different languages, with hundreds more scenes available online. Yoostar 2 launches with some of the most memorable and iconic movie and TV scenes in history.
Using Kinect for Xbox 360 or the PlayStation Eye, players insert themselves into famous movie and TV scenes, starring alongside or in place of their favorite actors. Perform the lines as written in English, Spanish, French, Italian, or German, or deliver a personalized improvisation. Yoostar 2 then scores the performance and lets players upload the scene to Facebook, Twitter, Yoostar 2's in-game social portal on Xbox Live online entertainment network and PlayStation Network, or Yoostar.com. It will be available at retail outlets throughout North America on March 8 for an MSRP of $49.99.
Mr. Men to Be Made into a Movie
The Hollywood Reporter wrote earlier this week that 20th Century Fox will turn Roger Hargreaves's Mr. Men books into an animated feature film.
Night At The Museum director Shawn Levy is expected to produce the movie through his 21 Laps Entertainment company. No writer or director has been hired to take on the project, according to The Hollywood Reporter.
The 48 Mr. Men books include Mr. Happy, Mr. Messy, Mr. Nosey, and Mr. Grumpy. Hargreaves's books have sold more than 100 million copies across 28 countries.