New Partners for Voltron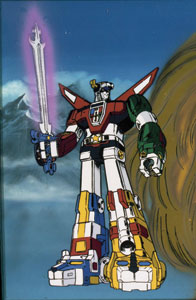 Classic Media and World Events Productions (WEP) announced new consumer products partners in the U.S. for Voltron's relaunch.
Consumer products are now in development from The Bentex Group, Inc., via its Extreme Concepts division (T-shirts/tops) and its Dreamwave division (swimwear/sleepwear), Rubie's Costume Company (costumes), VIZ Media (kids' graphic novels for Voltron Force), and Dynamic Forces (comic books and graphic novels for classic Voltron).
These new partners join Mattel, which is developing master toy lines based on classic Voltron and new Voltron Force series. THQ is producing video games based on the Voltron franchise.
This summer's premiere of Voltron Force on Nicktoons will be the first original franchise-related television content in 10 years.
Charlie Sheen Wins a Merchandising Deal
It was widely reported earlier this week that actor Charlie Sheen has signed a deal with Live Nation to create a line of T-shirts, mugs, and other items featuring his now famous catchphrase "winning" among other pearls of wisdom that he has been sharing with the world over the past few weeks. According to web reports, merchandise is expected to be available next week.
Is Charlie really on a long, strange trip or is he punking the planet with the ultimate publicity stunt?
Eyetronics Creates Its Own Retro Brand
Eyetronics Media and Studios has created its own iconic retro character concept called Classic Cool. The company has launched a licensing program featuring a large cast of original creation 3-D retro characters who'll be hosting Classic Cool, a retro programming block that celebrates the best in films and entertainment from the twentieth century. In addition to producing and distributing Classic Cool, Eyetronics has set up a merchandise and licensing unit to market the company's original cast of 3-D retro film characters hosting the block.
Eyetronics' Classic Cool retro block will present a wide array of classic films, series, shorts, and "newsreels." The Eyetronics' 3-D character hosts will serve as the center of a broad global licensing program encompassing all categories of retro consumer products.
In addition to global broadcast television, Eyetronics is targeting hotels and resorts, theme parks, cruise ships, airlines, VOD, and IPTV for a broad range of content opportunities.
Suzy's Zoo Partners with Dalmatian Press
Suzy's Zoo (represented by Lawless Entertainment) announced that it has partnered with Dalmatian Press to develop a variety of books, which are scheduled to be available at Target, Dollar Tree, and other retail locations throughout the US.
Dalmatian Press is developing coloring books, level one reader books, and board books for the Little Suzy's Zoo and Duckport character sets. Some of these items are currently available for purchase; others will be released throughout the year.