When the recession hit, the licensed housewares category felt it. In the interest of saving money, consumers either weren't buying things for their homes or were purchasing less expensive private label brands. But now it seems that licensed housewares are making a comeback in consumers' homes.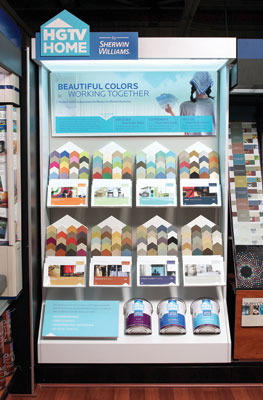 "We are seeing the pendulum slowly swing from private label brands back to licensed products as retailers respond to consumer requests and demands for pop culture brands," says Andrea Brent, vice-president, Brand Central LLC. "Retailers are taking action by broadening their assortments and creating more relevant offerings, which includes bringing back licensed brands and products they cut during the height of the recession."
Austin Katz, vice-president of Brand Sense Partners, says that getting retail space and the consumer's attention has been a challenge in recent years because the quality of private label brands has improved. But Brand Sense is seeing signs that consumers will come back to licensed brands. "There has been far more interest in licensees realizing the need to grow the business, as well as put capital in place to secure the right brands for their own growth," Katz says. "Now we're starting to see people get back out to market and look for opportunities. People are looking for growth opportunities now more than they have been. For us, that's a signal that buying behavior is going to improve."
So what then will consumers buy? The housewares category has always been about furniture, kitchen appliances, home décor, and the like. And consumers will continue to purchase these types of items. "Sustainable products and packaging are becoming increasingly important to manufacturers in the home and housewares category," says Brand Central's Brent. "Many are switching to green, eco-friendly materials in their core product lines or offering a separate eco-branded version of the product." She says that Brand Central is looking to bring its eco-friendly client Seventh Generation into the licensed housewares sector.
HGTV, which is represented by The Beanstalk Group for licensing, worked with Sherwin-Williams for an exclusive line of branded paint and painting supplies. The paint is eco-friendly, has virtually no odor, and will be competitively priced, says Allison Ames, senior vice-president, brand management, Beanstalk Group. "Our products reflect the equity of the brand," she says. "Not just providing great style but solutions for consumers."
What consumers will always look for from licensed housewares is value, both in price and quality. According to Joanne Loria, executive vice-president, The Joester Loria Group, there is a sweet spot for which licensors and licensees should aim. "If a [licensed product] can deliver quality and a premium brand name at a price that's slightly above your private label but below your high-end, it turns out to be very profitable," she says.