HIT Signs Latin American Book Deals
HIT Entertainment announced three new publishing deals for Barney, Thomas & Friends, and for the first time, Angelina Ballerina, in Latin America. Beginning this spring, children in the region will be able to enjoy new books in a variety of formats and magazines featuring HIT's characters.
Editora Fundamento will publish picture storybooks for Thomas & Friends in Portuguese available at mass retailers across Brazil.
Editora Vale das Letras in Brazil will be the new publisher of Thomas & Friends coloring & activity, puzzle, bath, and book plus CD-ROM formats in Portuguese. The books are expected to be available at mass and specialty retailers in June 2011.
Editorial Vértice will debut the first Angelina Ballerina publishing program in Latin America with story, coloring, and activity books for Argentina, Bolivia, Chile, Colombia, Ecuador, Paraguay, Peru, Uruguay, and Venezuela. Editorial Vértice will also publish coloring and activity books for Barney and Thomas & Friends, and the Thomas & Friends magazine in Argentina, Chile, Paraguay, Peru, and Uruguay. In addition, Barney coloring and activity books will be published in Mexico.
Skechers Debuts Direct-to-DVD Movie
Skechers Entertainment, a division of global footwear company Skechers USA, Inc., announced that it is launching a new 2-D direct-to-DVD movie Twinkle Toes at MIPTV, which is taking place in Cannes on April 4–7, 2011.
Geared towards children ages 6–11 with a running time of 72 minutes and a September 2011 release date, Twinkle Toes is the story of Grace Hastings, 14, who has a secret talent. She is an amazing dancer, but she has a serious case of stage fright making it impossible for her to dance in front of anyone but her pet bunny, Walter. When her performing arts high school is threatened by financial problems, Grace realizes that she must overcome her fear and embrace her "twinkle toes" to perform in a talent show and save the school. The voice cast includes Tom Kenny (the voice of SpongeBob SquarePants), Emmy Award-winning actress Holland Taylor (Two and a Half Men) and teen star Corbin Bleu (High School Musical).
Twinkle Toes is produced by Skechers Entertainment in association with Crescent Moon Entertainment.
New Site for Italy's Geronimo Stilton
Milan-based Atlantyca Entertainment in partnership with Italian publisher, Edizioni Piemme announced the launch of www.geronimostilton.com an online destination for children that is home to Italy's most famous mouse, Geronimo Stilton.
The new portal features games and activities, a social community for children, and a one-stop window with links to the entire collection of books, animated programs, and merchandise for Geronimo Stilton.
The initial launch will be in seven languages: English, Italian, French, Dutch, Flemish, Catalan, and Chinese with the support of Geronimo's publishers: Scholastic, Edizioni Piemme, Albin Michel, Baeckens Book, De Wakkere Muis, Grup 62, and 21 Century Publishing House.
Cricket Magazine Group Signs Synergy for Licensing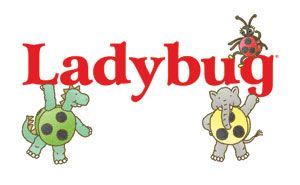 Cricket Magazine Group, a division of Carus Publishing Company, has named Synergy Licensing, LLC, a New York-based firm as its new licensing agency of record.
Through its publications, Cricket, LadyBug, BabyBug, Click, and more, Cricket Magazine Group has been entertaining and educating children since its inception in 1973. With this partnership with Synergy Licensing, CMG will expand its brand portfolio by applying licensing and brand opportunities to appropriate product offerings in the marketplace. Synergy will license related trademarks, characters, and content rich with music and activities.
LadyBug's key characters include LadyBug, Muddle, and Thud. BabyBug, enjoyed most by infants and toddlers, features Kim and Carrots, a lovable stuffed bunny that accompanies Kim on adventures. Click the Mouse interacts with the readers throughout the different stories, photos, cartoons and activities, exploring science, nature, and the arts.