Nintendo to Launch New Console
Nintendo issued a brief statement announcing a 2012 system to succeed the Wii. The console, which some are saying has a codename of Project Café, will be on display at the Electronic Entertainment Expo (E3) June 7­–9 in Los Angeles. No word yet on a sale date or price.
Jakks Reports Q1

Jakks Pacific, Inc., reported results for the company's first quarter ended March 31, 2011.
Net sales for the first quarter of 2011 were $72.3 million, compared to $77.3 million reported in the first quarter of 2010. The company reported a loss for the first quarter of 2011 of $10.6 million, or $0.39 per diluted share, compared to a loss for the first quarter of 2010 of $5.2 million, or $0.19, which included a tax benefit adjustment of $4.9 million, or $0.18 per diluted share. Excluding the tax benefit adjustment, the 2010 first quarter loss would have been $10.1 million, or $0.37 per diluted share.
"2011 started off favorably, with our net sales exceeding and our earnings meeting the high end of our guidance ranges for the first quarter and our fall lines proceeding on plan," said Stephen Berman, president and CEO, Jakks Pacific in a statement. "So far, our gross margin is up over last year and we anticipate being able to achieve continued margin improvement in the second half of the year as a result of our ongoing commitment to closely managing our supply chain."
Operations provided cash of $7.9 million for the first quarter of 2011, and as of March 31, 2011, the company's working capital was $370.7 million, including cash and equivalents and marketable securities of $274.7 million.
Berman concluded, "At this point we are still anticipating an increase in net sales for 2011 over last year of 3 percent to 4 percent to approximately $770 to $775 million, with diluted EPS in the range of $1.32 to $1.35, an increase of 4 percent to 6 percent over fiscal 2010 adjusted EPS of $1.27, which excludes 2010's tax benefit adjustments and one-time benefit payment made to the estate of Jack Friedman, our deceased chairman and former co-CEO. We continue to have strong confidence in the future prospects for Jakks Pacific and its shareholders.
Verdict in Bratz Case; $88 Million Awarded to MGA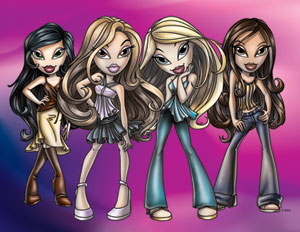 Last week a Federal court jury rejected Mattel's copyright infringement claims involving MGA for the Bratz property. MGA has been awarded $88.4 million for misappropriation of trade secrets by Mattel.
A jury found that Mattel acted willfully and maliciously in misappropriating the secrets.
Initially, Mattel alleged that doll designer, Carter Bryant, developed the Bratz while working at Mattel and secretly took the idea to MGA.
A jury awarded Mattel $100 million in 2008 and found that Bryant had developed the Bratz concept while at Mattel. However, that verdict was overturned, which led to this re-trial and verdict after a months-long trial.
Mattel issued this statement about the verdict. "We are disappointed by the verdict, but we remain committed to protecting the intellectual property that is at the heart of business success. Mattel's first priority is, and always has been, to make and sell the best toys in the world."
Meanwhile, MGA CEO, Isaac Larian sent an email after the verdict with this statement, "Justice finally prevails. This is for all the entrepreneurs with an American dream. Don't ever give up when you know you are right." Included the statement was a link to an article on Forbes.com.
A further announcement came from MGA earlier this week, which has Larian crediting his legal team for the victory. The statement credits Jennifer Rackauckas LLP, a four-person firm that specializes in criminal law, which represented MGA in the trial. Keller and team, which included attorneys Allison Shalinksky and Annette Hurst along with Thomas McConville of Orrick Herrington & Sutcliffe are those Larian has credited with winning the case for MGA.
Marvel Partners with NYC & Co.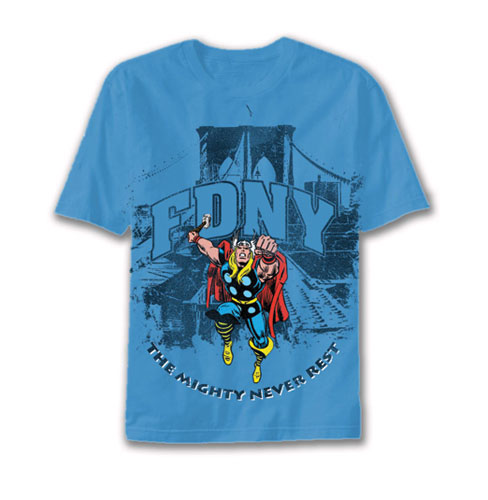 Marvel Entertainment, LLC, and NYC & Company, the official marketing, tourism and partnership organization for the City of New York, announced a collaboration. Marvel and NYC & Company will launch an exclusive collection of co-branded merchandise featuring Superhero favorites from the Marvel Universe alongside the NYPD, FDNY, New York City Taxi and Limousine Commission, and Department of Sanitation.
The collection will feature apparel and accessories inspired by the men and women that serve New York City paired with some of Marvel's most popular Superheroes such as Spider-Man, Captain America, Thor, Iron Man, and Hulk. The collection will be available in an array of styles and sizes for kids, juniors, men, and women.
The program will include T-shirts by JEM, hats and bags by Bioworld, and accessories by Silver Buffalo with initial product available now at Toys "R" Us Times Square. As with all officially licensed City merchandise, a significant portion of the proceeds from the sale of these products will benefit the New York City Police Foundation, and the FDNY Foundation.
Hunter Product Signed for Monsuno in Australia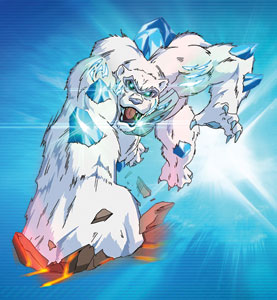 Jakks Pacific, Inc., announced the appointment of Hunter Product Pty Ltd. as the exclusive marketing and distribution partner in Australia for toys based upon the Monsuno original animated television series.
Jakks Pacific is the creator of the Monsuno boys' action property and master toymaker for the line, which is expected to hit retail shelves to coincide with the TV series premiere anticipated for spring 2012. The Monsuno series is being produced by Pacific Animation Partners LLC, a joint venture between Jakks Pacific, Inc., and Dentsu Entertainment USA, Inc., and FremantleMedia Enterprises. FremantleMedia Enterprises will be responsible for the exclusive worldwide distribution of Monsuno TV programming except for Asia and act as the master licensing agent for the Monsuno brand outside of Asia, with the exception of toys, which shall be exclusively marketed and produced by Jakks. The Giochi Preziosi Group is the European partner for the Monsuno toy line. Hunter will manage the sales, marketing, and distribution of all Monsuno toy products in Australia.
Marvel vs. Capcom Licensing Program Launches
Marvel Entertainment announced a merchandising program centered around Marvel vs. Capcom. The development of this co-branded program follows closely on the heels of the latest release in the gaming franchise, Marvel vs. Capcom 3: Fate of Two Worlds. Marvel has already signed on several leading manufacturers.
The foundation of the Marvel vs. Capcom licensing program encompasses the following products and partners:
Mad Engine, Inc., will develop apparel featuring T-shirts and sweatshirts emblazed with the Marvel Superheroes and Capcom characters. Product is currently available at Hot Topic stores nationwide.
Philcos Enterpriser Limited has signed on to produce a line of T-shirts and sweatshirts available this April exclusively in Canada at various retailers including HMV, Spencer Gifts, Blockbuster, and Winners. This July, Sears will also carry a youth line in stores.
Diamond Select Toys and Collectibles, LLC will release Marvel vs. Capcom Minimates. The two-pack set will be available at Toys "R" Us stores and comic/specialty stores beginning this August.
Hollywood Collectibles Group will debut high-end collectible statue sets. Each set will include one character from each Universe. Product will be available September 2011 through Diamond Distribution and www.hollywood-collectibles.com.
Mad Catz, Inc., released its Marvel vs. Capcom 3: Fate of Two Worlds Arcade FightStick: Tournament Edition, for the Xbox 360 video game and entertainment system and the PlayStation3 computer entertainment system.
UDON will unveil an art book this summer featuring a compilation of existing Marvel vs. Capcom imagery along with all-new commissioned art from renowned comic artists.